Last Monday morning as I was packing my toilet stuff for a trip to San Francisco, my older daughter, Namkha Lhamo, rushed into the bathroom. She had seen the anti-torch rallies in London and Paris on TV, and was clearly excited. "Pala, Pala, are you going to steal that Olympic torch" she demanded.
"Yeah, sure," I replied, "but when I bring it back, I want you to share it with your little sister." I carried on in that bantering vein (which I really shouldn't) telling her that she could take it to school for Show and Tell, and that when I died she could sell it on EBay for her college fund. Earlier, she had expressed some doubts about the protests. She had heard someone on National Public Radio saying it was wrong to mix politics with sports. So as I drove her to school that morning I tried to explain where things really stood.
Countries have always boycotted the Olympics when it was in their political interests to do so. America and the West boycotted the Moscow Olympics when the Russians invaded Afghanistan. Then the Soviet bloc states boycotted the Los Angeles Games in retaliation. China completely boycotted the Olympics from 1948 to 1976, because of Taiwan's participation in the games. In 1979, the International Olympic Committee, under pressure from China, declared that Taiwan athletes could only participate as representatives of "Chinese Taipei", and not Republic of China or Taiwan. If this isn't politicizing the Olympics, what is?
In Beijing's case one important reason for hosting the Olympics is, without doubt, to rehabilitate its image; to reprogram peoples memories about the past, especially the past concerning the Tiananmen massacre. The regime has worked hard to brainwash Chinese (and some Western) minds and in fact has been able to induce a kind of collective amnesia about these events that were witnessed worldwide, even the famous image of the young Chinese man who stood in the way of advancing tanks. His lonely act of defiance astonished the world then, but incredible as it may sound, the regime has managed to erase the "Tank Man's" image from Chinese memory. In a 2006 Frontline documentary film, The Tank Man, a retrospective on the events of '89, the filmmaker Anthony Thomas shows the iconic photograph to undergraduates at Beijing University, the nerve center of the 1989 protests; none of them recognize it. The students appear genuinely baffled. Thomas concludes "… only one sensed that the photo had something to do with the events of 1989, but the Tank Man meant nothing to him."
That is why, I am fairly certain, the torch started its global journey from China at Tiananmen Square and, from what I gather, is going to end its world relay there. A new set of more agreeable, even glorious, images of the infamous square will replace the blood-drenched ones of 1989, in the consciousness of the world. Who is to say that this global brainwashing exercise will not be entirely successful?
The purpose of the Beijing Olympics is only secondarily about sports, and only remotely about world peace and harmony. In the case of Beijing '08 it is primarily a propaganda tool for the legitimization of a repressive Communist/Fascist state. Hitler wanted the 1936 Olympics in Berlin for much the same reasons. Even the Olympic torch relay, which was invented and "planned with immense care by the Nazi leadership", has a fairly sinister story behind it. Read the BBC account, "The Olympic Torch's Shadowy Past", and the New York Times feature "The Relay of Fire Ignited by the Nazis" and prepare to be disturbed.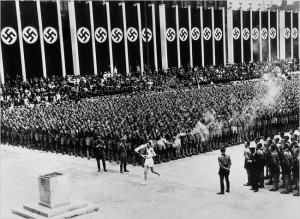 To be fair, the Nazis hadn't yet committed any of their major crimes against humanity in 1936. The PRC, on the other hand, has probably murdered more people to date (60-90million) than the total number of those killed (roughly 72 million) in WWII, military and civilian, including the victims of the Holocaust. Yet even at that early date Germany had, away from the gaze of visitors, already built concentration camps and filled them with Jews, Roma (gypsies), Communists, homosexuals, socialists, labour leaders, Jehovah's Witnesses, people with disabilities, and others.
Present day prisons and Laogai camps in China accommodate a similar variety of victims: Tibetans independence activists, Uighurs, Falun Gong practitioners, Catholic bishops, pastors of underground Protestant churches, lamas, mullahs, monks, nuns, labour organizers, democracy activists, human rights lawyers, dispossessed peasants and the like.
Hitler was determined to use the Games to legitimize the Nazi regime and to demonstrate German racial superiority. And nearly everyone went along blithely with this propaganda exercise: international athletes, national leaders, celebrities, religious leaders, intellectuals, artists, journalists and tourists. The CBS correspondent, William L. Shirer, reporting from Berlin that summer mentioned that the city was beautiful, the weather balmy and the sky blue. In line with his personal obsession with cleanliness the problem of pollution so concerned Hitler that he encouraged industry to work toward the complete elimination of noxious gases. Anti-pollution contrivances were already installed in a number of factories in the Ruhr basin, and new plants were required to construct preventive devices to avoid pollution of the waters.
Chinese leaders haven't been as conscientious as the Fuhrer about such things, but they have nonetheless been equally ruthless in making sure the Olympic Games serve the interests of the Chinese Communist Party in '08 as it did the Nationalist Socialist Party in '36. For quite a while now it seemed that Beijing would pretty much be allowed to do exactly that without any fuss or bother. The Dalai Lama's statement some years ago that China deserved to host the Olympics effectively deflated the efforts of those attempting to challenge China on this issue. Only a few groups, notably the Students for a Free Tibet, attempted some dramatic but small scale protests. But then on 10th March of this year, starting from the ancient Tibetan capital, Lhasa, protests, demonstrations and riots broke out all over Tibet, China and the world, and the rest, as they say, is history.
When I was in San Francisco last week for the monster torch-relay protests, it struck me how the motto of the Beijing Games "One World One Dream" could have been a fitting rallying cry for the demonstrators. Thousand of Tibetans from all over the United States and Canada (a few even from India and Nepal), marched with their brilliant red, yellow, white and blue national flags. The large contingent of SAVE DARFUR students groups were distinguished by waves of green flags and green tee shirts, while FREE BURMA was represented by a host of brown flags. The blue and white flags of FREE TURKESTAN and the yellow and orange stripes of the unexpected Vietnamese contingent, were no less gloriously eye-catching. In variations on the Students for a Free Tibet name, individual protesters carried signs declaring: Bikers for a Free Tibet, Humans for a Free Tibet, Taiwanese for a Free Tibet, Chinese for a Free Tibet, Americans For a Free Tibet, Greens For a Free Tibet, Italians For a Free Tibet, Armenians For A Free Tibet, Free Thinkers For a Free Tibet, San Franciscans For a Free Tibet, Sentient Beings For a Free Tibet, and in full camouflage uniform a solitary "Montagnard For a Free Tibet". This being Frisco we were also treated to a few Lesbians for a Free Tibet, and A Queer Person for a Free Tibet.
Unlike the 11,000 Chinese counter-demonstrators, whose idea of "One World" was presumably one dominated, if not ruled, by Beijing, and who had all been shipped in organized platoons, in chartered busses (with one lunch box per person) paid for by the Chinese Embassy, the multi-cultural, multi-racial, noisy but effective protesters on our side were all there absolutely on their own initiative, time and money. The one common thread that tied our disparate groups and people together was our one sincerely and tenaciously held dream of freedom and peace.
At this stage of events no one really needs to be told that Beijing doesn't deserve the Olympics. But having the intellectual and moral arguments lined up and made clear, as I have attempted to do here might, it is hoped, contribute that little extra motivation, that oomph, to the special person in the right place in Istanbul, New Delhi or Hong Kong to reach out a little further than he might otherwise have done, and grabbing that torch hurl it mightily into the Bosporus, the Yamuna or Kowloon harbour.