ONE SMALL STEP FOR DEMOCRACY…
.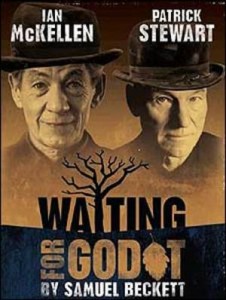 Some of you may have noticed. One reader pointed it out in a comment on Phayul.com. The title of this three-part essay was borrowed (and tweaked) from Samuel Becket's famous play, Waiting for Godot – probably the ur script in the theatre of the absurd.  A quick summary of the plot: two tramp-like characters sit under a bare tree waiting for someone named Godot to arrive. While waiting they eat, sleep, sing, play games and talk, especially about Godot, as if they knew him well, which they don't. Godot doesn't come. The end.
You can guess I wasn't feeling too cheerful when I started out writing about the state of our quasi or (more hopefully) embryonic democracy. But after I posted the first part of the essay and received some lively feedback from readers, I must admit that things began to look a little more hopeful. In Part One I dissected our present political system and pronounced it not exactly a democracy, in spite of official claims. In part two I made the case that only a party-based system could make our exile political system a real democracy, and concluded that we needed a strong national party, committed to Rangzen and democracy, to win "the Kalon-Tripa and parliamentary elections and, with the blessings of His Holiness the Dalai Lama, legitimately take over the government-in-exile."
But of course the underlying problem has not only been how to go about creating a national political party, but also have it accepted officially by Dharamshala. From what I understand the present Exile Charter does not have any provisions for the legal formation and registration of political parties. To get a new ruling inserted into the Charter is going to be next to impossible, or at least take a very long time to accomplish. But then, is such a new law really necessary?
For instance there is absolutely no mention of political parties in the American Constitution, but the party system came into being in the US and established itself as a vital part of American polity. I am not a constitutional scholar but I think that the freedom of assembly, or freedom of association, as it is sometimes referred to, provides the legal basis for people to come together and form political parties. Freedom of assembly, as guaranteed by the Constitution of the United States, is interpreted to mean both the freedom to assemble and the freedom to join an association. The next logical progression is, of course, starting your own association or political party, which is just an extension of the right to free assembly. Since the freedom of association is recognized as a human right, a political freedom and a civil liberty, I am sure the exile government recognizes and guarantees it to all those within its authority. Hence there should be no legal problem for Tibetan political parties.
Presently we have the National Democratic Party of Tibet (NDPT) in Dharamshala, which fields candidates for the Parliamentary elections.  I understand that the Party once requested permission to register with the electoral commission, but was told that the commission had no provisions for doing that, but that the NDPT could go ahead and put up their candidates anyway. The NDPT was established by the Tibetan Youth Congress. The Central Executive Committee of the TYC invited me and other former Central Executive members to a meeting in 1993 (or 94), where a plan was discussed to create a political party that would reinvigorate the Tibetan political environment. My friend Lhasang Tsering and I participated in the founding conference of the party in September 1994. But official pressure was put on the conference not to include Tibetan independence in its primary goals, and a majority of the delegates went along with this. So Lhasang la and I withdrew our membership from the party.
But the point I wanted to make here is that no official registration seems to be required to form a political party and field candidates in the national elections. If we want to be absolutely sure about the legitimacy of introducing a political party in Tibetan politics, then we have, in fact, the blessings of His Holiness himself, who urged the TYC in their Annual Working Committee Meeting in August 1990 to take the initiative and form a political party. Does this mean that we have resolved the issue of whether a political party advocating Tibetan independence can participate in Tibetan electoral politics, and whether this overlong essay can finally end at this convenient juncture?
I'm afraid we're not quite there yet. One fundamental problem that sticks out is the logistical one of setting up a genuinely democratic and participatory political organization in an exile society physically dispersed all over the Indian subcontinent, and these days, the world. Of course, I never saw myself launching any political party from my solitary retreat in the Appalachian mountains, but when I said I was going to write a Part III to the "Waiting for Mangtso" essay, I did hope to be able to offer the readers some practical solution to this question. I want to apologize for it taking this long, but I spent quite a bit of time thinking and working (with a few other friends) on a partial solution, but one that would have the virtue of being practical and immediately implementable. Let me lay it all out here, from its inception.
Last summer when I was in India, I (besides writing Part I of "Waiting for Mangtso") gave a PowerPoint presentation, Independent Tibet -The Facts, at a number of schools and Institutions in Dharamshala, Delhi and Bangalore. I also traveled to Bylakuppe where I was the guest of Shingza Rimpoche, the dynamic young rangzen activist from Golok. He arranged for me to speak to the monks of Sera monastery, the Bylakuppe public and the children of the SOS School.
I don't think I can adequately describe the incredible enthusiasm of the monks, lay-people, college-students, schoolchildren and new-arrivals who attended these talks. The near unanimous fervour and eagerness of everyone to discuss the issue of Tibetan independence, caught me completely by surprise. It might also have caused a little concern to some in Beijing. A denunciation of my talk and myself (the "radical-separatist") appeared on bbs.tibet.cn on 29.7.09.
Many in my audience spoke of their desire to contribute to the cause and expressed frustration at not finding a way to do so. Some spoke of the need for an organization of progressive and patriotic Tibetans who believed in rangzen. In fact some of them asked me about the Rangzen Alliance (which the late Taktser Rimpoche, myself and some others started in 2000) and what it was doing now.
With the Alliance's few members scattered around the world, it is in no position to start a political organization or undertake any major rangzen project. Yet I think that because of the Alliance's unwavering (and initially unpopular) stand on rangzen, it has a measure of credibility in the Tibetan world and could serve to bring those who believe in rangzen together, at least for a national discussion.
But how do we go about creating this national discussion or dialogue? Most Tibetans live their lives in what can only be described (I am not speaking metaphorically here) as a vast concentration camp – admittedly, with varying degrees of confinement and privileges. The rest of us in exile are scattered to the four winds. Even those of us fortunate enough to live in the free world are tied down by jobs, families and responsibilities, and not able to communicate, far less interact with, other Tibetans on a regular basis.
Having brainstormed the problem we decided that the Internet and related communications technology offered a solution that though seemingly inappropriate to our not-so-advanced society, could at least be undertaken as a first step. This solution also held out the only real long-term possibilities for overcoming the barriers to communicating with Tibet and for moving an older generation-in-exile into the modern world.
The Internet has become the most powerful global conduit of knowledge and information, and at the same time an unprecedented social and cultural leveler. The enormous potential of this technology for opening up closed societies and spreading freedom and democracy is evident in China's massive efforts to censor and police the Internet. The Tibetan struggle does not appear to lend itself to wonderful solutions, no matter how spiritual or high-minded, as the latest "talks with China" have demonstrated, yet a kind of nonviolent silver bullet does appear to exist for us in "The Arsenal of Freedom" (to paraphrase President Roosevelt) in the form of Internet technology. And we have already been using it, if we think back to March 2008 and the role that the cell phone and YouTube played in that revolutionary uprising throughout Tibet. As I speak, young people all over Tibet are keeping our language, culture, identity and collective defiance alive through blogs and writings on the Internet.
As a first step the Rangzen Alliance will put up a discussion forum, which will soon be online, but have restricted access. To make these discussions as open and democratic as possible discussants will be able to introduce their own topics, and have others comment on them. This discussion forum will be linked to the Rangzen Alliance's public website rangzen.net, which is being completely redesigned and will carry many new features.
The Alliance had earlier convened open symposiums and forums in New York City and elsewhere. Although we generally had great turnouts, the discussions often degenerated into rangzen vs. middle way squabbles, or expressions of concern about the TGIE's or the Dalai Lama's reaction to such gatherings, or the repetition of the bizarre claim that since all Tibetans had rangzen in their hearts, advocating it or arguing on its behalf was not only pointless but harmful to Tibetan unity. Hence this new discussion forum will only involve Tibetans and friends who are committed to the cause of Tibetan independence and who are unafraid to express their beliefs.
Such a discussion forum will allow rangzen advocates and activists to participate in a community of like-minded compatriots with whom they can, not only share opinions, concerns and hopes, but also have their own special ideas and plans discussed seriously by interested and involved people. Depending on what the discussants might eventually work out or resolve: a new rangzen campaign, an international conference or a national political party, could then possibly be created. The bottom line being that all these events would come about through democratic discussion among Rangzen activists and supporters world over, and not be decided by a leader figure or a clique.
The only requirement to join is a declaration of commitment to the three goals of the Rangzen Alliance:
•    The restoration of Tibetan independence.
•    The return of His Holiness the Dalai Lama to Tibet as the sovereign head-of-state of an independent nation.
•    The establishment of a fully democratic system of government in exile Tibetan society and in free Tibet – based on the rule of law and the primacy of individual freedom.
An online registration form is available on rangzen.net (click here). A PDF version (in English) can also be downloaded (click here).
Although the discussion forum is restricted to registered members, the new public website offers many ways for even non-members to interact and express their opinion. Comments and ratings of posts are open to all, as well as dedicated submission forms for individual contributions as film, book and music reviews, essays, event promotion, video sharing, etc. A number of well-known political writers on Tibetan freedom are contributing to a large blog section and offering their unique reflections on our political affairs.
This Internet experiment will need the contribution of volunteers to succeed. We are looking for rangzen-committed writers, bloggers, editors, discussion-moderators (including Tibetan and Chinese languages) and volunteers to help in other ways. We have a fantastic activist/ web-developer (a veteran of the '89 Lhasa demonstration) putting the finishing touches to the website, while three other members are setting up the organizational stuff.