A major frustration during the entire course of events in Tibet has been the insufficiency of images, especially video for the news networks and 24-hour cable channels to chew on. We did luck out with some footage here and there, and blurry cell-phone pictures. CTV's charging horsemen (and bikers) of Bora just blew me away. It had such a mythic quality to it.
Unlike the Gaza Strip or Baghdad, Tibet has only the occasional journalist passing through, and right now there's no one there. If we want news footage of events in Tibet to reach the world we have to get it ourselves. Lugging around professional equipment or even a camcorder would be asking for trouble but a convenient solution seems to be at hand. The Flip is a tiny and inconspicuous video camera that gives surprising results. You could camouflage the thing in a chocolate bar wrapper or even a cigarette pack and pretend to be offering your buddy a smoke while filming a demonstration across the street. The Flip also has the overriding virtue of simplicity. Anyone in Tibet could be taught to operate one in five minutes. No sweat. It's also cheap. J&R in New York is retailing it at $116. Read the NYTimes review and watch the video. It's worth the time, even if you are not into such things. If the URL doesn't work just google: "Camcorder Brings Zen to the Shoot – New York Times".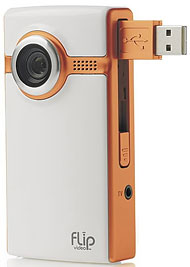 By the way the review doesn't mention how easy it is to download videos straight from the Flip to U-tube. There's also no need to recharge batteries. Two AA batteries, available in the most remote store in the Changtang, will do the trick.Is there anyway we could get a bunch of these cameras to Tibet? You could probably buy them in Beijing, Chengdu or even Lhasa. I am sure there are a lot problems to overcome before we find the best way to get the video images out of Tibet. We need people who are savvy about these things, and we need a major discussion, even a conference on this whole issue. Send me an email if you have any ideas along these lines.