.
When Andrug Gompo Tashi set up the Chushigangdruk (Four Rivers Six Ranges) in Lhoka in the summer of '58, and commenced resistance operations, Chinese garrisons and outpost in those areas were taken by surprise. Fearing that the local population might join or support Chushigangdruk, the PLA launched a fear campaign to drive a wedge between the local public and the Khampas. They dressed up Chinese soldiers as Khampa fighters and sent them around in small bands to rob and even kill Tibetan farmers and traders. When Chushigandruk headquarters got wind of what was happening they tried to contain the damage by letting people know of this Chinese deception.
The resistance put up posters, even in Lhasa city, warning the populace of these fake or counterfeit Khampas, and describing them as "khampa-dzunma" or "khamdzun" for short. The poster also recounted successful Chushigangdruk attacks against Chinese convoys and garrisons. Some Tibetans, at the time, were not convinced by the fake Khampa stories. A few thought they might even be a cover-up for some Khampas who may have exploited the locals. I wasn't a skeptic but I must admit that I was, for a long time, not sure, one way or the other.
But in 2008 one minor side-show in the great Uprising woke me up to the scope and magnitude of Chinese deceit. When the demonstrations and riots first broke out in Lhasa, one photograph that caught world media attention was of Tibetan protesters burning the Chinese national flag. While every one in the photograph was in western-style street clothes, one man, standing apart from the main group, was wearing a chuba robe, in loose khampa style, and brandishing a menacing looking sword.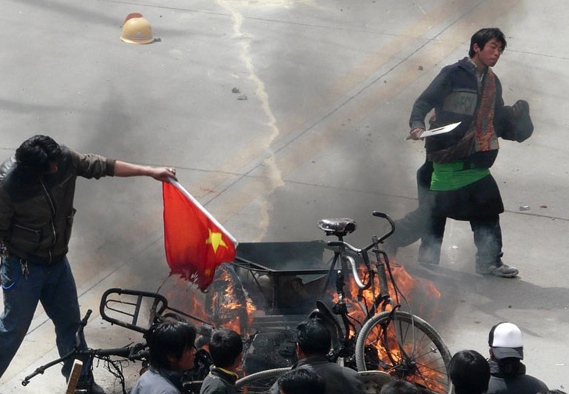 Claire Harris, the Oxford art historian in her latest book* claims that "The impact of this photograph was enormous, as it radically altered perceptions of Tibetans in China and around the globe. Websites and blogs filled with comments from enraged Chinese." The photograph of a wild Khampa wielding a huge sword provided a highly effective piece of visual propaganda. "It was heavily promoted for circulation in the international press and through the global network of Chinese embassies."
Fortuitously, a Chinese women from Thailand who had visited Lhasa earlier that month testified to the press that she knew that Chinese officers had disguised themselves as Tibetans during the riots. She even claimed that when she saw the image of the "sword wielding" Khampa on the BBC, she recognized him as a Chinese policeman.  She also reported that on March 14, she and other tourists had been at the Lhasa police station, where they witnessed a policeman taking off his Tibetan-style clothing and putting a large sword away. Harris concludes: "Shortly thereafter Chinese embassies around the world began to send out another version of the photograph. This time the armed "Tibetan" had been digitally erased."
The lesson I took away from this case was that one should never underestimate the Chinese capacity for deception when it came to their efforts to cause disunity among Tibetans and undermine the Rangzen struggle.
So, a few days ago, when I received an email that directed to me to this bizarre report: Lhaksam Media: "Breaking News: 400 Khampas Request to change a mission or goal of RANGZEN to U-MAY LAM", I immediately said to myself "Whoa! Fake Khampas dead ahead."
Accompanying this spurious report was an equally misleading photograph that had nothing to do with this or any other "breaking news". The image was of 13 Tibetans (some of them not even Khampas and one the brother-in-law of the Dalai Lama) presiding over a function. This photograph was taken from an RFA report and clearly captioned "43rd governing body meeting of Dokham Chushigangdruk." This was probably a meeting of the CTA leaning faction of Chushigangdruk, held some years ago in Dharamshala, and having nothing to do with any call for mission change. To authenticate it as "breaking news" Lhaksam Media mentions that it received its information "cortesy (sic) of RFA …". But the actual RFA report did not mention 400 Khampas. Instead it said clearly that the meeting was held by one section of the Khampa public in Hunsur ("མདོ་སྟོད་སེར་སྐྱ་མི་མང་ཁག་ཅིག").
I quickly called an acquaintance connected to the main Chushigandruk organization, and asked about this news-report. He told me that it was a complete fake, and that 400 Khampas had not contacted the organization asking it to change its goal of Rangzen.
According to Tibet Times on Monday April 22 in the Hunsur resettlement camp in South India, a meeting was held at Gyurme monastery by monks and some people of Khampa background, just over 300 ("༣༠༠ ལྷག་") in all.
Fours resolutions were passed at the meeting:
The 1st praised the Tibetan Youth Congress (TYC) branches in five South India settlements who had earlier called on the Tibetan Youth Congress to change its stand from independence to the Middle Way".

The 2nd called on the Chushigandruk organization to change its stand on Tibetan independence to that of the Middle way.

The 3rd stated that the previous year (2012) a number of Khampa members of parliament had regrettably participated in a conference at Dharamshala organized by a Rangzen organization (The Tibetan National Congress).  As the TYC was organizing a Rangzen Meeting this year. Khampa MPs were called on to not attend this meeting otherwise they would not be acknowledged as MPs in the future.

The 4th declared full agreement and full support of the gathering for the Middle Way policy.
The strange thing about this document is that it was not signed by the "over 300 people" reported in the Tibet Times, nor any of their representatives. There was also no photograph in this report or anywhere else of the real meeting.
There are only five signatories at the end of the resolutions, four of whom signed as monastic officials of Gyurme monastery, and one as a former TYC Centrex member. None of the signatories also signed in any capacity as representing the Chushigandruk or any Khampa organization or as a representative of the gathering. This was clearly a meeting that had been organized by the Gyurme monastery or by at least by its leading monastic officials. The Tibet Times report provides two facsimile pages of the resolutions and the signatures.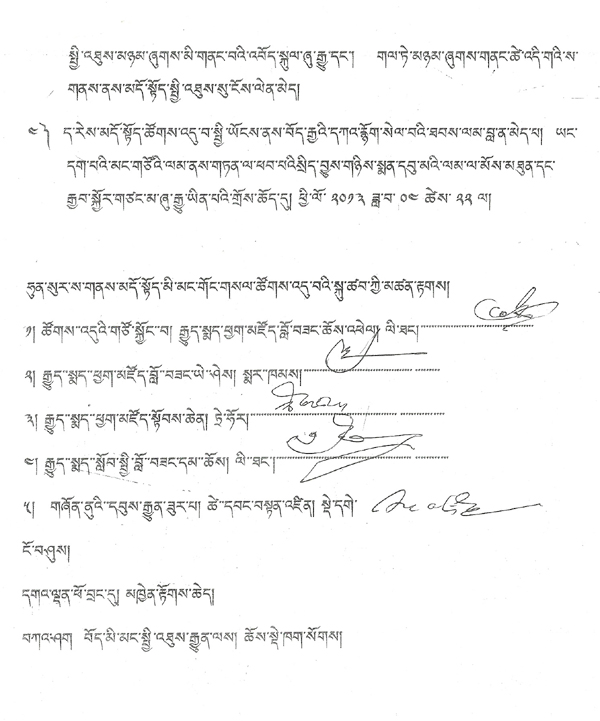 Another very strange thing with the document is that copies do not appear to have been sent to the Tibetan Youth Congress or the Chushigandruk organization to whom the meeting was calling on to give up their mission goal.
Instead at the bottom of the second page there is a short list of organizations to whom copies were sent.  The first copy was sent the Dalai Lama's Gaden Phodrang Trust, the second to the Kashag, the third to the Standing Committee of the Parliament, and the fourth to various monasteries.
Why is the first copy of such a contentious and divisive political document being sent to the Dalai Lama's Gaden Phodrang Trust?  It was my understanding that after His retirement the Dalai Lama was going to use this "Trust" or "Foundation" for intellectual, philanthropic or religious purposes but certainly not for political purposes.
On the basis of this strange connection it could perhaps be postulated that someone in the Gaden Phodrang Trust instructed the Gyurme monastery to hold the so called "khampa" meeting on the 22nd of April, and the dutiful Gyurme monastic officials after faithfully doing what they were told, sent the first copy of their resolution back to the Gaden Phodrang Trust, to demonstrate that they had loyally carried out the instructions they had received.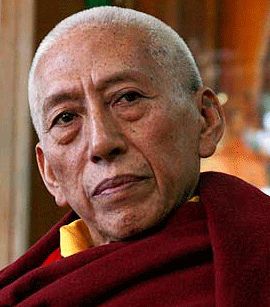 Going one step further one might argue the direction for the spate of recent attacks on Rangzen advocates may have originated from the alleged director of the Gaden Phodrang Trust, Samdong Rimpoche, who has a history of hostility to Tibetan activists and intellectuals. I was given to understand by a Dharamshala informant that Samdong Rinpoche sent Thomtok Trulku around to Tibetan communities in the USA to instruct them not to celebrate the centenary of the Great Thirteenth's declaration of independence.
In the matter of the TYC chapters in South India demanding that the Tibetan Youth Congress give up its fundamental goal and cancel the planned International Rangzen Conference (of 23- 25 May) we do not, of course, have as direct a link to Samdong Rinpoche as the Gyurme monastery letter to the Ganden Phodang Trust.
But one could perhaps ask why, of the TYC's 87 chapters, only four in Tibetan settlements in South India took this perverted stand. Could it be that they happen to exist in proximity to and under the influence of all the great Gelukpa monasteries of Drepung, Ganden, Sera, Gyurme, etc., etc., who are in turn controlled or at least influenced by the Gaden Phodrang Trust, and its alleged director?  But that, I will admit, is conjecture. More investigation and more hard information is needed to fully expose this sordid conspiracy that is turning His Holiness the Dalai Lama's retirement undertaking into a hotbed of intrigue, conflict and even collaboration.
What is not conjecture is that the demand for the Tibetan Youth Congress to give up its core principle, or for the Chushigangdruk to give up its fundamental goal of fighting for Tibetan independence and to accept China's tyranny, is as ridiculous and brazen as a demand for the monks of the aforementioned monasteries to give up Buddhism and convert to Islam. Ask yourself this simple question. If you belong to, let us say, the International Vegetarian Union (IVU) and you decide one day you want to eat meat. What would you do? Would you demand that this august vegetarian organization give up its raison d'être, its whole reason for existence, just to suit your convenience? No, of course not. You would simply resign and find yourself a nice steak-house or a Momo place, and get started on your new diet.
Those people calling themselves khampas or TYC members (and their instigators) making these shameless demands are, as far as I am concerned, "fake" khampas, "fake" shonus (TYC members) and ultimately "fake" Tibetan participating in an exercise in criminal deception in much the same way as those Chinese in Khampa disguises did in 1958. These people are clearly operating under false pretenses, and should be, at the bare minimum, kicked out, tout de suite, from the TYC and Chushigandruk.
The leaders of these historic freedom fighting organizations being attacked by those using the Dalai Lama remarks at Ladakh or Salugara, should not be discouraged or deterred from their noble mission. When the Chushigandruk started its military campaign against the Chinese, the Tibetan government and even the Dalai Lama himself issued condemnations of the resistance force. In his biography His Holiness writes that on his flight  he met some leaders of the Khampas and talked to them frankly and apologized to them. "I asked them not to be annoyed at the government proclamations which had described them as reactionaries and bandits, and told them exactly how the Chinese had dictated these and why we had felt compelled to issue them."
In My Land and My People the Dalai Lama's also explains, categorically and at length, that his efforts to cooperate with Beijing and make Tibet an autonomous region within the PRC (which might be called His Middle Way prequel) was a complete failure and that the only way forward for Tibet was as an independent nation. Right now the current Middle Way policy is proving to be even more of a failure than its '50 to '59 prequel. Chinese population transfer to Tibet is increasing exponentially, and the crushing weight of China's monstrous security apparatus in Tibet is forcing Tibetans, particularly Lhasa citizens, to flee to the (relative) freedom of Chinese cities. The Dalai Lama himself makes a passing reference to this in his Salugara talk (official CTA translation) as evidence of the "immense freedom" in China. Hundreds of thousands of Tibetan nomads are being driven out of their grasslands into walled settlements resembling Stalinist concentration camps and into desperate lives of penury and alcoholism. China's large-scale and forcible seizure of farms and grasslands, and the large-scale and extensive mining operations throughout Tibet, are driving the population to chronic unemployment, poverty, and extreme political, cultural and economic marginalization. Few Tibetans are getting even such low-level, dangerous jobs as miners, as the casulty figures from the Metrogongar mining disaster reveal. There can be no doubt that Tibetans as a race are being driven inexorably into what can only be described as virtual extinction.
The 117 heroic self-immolators have through their actions "to protest Chinese rule" – a phrase now used near consistently by the international media (just Google the phrase) and which is the near equivalent of saying they want independence – have demonstrated to the world that they are calling for His Holiness's return to a Tibet free of Chinese rule – an independent Tibet.  Not a single self-immolator or single street protester in Tibet has ever expressed support for the Middle Way Policy. Those advocating the Rangzen cause should stand firm, secure in the knowledge that the courage of their comrades inside Tibet has begun to expose China's sinister treachery behind the Middle Way Policy, and that the Dalai Lama and the Tibetan government will soon call on them, the very people they are now condemning, to save the day, just as they did back in 1959.
Before signing off, a return where to where we started. The Chushigangdruk in 1958 were able to capture some of the fake Khampas whom they executed, from what I gather. They also caught a few actual bandits who had posed as resistance fighters. They shot two and gave another a hundred lashes on his butt and let him go. This last character is dead and it probably serves no purpose to release his name, but it might be mentioned that he escaped to Kathmandu where he later became a big-time ku-tsong gyap-ngen, or a trafficker in sacred objects. What the Catholic church would call a  simonist.
______________
* Claire Harris, The Museum on the Roof of the World: Art, Politics and the Representation of Tibet. The University of Chicago Press. 2012.