Its coming around to that time of the year when we raise our fists in the air and sing "Longsho" (Arise!). I'm sure there is no argument, even from the most anemic Middle Path-er that this rousing ballad, sung at all March 10th gatherings and demonstrations, has helped exile Tibetans to hold on to their resolve for over five decades now.
But there aren't many other stirring revolutionary songs in the Rangzen songbook. That's probably why the American Civil Rights anthem, "We Shall Overcome", appears to have been inducted to serve our struggle. I don't know how true this is but an article in the Nation mentioned that the Tibetan Youth Congress sang 'We Shall Overcome' after its meetings.  The Tibetan Women's Association can be seen on You Tube singing it at a Candlelight Vigil. I also came across this video of a solitary Tibetan protest-singer/busker playing a dranyen and singing "We Shall Overcome" at a street corner in Seoul, South Korea, of all places. The singer, Kharag Penpa la, had even composed a verse in Tibetan that while retaining the spirit of the original lyrics, made a clear and simple declaration of his belief that Tibet would win independence someday. I found it very moving.
Ngatso Rangzen thopki ray, Ngatso Rangzen thopki ray

Ngatso Rangzen thopki ray – ye-che yod

Sem la ye-che yod, ye-che tsangma yod

Nyin-chik rangzen thopki ray

.

We will win independence, We will win independence

We will win independence  – this I believe

I believe in my heart, I believe absolutely

We will win independence, one day.
Penpa la's rewriting of the English lyrics is in keeping with the conventions of such traditional music. The original American song is itself an adaptation of an early Gospel song that was considerably re-worked and altered, both in its lyrics and melody, to become the anthem of the American Civil Rights Movement. This retrofitting was done at the Highlanders Folk School at Monteagle, Tennessee, where throughout the fifties labor organizers and civil rights activists, including John Lewis, Rosa Parks and Martin Luther King Jr. were trained and supported. The school even received a visit from Eleanor Roosevelt.
But white-supremacists and hate-mongers in the state government  forced its closure in 1961. Some of the houses including the home of the founder, Myles Horton, were burnt down. A preacher at a local church confessed on his deathbed that he had incited the mob. All that's left of the school is the main building and a barn where they had a small library whose first volumes were donated by Upton Sinclair. Behind the barn is a small pond which was the school's infamous "integrated swimming pool". Its now all closed and deserted, but something of the past still clings to the place. Its just a few miles away from my house and I drive by it sometimes. Makes me think of calling up SFT and suggesting they hold an "action camp" there.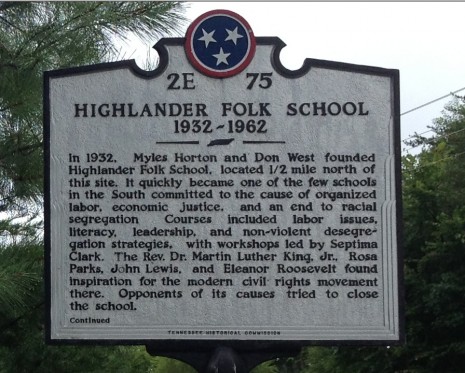 One of those responsible for adapting "We Shall Overcome" at the Highlanders school was the legendary folk singer and the pole-star of American political activism, Pete Seeger.  When Martin Luther King Jr. first heard Seeger's version at Highlander, he endorsed it as a song "that really sticks with you."
Pete Seeger died last month on January 26 at the age of 94. His songs meant a lot to me as a boy. If  you had gone to a Christian school in India as I and many other young Tibetans did in the fifties, sixties and seventies, you were were practically raised on songs that Pete Seeger had written, co-written, adapted or popularized. We heard them on Indian record labels in versions sung by commercially more popular artists as Peter Paul & Mary, The Kingston Trio, The Byrds, Joan Baez and others. These were positive uplifting songs but had enough of a subversive edge to make them memorable: "If I had a Hammer", "Turn Turn Turn", "Where Have All the Flowers Gone",  "The Lion Sleeps Tonight", "Kumbaya", "Irene Goodnight", "Guantanamera" and so many others.
In America in the forties Pete Seeger was a fixture on nationwide radio. He also had a string of hit records during the early 1950s as a member of the Weavers, and before that the Almanac Singers, with Woodies Guthrie. Pete Seeger's music had always embodied his political and social beliefs. He sang with Guthrie to support workers, farmers, and unions; to oppose fascism in Spain and to condemn Hitler and Mussolini. In the fifties and sixties he sang  with Cisco Houston, Bob Dylan, Joan Baez, Arlo Guthrie and Richie Havens for the Civil Rights and the Anti-War movements. He risked his life touring the deep south with the Student Nonviolent Coordination Committee (SNCC) the "shock-troops" of the Civil Rights movement, teaching and organizing  black southerners to oppose segregation. He kept up his activism for human rights, social justice and environmental protection well into the twenty-first century, singing with Bruce Springsteen against the Iraq War.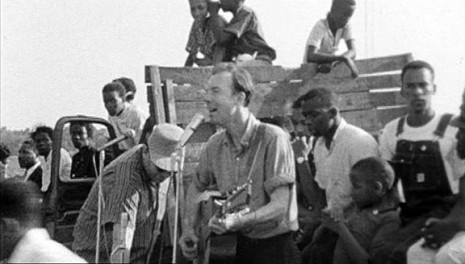 He joined the American Communist Party but left it in 1949, growing disillusioned with Stalin. He wrote a song "Big Joe Blues" condemning "Uncle Joe's" cruelty and oppression. When he was subpoenaed to appear before the House Un-American Activities Committee in 1955, he courageously refused to inform on his friends and acquaintances and refused to answer questions about his philosophical, religious or political beliefs, stating that these were his private affairs. He was charged with "contempt of Congress" and blacklisted for 17 years from radio and TV. He also appears to have been regularly harassed by the FBI and subjected to a range of petty persecutions, once being asked to sign a loyalty oath before singing to school children. But Pete Seeger never gave in to the blackmail, and never gave up his musical and social mission.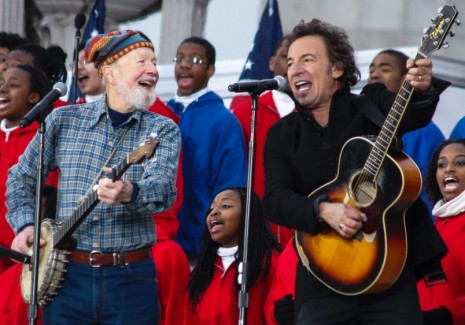 In 1994 President Clinton presented him with the Kennedy Center Honors. In 2012 Pete Seeger and Bruce Springsteen sang at President Obama's inauguration, the song being Woodie Guthrie's "This Land is Your Land". But official honors and recognition does not seem to have lessened his anger at social injustice and his commitment to fighting it. At the age of 92 he marched with two walking sticks over 30 blocks in Manhattan to support the Occupy Wall Street movement. Seeger was joined by singer Arlo Guthrie, the son of his old friend Woodie Guthrie, and they performed a version of "We Shall Overcome" with the 1,000 odd protesters repeating the lyrics after them.
We shall overcome, We shall overcome,
We shall overcome, some day.
Oh, deep in my heart, I do believe
We shall overcome, some day.
Someone (I include myself in this) should have had the foresight to invite Pete Seeker to sing "We Shall Overcome" at a March 10th rally in New York City . I have no doubt he would have come. He lived not too far away in Beacon, NY. Being the kind of man he was, he would gladly have sung the Tibetan lyrics if you told him what "Rangzen" truly meant to those suffering under Chinese rule. That the "R" word is now taboo in high-level exiles circles wouldn't have discouraged him. It might, in fact, have provoked him to belt it out even louder, and also call on everyone at the rally to sing along with him (something he regularly did at his performances).
"All together now
Ngatso Rangzen thopki ray, Ngatso Rangzen thopki ray
Ngatso Rangzen thopki ray – ye-che yod
Sem la ye-che yod, ye-che tsangma yod
Nyin-chik rangzen thopki ray."
( Tibetan activists, singers and musicians who want to know what to do for the struggle might find an answer or two in this wonderful documentary "Pete Seeger: The Power of Song" on PBS.  http://video.pbs.org/video/2365166823/)