(Gyurmey Dorje la, in a comment on a recent post, asked: "Can you do an article on South East Asia and China and how we are missing opportunities because of Kashag's China appeasement policies.")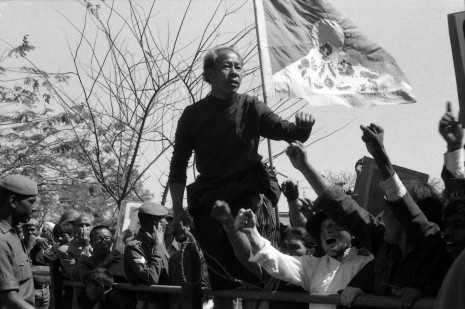 .
I was in Delhi for the March 10th rally in 1979 taking photographs for the Tibetan Review and the Tibetan Bulletin. Being the 20th anniversary an effort was made to put together a grander program of events than in previous years. The Information Office came out with a special souvenir journal. There were, of course, many more speeches than usual that day, but somewhere during one of the long boring ones an idea came together in my head.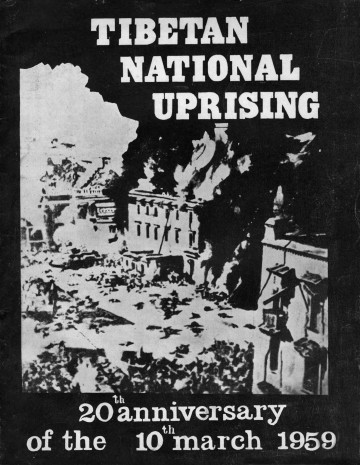 Just a few days earlier China had launched a massive attack on Vietnam, essentially to punish it for invading Cambodia and taking out Communist China's client regime (and star pupil) – the mass-murdering Khmer Rouge of "Killing Fields" infamy. Why not, I thought, take the Tibetan rally, or at least a part of it, over to the Vietnamese embassy to demonstrate our solidarity with Vietnam and condemn Chinese imperialism? In between the speeches and slogan-shouting I shared my idea with gyakpon Jamyang Tsultrim la, the head of the Tibetan community at Majnukatilla, the Delhi RTYC leaders and Gyen Gose la (Ven. Thupten Jungnay) an exile parliamentarian and a tireless and unwavering rangzen activist, who died some years ago. They all agreed.
So concluding our business with the PRC, about fifty or sixty of us set out for the Vietnamese Embassy, which was just a block away, while the main rally started on its usual procession via India Gate, Connaught Place and onward. I quickly went ahead before the others to inform the Vietnamese officials. They were surprised but very welcoming. Speeches were made all around condemning Chinese aggression and celebrating the fraternal bond of the people of Vietnam and the people of Tibet. The Embassy staff also distributed cold drinks to the protesters. It was a hot day.
Vietnam's relations with China have improved since 1979, especially since the nineties with growing commercial ties between the two countries. On the other hand the conflicting claims of both nations over the Paracel and Spratly Island has engendered a note of tension in this relationship. in January 1974 a major clash between Chinese and South Vietnamese forces resulted in China taking complete control of the Paracels. In 1988, China and Vietnam clashed over possession of the Johnson Reef in the Spratlys. Chinese gunboats sank Vietnamese transport ships supporting a landing party, killing sixty-four Vietnamese soldiers.
In Spring 2010, Chinese officials reportedly communicated to U.S. officials that the entire South China Sea was an area of "core interest" that was as non-negotiable and on par with Taiwan and Tibet on the national agenda. Vietnam responded on 21 June 2012, passing a law entitled "the Law on the Sea", which placed both the Spratly Islands and the Paracel Islands under Vietnamese jurisdiction. In May 2013 Vietnam accused China of attacking one of its fishing boats. Indian naval visits at Vietnam's invitation and also joint Indo-Vietnamese oil exploration ventures in these waters have contributed to the growing tensions in the region.
Readers will know that besides Vietnam,  other East Asian nations as Japan, Malaysia, Brunei, and the Philippines have their own  territorial disputes with China.
Just a month ago (Feb.5) President Aquino of the Philippines sounded the alarm on China's increasingly aggressive territorial ambitions. "He called on nations around the world to do more to support the Philippines in resisting China's assertive claims to the seas near his country, drawing a comparison to the West's failure to support Czechoslovakia against Hitler's demands for Czech land in 1938."
The New York Times said Mr. Aquino's remarks were "… among the strongest indications yet of alarm among Asian heads of state about China's military buildup and territorial ambitions, and the second time in recent weeks that an Asian leader has volunteered a comparison to the prelude to world wars."
The second comparison mentioned in the Times was the one made by  Prime Minister Shinzo Abe of Japa on Jan 22nd this year at the Davos conference in Switzerland where he declared that the increasing tensions between China and Japan were similar to the competition between Germany and Britain before World War I. Mr. Abe, a star speaker at the gathering, said a "similar situation" existed in both periods because while each set of countries enjoyed strong trade relations, that was not sufficient to overcome the strategic rivalry.
Japan's dispute with China is over another chain of islands, the Senkaku, in the East China Sea, which the Chinese call Diaoyutai. In recent months China's principal propaganda organ the People's Daily has managed to ratchet up tensions even higher by publishing "scholarly" commentary disputing Japan's sovereignty over even the hitherto undisputed Ryūkyū and Okinawa Islands (belonging to Japan) on the ground that the kingdom of Ryūkyū once paid tribute to China at some point in its history.
Similar "revisionist" publications by Chinese scholars have also raised concerns in South Korea. A 2002 historical study by the Chinese Academy of Social Sciences claimed that the ancient kingdom of Goguryeo, located in present-day North Korea and part of North-East China, was a Chinese kingdom and an integral part of imperial China. Korean and international experts on Goguryeo history accused the Chinese government of misusing history for political purposes, and there were speculations that China was positioning itself for the possibility of regime collapse in North Korea. I even recall references to China's takeover of Tibet being made by South Korean academics to the press when discussing the Goguryeo controversy.
A couple of months ago Chinese warships patrolled areas claimed by Malaysia, completely ignoring Malaysian protests and reasserting its claims to nearly the entire expanse of the South China Seas. Although Malaysia has traditionally avoided confrontations with China, some experts stated that the move would antagonize Kuala Lumpur – an Asean member with "significant influence" – and might shift the state of play in the maritime territorial dispute. Dr. Ian Storey of Singapore's Institute of Southeast Asian Studies, noted that "If this modern form of gunboat diplomacy by China continues, Sino-Malaysian relations are likely to suffer".
Readers are probably aware of all these developments and also of Japan's unprecedented military build-up and the USA's growing involvement in creating an alliance of all these nations, including India, to contain China's aggressive ambitions in the Pacific and Indian Ocean.
My point in presenting the above outline of events in East Asia was not to make predictions of imminent war in the region, or speculate about the "coming collapse of China". These are not unreal possibilities, but let us save such conjectures for another discussion.  I just wanted to put forward this cautious observation that the geopolitical situation in this entire region has changed significantly since the nineties – and changed somewhat in Tibet's favor, even if at the moment we are not doing anything about it.
This is not to say that these countries involved in territorial disputes with China are going to come out and openly support the Tibetan cause. They are not – at least not officially and not right now. Most of them are still doing considerable business with China, and Tibet doesn't mean all that much to them. But recent events have, nonetheless, opened a window of opportunity for us to approach China's adversaries and provide them a small advantage in their propaganda war with China.
A few Tibet activists and support groups in Taiwan, South Korea and Japan have already raised issues of human-rights abuses in Tibet, which is undoubtedly important. But in this specific instance, countering China's expansionism with human-rights arguments might not be the best way to move ahead. Most East Asian nations have human-rights baggage, historical and contemporary, of their own.
The conflict that is on-going in East Asia against China is about territory and national sovereignty. And the issue of Tibet, as I noted earlier, has been tied to this greater conflict by none other than Beijing itself. "Chinese officials reportedly communicated to U.S. officials that the entire South China Sea was an area of 'core interest' that was as non-negotiable and on par with Taiwan and Tibet on the national agenda." (Policy Issues Congressional Research Service, 12 January 2011). Hence I think the issue of Tibetan sovereignty (and its subversion by China)  could be raised in these countries to benefit their legal dispute with China, and also to make their own public aware of how skillfully and ruthlessly China uses pseudo-historical information to promote its expansionist agenda.
A possible way to launch such an effort would be to contact independent academic and judicial organizations in these countries (through existing support-groups there) and provide them the information and documentation (copies  of treaties, passports, maps, flags etc.) so that they could issue declarations and press statements showing how Tibet was a sovereign independent nation that China had not only militarily invaded and occupied, but had retroactively built up a bogus historical case to validate its territorial claims. Much in much the same way that China was now doing in the case of the Spratley, Paracels, Senkaku and Ryukyu Islands and even the kingdom of Gogoryeo in North Korea.
For starters we have the booklet INDEPENDENT TIBET: THE FACTS, which is available in  English, Hindi, Tibetan and Chinese and published by the the Tibetan National Congress and the Tibetan Youth Congress. It can also be downloaded on Rangzen.net. We could certainly get it translated into Vietnamese, Japanese or Korean. Unlike the sixties or seventies there is much more material available these days at universities and institutions around the world and of course in Tibet itself and China, which would allow us to expand our efforts: organize conferences, exhibitions and so on around the central theme of Tibet's independence and China's re-writing of history for its expansionist or "Lebensraum" policies, to continue the World War references made by the Japanese PM and the president of the Philippines. I feel confident that such an initiative would receive support in all these countries. Perhaps in an instance or two even governmental support of a surreptitious nature might be forthcoming. We should bear in mind that these countries are, to put it bluntly, being bullied by China, and it would only be natural if they wanted to return the favor in an appropriate fashion.
The crucial thing for us would be that the issue of Tibetan independence would once again be raised and debated in the global arena. And there is no telling what other doors would open then, and what major opportunities would present themselves for us to advance the struggle? One thing for certain is that this would be an enormous morale booster  for everyone inside Tibet, which would in turn accelerate the chain-reaction of destabilization on the Tibetan plateau and in East Turkestan.
But it goes without saying that Dharamshala is definitely not going to seize this or any other moment. The Middle Way doctrine is unequivocal about no pressure of any kind being put on China's leaders. A recent report in Phayul.com made it clear that even seeking "outside support" was now prohibited.
San Francisco, February 23: The Tibetan spiritual leader His Holiness the Dalai Lama told Tibetans living here that the issue of Tibet must be resolved through dialogue with China and not by seeking any outside support. The 78 year old Nobel Laureate recalled a conversation he had with the late Indian PM Pandit Jawaharlal Nehru in 1956 and 1959. "I remember him (Nehru) telling me that the only way to resolve the issue was to talk with China and not by seeking support from outside including the UN," His Holiness said."
No "outside support", no pressure, no sanctions, no protests and no boycotts are the crucial building blocks of the Middle Way strategy of cringing fatalism. And these are not merely hypothetical prohibitions. Dharamshala actively opposed all those calling for a boycott of the Beijing Olympics; it opposed the "Freedom March to Tibet" in 2008 and every protest, even the seminal uprising in Lhasa, that year. Earlier, prime-minister Samdong Rimpoche had even called on Tibetans not to organize peaceful protests against Chinese leaders visiting the USA, Europe and India.
Those of us who realize that an unprecedented and vital moment has arrived in the history of our struggle, should ask ourselves what we must now do to overcome official defeatism and ensure that the struggle for Rangzen becomes the paramount task of the exile government and the foremost concern of the Tibetan people. Readers can expect a discussion very soon on this blog.
Before concluding I want to touch on this year's March 10th observances. I hear that officially inspired "suggestions" have been floating around Tibetan communities and organizations for the restructuring of the celebration and demonstrations. No more singing of "Longsho (Arise)", no more banners with messages that would "hurt the feelings of the Chinese people", and no more shouting of such slogans as "CHINA GO HOME", "BHOD RANGZEN or even "FREE TIBET".  I hope none of this is true. In case it is I request participants at this year's rallies to ignore all such "suggestions". If you are approached by someone who asks you not to shout the old slogans and instead cry out: "CHINA PLEASE – TALK TO US"  or "DEMOCRACY NO – COMMUNISM YES", "WE LOVE THE PRC" then I think the correct, creative and non-violent response would be to hawk up a great big slimy gob of mucus and delicately spit it on his (or her) face. But no anger or violence, please.