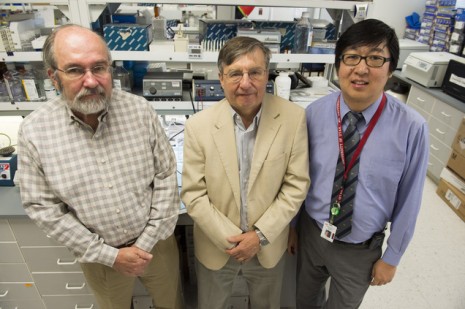 Aug 17 2014. A study led by University of Utah researchers has identified for the first time the genetic reason Tibetans can survive on the Tibetan Plateau, which has an average elevation of 14,800 feet. The results of the study, led by Josef Prchal, internist Donald McLain and hematologist and researcher Tsewang Tashi, were published online yesterday in the journal Nature Genetics.
By taking blood samples from 26 Tibetans living in Utah and Virginia — as well as dozens more from Tibetans and other Asians living in China and India — they found the gene EGLN1 changed by a single DNA base pair. Lowlanders who lack the genetic mutation suffer in thin air because their blood becomes thick with oxygen-carrying red blood cells in an attempt to feed oxygen-starved tissues. That can lead to long-term complications as acute mountain sickness or heart failure, Prchal said. But Tibetans' bodies do not react to high altitude by producing extra red blood vessels, but by a unique molecular mechanism provided by this genetic mutation.
The mutation apparently began 8,000 years ago and "spread like fire" through the population. Those who had it thrived and, by natural selection, their offspring did, too. Today, 88 percent of Tibetans have the genetic variation, but it is virtually absent in closely related lowland Asians as Chinese, Japanese, Koreans, Mongolians and Filipinos, the study found.
Tsewang Tashi, who came to Utah from India in 2012 said, ""The significance is … that we understand more about evolution." (See full story in The Salt Lake Tribune)
This study brings to a wonderful and serendipitous culmination the earlier news reports we had of Tibetans inheriting special genes from Paleolithic cavemen.  As someone regularly commenting on Tibetan affairs, history, customs and what have you, I think it would not be presumptuous of me to offer a tradition-related perspective to this scientific development. Here goes: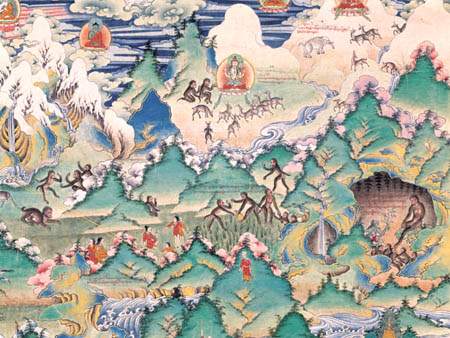 That Tibetans anticipated Darwin in claiming descent from a monkey has been noted (tongue-in-cheek) by such scholars as Sir Charles Bell. But Tibet's primal ancestor the "Compassionate Father Monkey" (pha tiu jhanjup-sempa) didn't just stop there in establishing our claim to scientific distinction. Going one further, he mated with the female of a less advanced species of proto-humans of the genus drak-sinmu, usually translated as "rock-ogress", to produce modern Tibetans.
The first scientific discovery of such cross-species mating was reported in the journals Nature and Science in January this year. Two separate teams of scientists successfully isolated Neanderthal genes in the DNA of present day humans, clearly showing that our out-of-Africa forbears mated with Neanderthal cavemen.
Then we learned six months later in July, that a cousin of the Neanderthals, a Paleolithic-era species of the genus Homo, the Denisovans, mated with early Tibetans, and even conferred on our DNA make-up a special gene varient, which gives people of Tibetan ethnicity their unique ability to survive at extreme high altitudes.
Interestingly enough, the few fossil samples of Denisovans we have are of a female (another rock-ogress?) and were discovered in 2010 in a Siberian cave. The fossils have been dated to at least about 50,000 years ago.
No one has yet excavated the "other" cave near the summit of Mount Zodang Gangpori, where our creation myth tells us that the inter-species mating which produced the Tibetan people first took place. The "Chenrezig Cave" features a naturally produced (rang-jung) rock image of the monkey ancestor. The mountain is east of the town and is regarded as one of the four sacred mountains of Central Tibet. Nesting below the triangular peaked mountain is the town of Tsetang, which literally mean "playground", so called because it was the playground of the six progenies of the monkey and the rock-ogress, who are regarded as the ancestors of the six clans of Tibet (bod mi'u gdung drug).
I noticed that quite a few Tibetans on social media had re-posted the news reports of the genetic link of Tibetans to Denisovians and some were clearly excited by the news. I also came across a comment or two dismissing the whole thing as "not a big deal." I suppose if you aren't interested in a free and independent Tibet and want to be a citizen of Communist China, then it is clearly not important to know that there is a profound genetic difference between the Chinese and us. But if you're someone like me who has over the decades squirreled away bits of information on the uniqueness of Tibet, its people, culture, history and environment then yesterday's singular scientific report is like the one day of sunshine we sometimes got during the depressing long monsoons in the Darjeeling of my boyhood. Dr. Tsewang Tashi's presence in this report is like the "sunshine holiday" my school (North Point) would declare on such a special day.