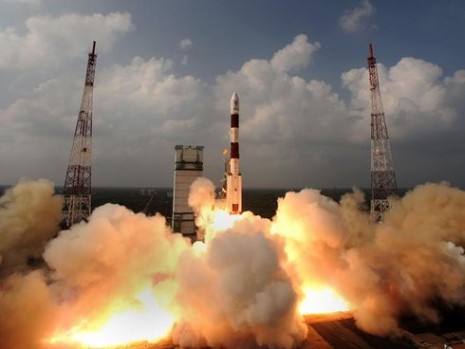 .
In the old days when you saw a movie in India you invariably got an Indian News Review newsreel before the main feature. From the early seventies there were occasional reports on India's fledgling space program. A rocket would be launched and invariably it would corkscrew in the air and explode – or flame out on the launch pad. The newscaster would try and sound cheerful and positive. I remember one comment: "Ah well, back to the drawing board."
But early today India successfully managed to put a satellite into orbit around Mars. Only the US, Russia and Europe have sent missions to Mars, and India has succeeded on its first attempt – an achievement that eluded even the Americans and the Soviets.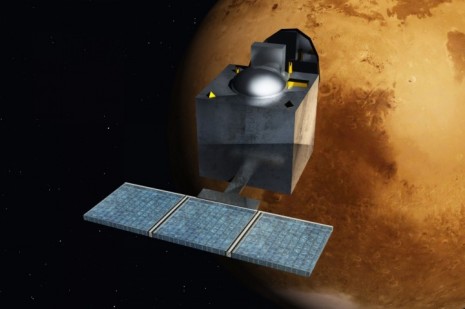 .
The Mangalyaan (Migmar–thekpa in Tibetan) space-probe, one of the cheapest interplanetary missions ever, will soon begin studying the Red Planet's atmosphere and address some of the biggest questions on Mars, writes BBC's Jonathan Amos. India was particularly proud that the program was developed with homegrown technology and for a bargain price of about $71 million. Hollywood's sci-fi hit Gravity cost over a $100 million. The Indian scientists and engineers when interviewed managed to sound modest and realistic about their amazing achievement. Aerospace engineer Narasimha said that India does not "fantasize" about competing with economically advanced countries. There were no "Great Leap Forward" style boasts of leaving the US and Britain behind.
What I felt many news reports did not stress enough was that India's space program was entirely indigenous. Right from the beginning India's modest and peaceful space program developed its own rockets and built its own satellites with practically no help from any big power.
China's space program, on the other hand, received much input from the Russians. China's first missile built in October 1958 was a reverse-engineered copy of the Soviet R-2 short-range ballistic missile (SRBM), itself an upgraded version of a German V-2 rocket. During the cordial Sino-Soviet relations of the 1950s, the USSR engaged in a cooperative technology transfer program with the PRC under which they trained Chinese students and provided the fledgling program with a sample R-2 rocket.
A later Chinese spacecraft the Shenzhou followed the same general layout as that pioneered by Russia's Soyuz. In 1994, Russia sold some of its advanced aviation and space technology to the Chinese. In 1995 a deal was signed between the two countries for the transfer of Russian Soyuz spacecraft technology to China. Included in the agreement was training, provision of Soyuz capsules, life support systems, docking systems, and space suits. The hardware and information sold by the Russians led to modifications of the original Phase One spacecraft, eventually called Shenzhou.
One other question that must be asked about China's space program is how much it has benefited from China's official and extensive campaign to steal every kind of high-technology (including space technology no doubt) from Western countries in general and the USA in particular. At present all researchers from NASA are prohibited from working with Chinese citizens affiliated with a Chinese state enterprise or entity. In March 2013, the U.S. Congress passed legislation barring Chinese nationals from entering NASA facilities without a special security waiver.