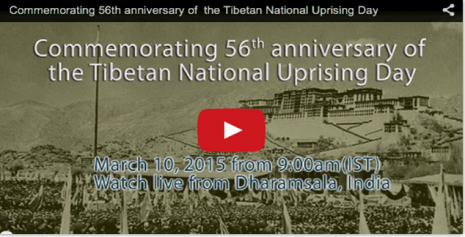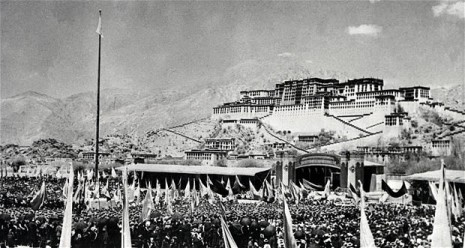 .
On March 10th this year does CTA plan to honor the sacrifice of the Tibetan people in 1959 or celebrate the savage crushing of the Uprising by the PLA?
The Central Tibetan Administration (CTA) just announced a live webcast of its official function for the 56th National Uprising Day at Dharamshala. Shockingly their publicity image is a photograph of the enormous public rally at Lhasa on April-May 1959 organized by the Chinese authorities to celebrate their crushing of the March Uprising. As shown in the CTA chosen image, nearly all the people of Lhasa were forced to participate and raise hundreds of Red Chinese flags and banners, and shout slogans denouncing the "reactionary clique of the Tibetan upper strata", express "..their determination to wipe out the reactionary rebel bandits" and praising Chairman Mao and the Communist Party of China.
This is the CTA's chosen March 10 photograph: a celebration of China crushing the March 10th Uprising.
A mistake based on having zero historical awareness? Perhaps a Freudian slip – an error in speech or action that reveals an unconscious or repressed intention or wish. It is now more than clear that Dharamshala wants the 10th March rallies not to be events to challenge China's occupation of Tibet but rather opportunities to make China understand that Tibetans do not want independence and wish to accept being a "minority" people within the PRC and under Communist rule. After all, this is the natural outcome of the new official CTA policy of abandoning independence, democracy and accepting CCP rule.
In order to promote this new policy Dharamshala has managed to gain control of the Associations that administer the various Tibetan communities worldwide and also some of the TYC branches, and made them drop all previous slogans and messages (in English) such as "Free Tibet, China Out of Tibet, China Go Home, Shame on China" and in Tibetan "bhod kyi dakpo bhomi yin (Tibetans are masters of Tibet), Bhod Rangzen (independence for Tibet)" etc. In their place are a variety of anemic wishy-washy slogans essentially variations on "Genuine Autonomy for Tibet" and "Chinese and Tibetans are Brothers". In true anti-democratic fashion, all non-official slogans are banned.  All that is left now is to replace the Tibetan flag with the Chinese one – could that be far off now?
In New York City the Tibetan Association has also ordered everyone attending the 10th March rally not to bring their own banners but to use pro-China banners issued by the association. (The Association's official poster also uses the same image as the CTA leadership of the Chinese rally celebrating the crushing of the Uprising, which must be a very wild coincidence indeed.) I also know that such organizations as the Tibetan National Congress and the Students For a Free Tibet are going to display their own pro-independence banners on March 10th and there is unfortunately every possibility of a clash between these two conflicting groups. As if Tibetans didn't have enough internal divisions and conflicts already.
What I don't understand is why Tibetans who want to voluntarily accept being citizens of China, still want to have anything to do with March 10th commemorations? After all, that event celebrates nothing less than the violent uprising of the Tibetan people against China's occupation army in Tibet. Thinking long and hard about it only two reasons came to mind for such perverse behavior:
1. Even if these people didn't believe in the Tibetan cause they want to hang on to every institution and symbol of that cause essentially to milk  it for self-serving reasons, as such institutions as the ICT, United Nations for a Free Tibet (UNFITT) and others are profitably doing.
2. These people are willing instruments of the PRC's strategy to undermine and destroy individuals and organizations in exile advocating and fighting for an independent Tibet – a goal that China has clearly and repeatedly declared to be the fundamental challenge to it sovereignty and integrity.