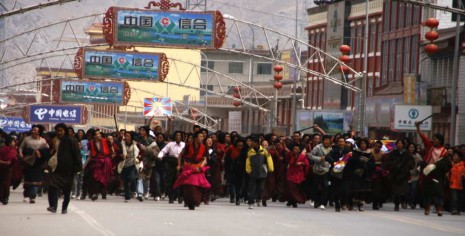 Anne Applebaum, the Pulitzer Prize winning journalist and scholar (Gulag, A History), writing on the 2008 uprising in Tibet, concluded: "Watching a blurry cell phone video of tear gas rolling over the streets of Lhasa yesterday, I couldn't help but wonder when – maybe not in this decade …Tibet and its monks will have their revenge."
Blurry cellphone videos and shaky amateur videos, phoned straight in or circulated on the internet, have been an unquestionably valuable tool for Tibetan freedom fighters in Tibet to get their message out to the greater world. The 2012 student protests in Rebkong, Chabcha, and even Beijing, demanding "Language Freedom"were captured on blurry cellphone videos. And, of course, we've all seen the blurry cellphone videos of the self-immolations in Tibet, that have filled us with concern, sadness, but most of all, admiration for the courage and resolve of those giving up their lives for our freedom.
Strangely enough a few "blurry cellphone videos" recently played a vital role in the Tibetan exile community in New York City, exposing a conspiracy ("of dunces") by certain local leaders (claiming to be carrying out the Dalai Lama's wishes) to turn the preeminent commemoration of Tibet's independence and resistance to Communist China, into what can  be called a surrender rally, where all previous slogans as "Free Tibet, China Out of Tibet, Tibet Belongs to Tibetans and Bhod Rangzen were to be banned, and what can only be called "beggar's" appeals to  the PRC  would be allowed.
This scheme was headed by the president (Sonam Gyatso) & vice president (Thinlay Kalsang) of the Tibetan Community of New York & New Jersey (TC NY/NJ) and the president (Ngawang Palden) of the Regional Tibetan Youth Congress (RTYC NY/NJ) and was specifically intended to remove from the rally individuals and organizations calling for a Free Tibet and for Independent Tibet; organizations as the  Students for Free Tibet (SFT), the Tibetan National Congress (TNC), and even the venerable US Tibet Committee (USTC), which is not only the first Tibetan activist organization in the USA, but the organizer of the very first March 10th Rally in New York City.
When these Free Tibet protesters showed up for the rally they were bluntly told to leave by the community and youth leaders, and when they refused the organizers called on the NYPD to force "Free Tibet" protesters to leave the rally. The police officers, to their credit, refused to do so stating that it was illegal in the US to stop or arrest people for expressing their first amendment right to free speech, and that anyone could shout "Free Tibet". All this was caught on a blurry cellphone video.
Things went downhill from there, with the organizers continually trying to persuade the NYPD to arrest or push out "Free Tibet" protesters from the March. Another video actually catches the president of the the TC NY/NJ  with his hands together in obsequious supplication, requesting a NYPD cop: "No Free Tibet. No China Out of Tibet." (3.00 minutes into the video) to the amazement of the SFT president Tenzin Dolkar la, standing nearby, who asks in surprise "What, no free Tibet?" Tibetan Vines, a comic Facebook page posted this brief segment to the tune of Jay Z and Alicia Keys song " Now you're in New York…" which went viral (relatively speaking) in the small Tibetan digital world and opened the eyes of teenage Tibetans to the disgraceful antics of their elders.
Even Western Tibet supporters at the rally were intimidated and bullied by the president of the Tibetan community.  One female SFT staff member was threatened: "Be careful. You are going to get a bad name. You are going to suffer. SFT is going to suffer. Your family is going to suffer." All because she was holding a "FREE TIBET" placard.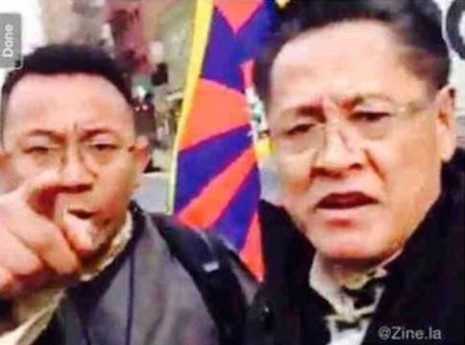 That same evening the rally organizers made all participants attend a "Clarification Meeting" (see video) at the Tibetan community hall. The chief guests at this meeting were Kalon Ngodup Tsering and MP Tashi Namgyal, who made absolutely no effort to tone down the inflammatory rhetoric that followed. Speaker after speaker denounced Free Tibet and Rangzen activists, even castigating the owners of certain Tibetan restaurants at Jackson Heights allegedly patronized by Free Tibet activists.
The principal speaker was vice-president Thinlay Kalsang, who now took center-stage and revealed himself as the éminence grise, or to put it in contemporary political language, the Dick Cheney of this clown coterie. But it also became clear that the organizers were worried that their scheme had not played out as intended, and that incriminating cellphone videos of the fiasco had appeared on the internet. Thinlay Kalsang, back-pedalling, claimed that no one had been told NOT to shout "Free Tibet" or "Rangzen", but that only a polite request was made. "A request is only a request" (buegue buegue ray) he added, ingratiatingly.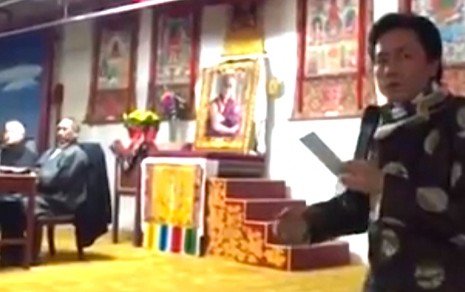 The Tibetan community world-wide was shocked at this attempt to exclude – even forcibly remove – Free Tibet Protesters, from a March 10th rally. A number of Tibetan eyewitness to this disgraceful event came out openly, expressing their observations and opinions on videos
The most clear and straightforward one was posted on YouTube by Thupten Thogmay, whose neutral, factual statement had real credibility. He is a declared Middle Way supporter and admits, in the video, that when he was a community leader he had, one year, attempted to stop me (Jamyang Norbu) from being invited to speak at a rally, presumably because of my pro-Rangzen views.
Thogmay's only motive in making his statement appears to be to provide an honest eye-witness account of the events, and help prevent further conflict and division within the Tibetan community-in-exile. He explicitly states that Free Tibet protesters at the start of the rally came with their banners and posters and were orderly, well-behaved and looked "positive and happy" (nawa kyipu). Then one of the TC NY/NJ leaders went over to the Free Tibet protesters and shouted at them "What are you doing here? Why did you come? You are not allowed to come here. This is our space. Go away." Thogmay adds that the statement was made antagonistically, with "a black face" (dong nakpo). Thogmay declares later that it was absolutely clear the whole fiasco was started by "our side" (Middle Way) and not by the "other side" (Free Tibet). At the conclusion of his account Thogmay calls for the resignation of the  president and vice-president of TC NY/NJ and the president of the RTYC NY/NJ. Another, three part video statement, made by a former community leader, Lobsang Tashi also calls for the resignation of these leaders.
The organizers went into censorship overdrive and desperately attempted to get all these YouTube videos and cellphone videos removed from the web. They initially succeeded in a case or two, but a day later the same videos not only reemerged but  some had morphed into props for insults, derisory sub-posts and comic relief at chat-sites and what have you.
The issue was taken up by the Tibetan parliament in exile where four MPs condemned the forcible exclusion of Free Tibet protesters from the 10th March Rally. One MP in particular, Ven. Monlam Tharchin, gave a detailed account of this event and called on the Sikyong and the CTA to investigate the organizers, as they had somehow obtained, ahead of time, the officially embargoed March 10th statement of the Sikyong, and completely misrepresenting a part of the statement, told the Tibetan public in New York that the CTA had officially called for the exclusion of "Rangzen activity" from the March 10th Rally. Ven Tharchin said he had also seen the video of the "Clarification Meeting" and declared that this was the only time in exile history where a 10th March meeting was devoted to condemning fellow Tibetans, and not uttering a word of protest against the Chinese.
Another MP Serthar Tsultrim, asked the Kashag if it had issued instructions forbidding people from shouting "Rangzen"? He added that if the Kashag had done so he would never support such a ruling. He demanded to know how in a free country like the USA, and even in India, the CTA could order people not to shout slogans they wanted? Two other MPs, Lobsang Yeshi and Dhardon Sharling, also spoke out in defense of Rangzen activists.
The Central Executive Committee (Centrex) of the Tibetan Youth Congress suspended the president of the RTYC NY/NJ, for going against the TYC's declared goal of Tibetan independence. The New York branch president immediately disputed his suspension and started a campaign to challenge Centrex.
To play down the rising outcry in the exile-community world over, Kaydor Aukatsang, the representative of the Office of Tibet in Washington DC, called a meeting on April 4th of all community and organizational leaders, along with the president of the SFT and the US Tibet Committee. The two members of Parliament representing the North American exile-community also participated. The meeting appears to have gone smoothly with everyone agreeing to work together and dropping the nonsense of banning Free Tibet activists from future rallies. A group photo was taken with everyone all smiles. The Office of Tibet and the two MPs gave their solemn assurance that the final draft of the agreement document would be circulated to everyone before it was issued publicly.
Instead, on April 10th, the Office of Tibet and the two members of Parliament posted the final statement-of-agreement on the Office of Tibet Facebook page, without consulting the other six organizations. A photograph of the meeting and the final documents (in both Tibetan and English)  can be accessed on this website
In this rewritten final statement the finger of blame for the March 10 incident was suggestively and underhandedly pointed at Free Tibet activists and their supporters who had posted the cellphone videos on Facebook. See points 4 & 5:
4. We are however disappointed that on the day of the commemoration certain individuals chose to mar this special day by seek to disrupt things first on the streets and then escalating the argument online….

5.  Social networking sites are excellent tools , but they can also fan the flames and magnify differences…etc.
Point 3 of the statement of agreement specified that future March 10th rallies "…should have a unified message" and people should refer to the banners used at the Tibetan People Solidarity Campaign organized by the CTA in 2013. This campaign to promote  the Middle Way policy,  not only excluded any mention of Tibetan freedom, independence, or China's military occupation of Tibet, but instead called on India to "Help to Save Tibetan Culture", and even featured this bizarre message "China, Save Tibetan Lives".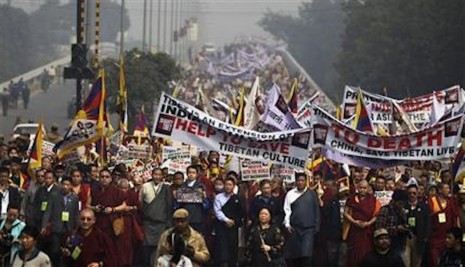 Clearly, if the "unified message" agreement were observed any slogan or banner calling for a "Free Tibet" or demanding "China Out of Tibet" would not be tolerated in future March 10th rallies.  This distorted letter of agreement was immediately criticized by many. The Office of Tibet quickly removed the statement-of-agreement from their Facebook page and website, and pretended nothing had happened. Someone re-posted the controversial documents on line, just hours after they were taken off. The leaders of the SFT and the US Tibet Committee, who were probably stunned by his cheap pettifogging trick, issued a message withdrawing their endorsement of the statement-of-agreement. A heavily edited version of the now defunct agreement letter finally reappeared in the late evening of 17th April.
Most probably the representative of the Office of Tibet (like certain American politicians posting racist emails or sexual videos on the web) hadn't quite realized that nothing can be completely removed from the internet; and that attempting to do so might precipitate a phenomenon called "the Streisand effect" whereby that particular information gets even more widely disseminated and publicized as a consequence.
This is conjecture, but the March 10th event in NYC was probably a testing ground of sorts for the Middle Way leadership to find an effective means of excluding Free Tibet and Rangzen activists, not only from all future March 10th rallies, but even possibly of marginalizing and ostracizing them from the exile-community altogether. The high priest of the Middle Way, Samdong Rinpoche, had hinted at something like this in an official statement where he denounced those advocating Tibetan freedom and independence as more dangerous than Shugden worshippers or Chinese Communists. He was very recently in New York City to rally Middle Way supporters.
Of course it doesn't take any political insight to see that such a development would create a fundamental and disastrous division in our community of a kind never experienced before. All previous discords: the issue of Taiwan money, pro & anti Gyalo Thondup factions, two Chushigangdrugs, Shugden, etc, would all pale in comparison.
If I remember correctly, Sikyong Lobsang Sangye's main election platform was "Unity". So this might be an opportune moment for the Sikyong to effectively demonstrate his commitment to that principal, and more critically, prevent, on his watch, a fundamental and perhaps even violent split in our society.  A good start would be an unequivocal declaration that all Tibetans have the right to express their political views without fear of official, semi-official, or even pseudo-official (I am not joking) coercion or ostracization. While at it he might investigate the business of his 10th March statement being accessed in New York before its embargo date, and a part of its message being criminally misrepresented to create conflict and  division in Tibetan society.
Concluding reflection. Blurry cellphone videos bad for out-of-control cops in the US, bad for Chinese Communist bosses in Tibet, and bad for wannabe bosslings in exile community. Good for the Truth.