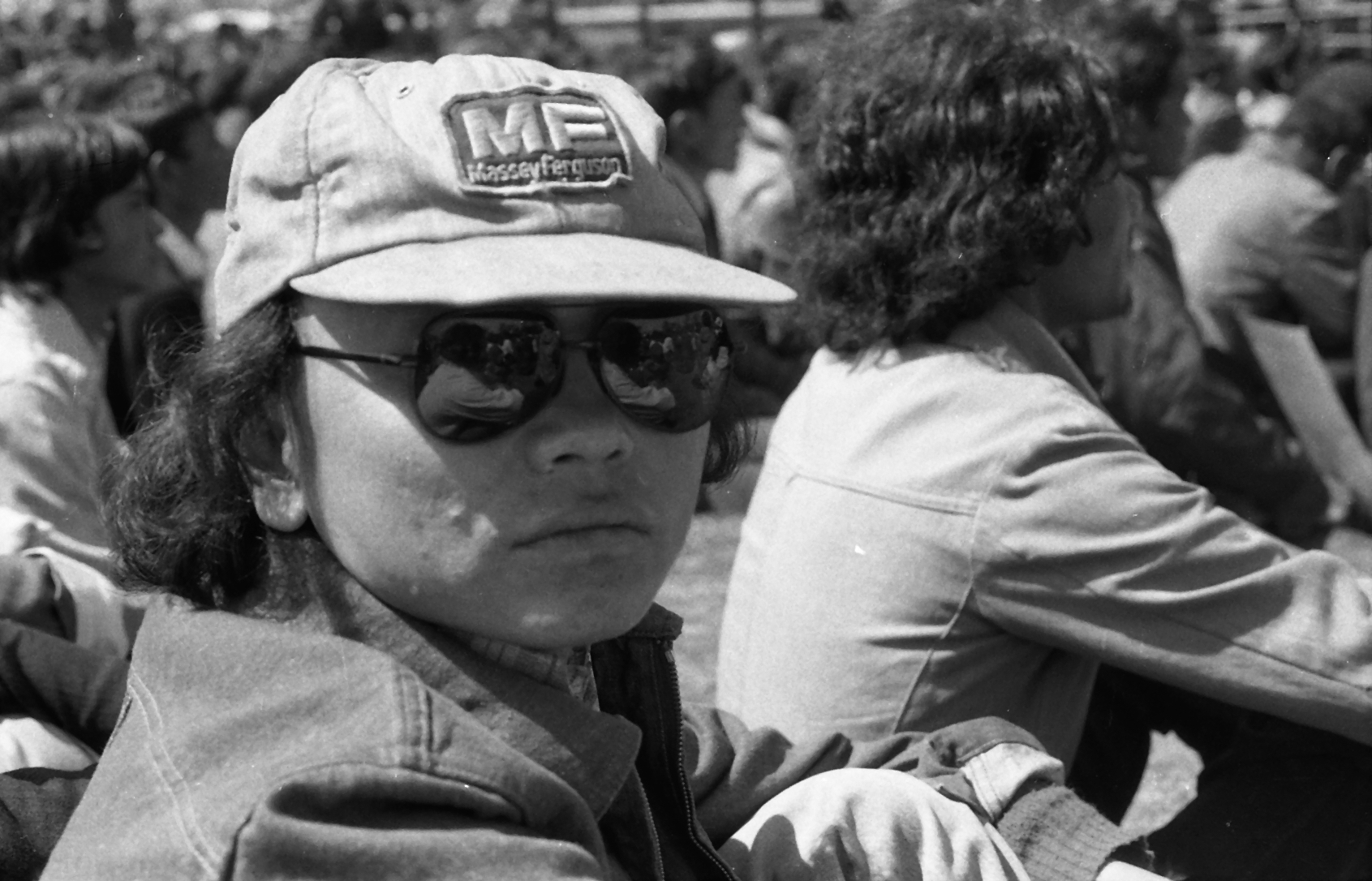 We got off on the wrong foot.
I met Tsering Wangyal-la in 1968 when I was working at the Bureau of H.H. the Dalai Lama at Delhi. Three junior officials had come down from Dharamshala to fly to Britain for further studies. In my capacity as assistant education secretary (temp) at the Bureau, I was tasked with arranging their passage to London. There were three of them –– Tashi Wangdi (yes, the former kalon), Tsering Wangyal and Gendun Thupten. When I met them at the dining-room of the Bureau that evening, I couldn't help noticing their contrasting heights. Tashi Wangdi was very tall, Tsering Wangyal middling and Gendun Thupten short. I couldn't help myself and made a facetious remark. "You know what the guy receiving you at London airport's going to say? 'Here are three Tibetans of assorted sizes.' Ha, ha." Years later when I got to know Tsering Wangyal he told me he thought I was a patronizing idiot. Well, I was eighteen.
Tsering Wangyal was born in Kalimpong on March 6, 1949. His father was a Khampa from Drayab. His mother was Lhasa born. Tsering was the oldest of nine siblings. Their family lived at Topkhana by the 11th Mile on the yak-caravan road that led to Pedong and eventually to the Jelep-la (zalay-la) pass and Tibet. Tsering attended the Kumudini Homes High School and graduated in 1966.

The next year he went to work in Dharamshala at the Religious Department. In 1968 he was selected for further studies in Britain with two other young officials. After passing his GCE-A levels he studied history at the University of Bristol, graduating in 1973. On returning to Dharamshala, Tsering Wangyal resumed work in the exile administration and in 1976 took over the editorship of the Tibetan Review, when the previous editor Dawa Norbu left for Berkeley to work on his doctorate.
In the following years I got to know Tsering Wangyal intimately. Tsering's takeover of the Tibetan Review coincided with momentous political events, not only for the world but for Tibetans as well: the end of the Cultural Revolution, Nixon's trip to China, the death of Mao, the arrest of the Gang of Four, Deng Xiaping, Liberalization of China's economy and, most important of all for us, the opening up of Tibet.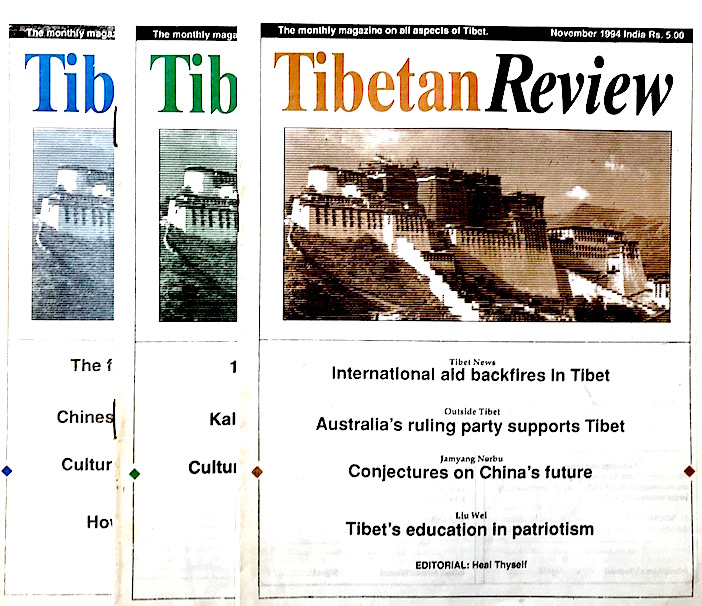 That was also around the time I began writing my political commentaries on Tibet and China (a selection of which was re-issued two years ago by High Asia/Black Neck and) and which put me in close contacts with the new Review editor Tsering Wangyal. I will not go into my writings ­–– suffice to say that that were largely directed at exposing the limits of Deng's Liberalization policy and the naïveté of Dharamshala's hopes for meaningful negotiations with Beijing.
Editor's political view largely coincided with my own. His own editorials and articles encompassed a wider field of issues, but he was ready to take on the exile government and other players over political questions he felt they had mishandled or neglected. Editor allowed me a great deal of latitude on content but was strict about facts and copy-editing.
A friend and fan, Thupten Samphel-la, described Tsering's idiosyncratic writing method, style and but also his underlying journalistic skill and integrity: "Editor used his massive office Remington typewriter with thundering rage. He pulled no punches, both against what he perceived as Tibetan government bungling and China's unrelenting assault in Tibet. In the end the image remains of Editor, shirtless, pounding on the Remington typewrite with his rapid, flowing two fingers, to produce his spontaneous, angry editorials which became the delight of the public and dismay of authorities."
Perhaps I should explain why the Tibetan Review, though owned by the Information Department of the exile-government, tolerated my critical writings and Tsering's sharp editorials. First of all Tsering had insisted on editorial independence when he took over, and the secretary of the Information Department, Zeychutsang Sonam Topgyal, fully supported him on this. The Kashag ministers then, though gentlemen of the old school, saw the value of a critical English language journal, if only to demonstrate to supporters in the West, that we were committed to press freedom and democracy. Only later when the Kashag was headed by reactionaries like Juchen Thupten Namgyal and Samdhong Rinpoche, was this enlightened modus vivendi done away with.
My relationship with Tsering Wangyal-la transcended journalism. He and I shared a love of books, music, movies and theatre, though in India then, the last was virtually unavailable. But sometimes we were lucky and I remember the two of us attending and enjoying a Barry John production of Peter Shaefer's Amadeus at New Delhi. Editor was a fan of progressive rock and had many LPs (vinyls) of Emerson, Lake and Palmer, The Incredible String Band, Pink Floyd, the Stones and the Beatles. Editor was also a classical music devotee and owned large collection of Beethoven, Mozart, Sibelius and other records.
Tsering also had a wicked sense of humor and was an indispensable fixture at all Dharamshala gatherings. His witticisms permeate Another Place, as does his enthusiasm for a party, a card game (paglu), or a cold bottle of Golden Eagle. Since readers will be delving into the novel after finishing this introduction, no more needs to be said about Tsering Wangyal's first venture into fiction writing. I am sure this talent would have flowered after his retirement to Toronto, but which was, sadly, cut short by his untimely death at the age of fifty-one.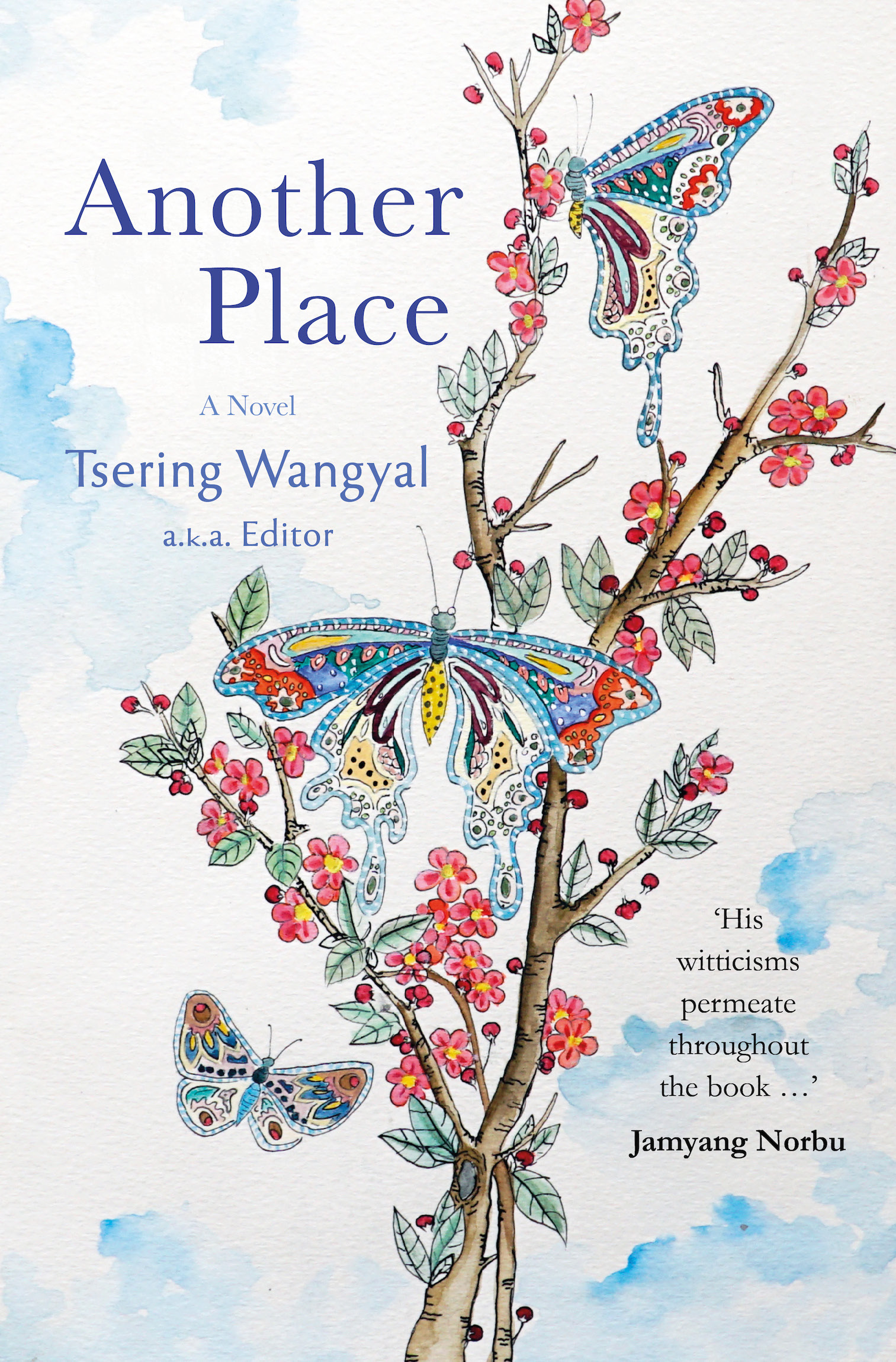 I would like to thank Editor's brother Tsering Dorje-la, for letting me have the only copy of editors typed manuscript, and to Bhuchung Sonam la of Black Neck publications for initiating this project to bring Editor's novel out to the Tibetan reading public. I must also thank all of Editor's friends: "Gentleman" Tsering Dhundup, Sonam Dahla "Bidhar", Dechen & Sonam Ratu and also Tse-Dorje la who contributed financially to the printing of the book.
In conclusion I want to offer a big thank you (in advance) to anyone volunteering to undertake a project to collect Tsering Wangyal's editorials and assorted prose writing –– not forgetting the droll piece about his first Red Sox game when interning at the Quincy Patriot Ledger (under an Alfred Friendly Press Fellowship) in 1986. Such an anthology is way overdue, if only to commemorate the journalistic skill and integrity of the longest serving editor (20 years) of the most important Tibetan news magazine –– every issue of which was eagerly awaited by the exile community in India and abroad.
Jamyang Norbu