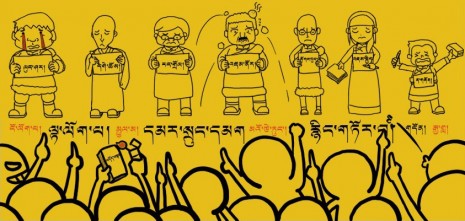 .
Its not every day that you can make both your enemies and your friends happy with the same blog post, but I have something special here that I think will do do the job. It was sent to me by a friend who discovered it on a website in Tibet: Sangdhor.com . My detractors will be pleased to see an image of me being stoned by a mob, and recall those heady days in the autumn of 1985 when I was subjected to a full dress thamzing or "struggle" (Ch: 批鬥 pi dou or 鬥爭 dou zheng) in Dharamshala by the religious-right.
My friends viewing this cartoon will be pleased and reassured to see that our compatriots inside Tibet have read (in Tibetan and Chinese translations) some of the postings on this blog-site, and that they, furthermore, appear to be perfectly aware of the stupidity, intolerance and fanaticism that permeates our society today.
The cartoon depicts Tibetans whom the artist regards as reformers and intellectuals persecuted for their views, namely:  Lungshar, Gedun Chophel, Rangdrol (aka Thondup Gyal), JamNor, Shokdrung, Jamyang Kyi, and on the extreme right the Tibetan Youth. In the foreground a violent mob is throwing rocks at JN and shouting "Traitor, Unbeliever, Red Guard, etc., etc. One member of the mob is burning Gedun Chophel's Art of Love (འདོད་བསྟན།). Sangdor's cartoon seems prophetic when you think of the present campaign of harassment and intimidation against the Tibetan Youth (Congress). The only criticism I have of this great political cartoon is that our premiere dissident and writer, Tsering Woser la, has, inexplicably, been left out of the thamzing line-up.
I first became known to readers inside Tibet when I won the 2000 Crossword Book Award in India for English fiction. Although most of them hadn't read the book (It was translated in about a dozen languages but not Chinese) I received messages from writers and students in Tibet telling me how proud it made them that a Tibetan had won a major award for writing a novel in English. Things improved when my essays started to be translated into Tibetan and Chinese, and I was interviewed fairly often on Radio Free Asia.  But I really got through to readers in Tibet after 2008 when I published "Black Annals" my two-part review essay of Professor Melvin Goldstein's Demise of the Lamaist State. China regards Goldstein as the premier Tibet scholar on their side, and, if one goes into Chinese government white papers on Tibet specifically modern history, the key reference cited is Goldstein's work. So it should come as no surprise that Tibetans with any knowledge of their history should not be too happy with our professor. Many Tibetans in Tibet began to comment on and analyze my essay and I was told that  a website was created specifically to further this debate. That year in Tibet the best blog award was received by a post titled "Jamyang Norbu Has Slapped Mel Goldstein".
A couple of years later the most popular Chinese-language Tibetan website TibetCul.com [zh] carried out a survey of 100 most well-known Tibetans. From exile they only had two names. Of course His Holiness was there in a  prominent way, but yours truly also just managed to make the cut.
Readers in Tibet seemed to like my essays on "Old Tibet" on ancient environmental laws, on Tsampa appreciation, Khapsay making, on Law and Punishment, on the grasslands of Kyigudo and my mother's memories of Gedun Chophel.  One article in particular "Karmapa and the Cranes" was so popular that multiple translations of it popped up on the web. I owe a tremendous debt of gratitude to my Tibetan translators for providing me this incredible gateway to readers inside Tibet. These modern lotsawas will remain nameless for the present as I been unable to contact all of them, and I don't want to get anyone in trouble. To my Chinese translators and friends, Weimin Rose and John Lee, many many thanks. Of course there were some in Tibet who read my posts in the original English, one being a Salar Turk from Sining who contributed welcome information and encouragement in his comments. The Chinese translations are also beginning to be read Chinese readers at Beyond High Wall and commented on in a straightforward, non-fenqing way.
More and more Tibetans inside Tibet are now taking an active interest in the politics of our exile administration, and also my critical writings on this issue. The Tibetan translation of my recent "Tibet's Next Incarnation" received this personal feedback (via Skype text) from Amdo: " His translation of "Tibet's Next Incarnation" is really very good. Many people around are taking a great deal of interest in this translation, particularly the youth. These days many of the youth in Tibet are speaking highly of JamNor.
གཞན་ཁོང་གིས་བསྒྱུར་གནང་མཛད་ཁའི་བོད་ཀྱི་སྤྲུལ་སྐུ་རྗེས་མ་འེ་ཅེས་པའི་འགྱུར་དེ་ཡང་བཀླགས་ཐུབ་སོང་། ངོ་མས་ཡག་པོ་འདུག་   བའི་མཐའ་འཁོར་གྱི་མི་མང་པོ་ཞིག་གིས་འགྱུར་རྩོམ་དེར་དོ་སྣང་ཆེན་པོ་བྱེད་ཀྱི་འདུག་   ལྷག་པར་དུ་གཞོན་སྐྱེས་ཀྱི་ཁྲོད་ན། དེང་སང་འཇམ་ནོར་ལ་བོད་ནང་གི་ན་གཞོན་མང་པོས་དགའ་བསུ་བྱེད་ཀྱི་འདུག་
It is just one comment by one Amdowa but it encourages me to think that even so far away, perhaps herding sheep by the shore of Tso Ngonpo (or, less romantically and more likely, doing grad studies at Sining U) someone is reading my stuff and arguing about it with his mates. It gives me real hope for the future of Tibetan democracy, something that the the sycophants, cynics and conspirators in Dharamshala absolutely don't.
It goes without saying, of course, that we owe this new and invaluable ability to communicate and interact with Tibet, largely to the internet. Earlier I wrote my essays for the Tibetan Review (on an old Remington portable) which were read by a few hundred people, mostly injis who responded with "letters to the editor" pooh-poohing my suspicions about Deng's Brave New China — plus ça change, plus c'est la même chose. Communications in general between those of us in exile and those inside Tibet was a very hit and miss affair, filled with strange rumors and speculations often bordering on the fantastic.
In the late eighties, the secretary of the Information Office, and on a separate occasion the Minister of Security, told me about a curious belief among many inside Tibet. It went something like this: that the Dalai Lama in His exile capital was advised by three trusted and wise counselors known as the three "Norbus" or "jewels" (presumably jewels of wisdom): Namkhai Norbu, Dawa Norbu and Jamyang Norbu. In one telling there was a fourth Norbu, the Dalai Lama's older brother, Thupten Jigme Norbu. The originator of this tale might have heard of some writers and intellectuals in exile, and was struck by the fact that most of them had the same last name, Norbu. One thing is clear, this guy may have been a good storyteller but he didn't have a clue about the political realities of Dharamshala.