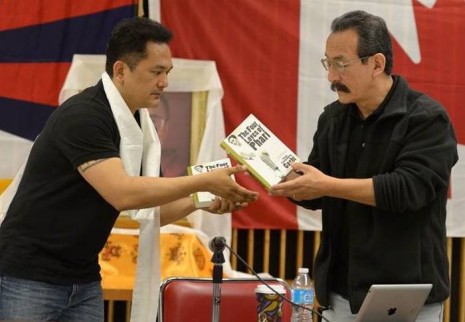 I would like to thank my TNC colleagues Kalsang Phuntsok la, Tenpa Gashi la and others for organizing my public talk "Forging a Rangzen Strategy" last Saturday at Toronto, and Lobsang Wangkhang la for introducing me to the audience. I must also thank Christophe la for the poster design. The hundred and twenty or so Toronto Tibetans who gave up their up their weekend holiday and patiently listened to what I had to say must be thanked for their public spirit. Their many questions and comments (and also from those on-line) are much appreciated.

Just before the talk a book launch was held for the newly revised edition of The Four Loves of Phari, the autobiography of the late Tsering Dorje Gashi, my old friend and fellow political-writer. His son Tenpa la had worked for a number of years on this publication and it was my honor to carry out the formalities for its release. I had also made another small contribution earlier in the form of a blurb which I have reproduced below.

.
Gashi Tsering Dorje-la and I were political kindred-spirits from the mid 1970s through the 80s. I was then contributing political commentaries to the Tibetan Review that were mostly directed at exposing the limits of Deng's Liberalization policy and the naïveté of Dharamshala's hopes for negotiations with Beijing. The only other Tibetan (besides the editor of the Tibetan Review) writing regularly on such issues was Tsering Dorje-la.  He shared my concerns about China's duplicity and Tibetan gullibility, but he was much more effective in getting his message out to the Tibetan public. First of all he wrote in Tibetan and published in a variety of Tibetan language journals and papers. He was also better informed. He had studied in Beijing at the Minorities Institute from 1956 to 1961, and even knew some of those underground student leaders, Gyangtse Nyetho Jigme, Thangmey Kesang Diki, Zomphu Jampa Phuntsok and others who had spoken out for Tibetan independence and paid the price.
This new and updated edition of his autobiography first published in 1977 is of tremendous importance for a new generation of Tibetans who have little idea of the "struggles", mass campaigns, political upheavals, famine and violence that Tibet underwent during that period and which Tse Dorje la personally experienced and recorded so vividly and honestly. A number of his political articles had been included in this volume and will certainly add to its value and reading-pleasure.
– Jamyang Norbu, author of Mandala of Sherlock Holmes, Shadow Tibet, Warriors of Tibet, etc.,
.