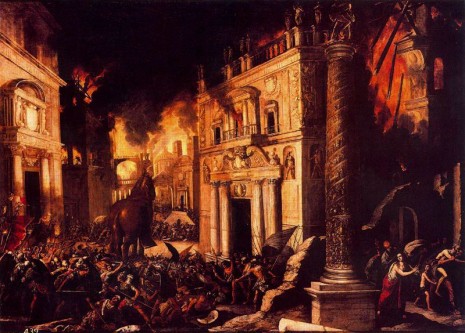 Cassandra was the beautiful daughter of King Priam and Queen Hecuba of Troy. She was given the power of prophecy by the god Apollo, but when she refused to sleep with him he punished her with the curse of never being believed. Cassandra foresaw the destruction of Troy and warned the Trojans. Her predictions were ignored.
Though "predictions of cataclysm are endemic to China watching," as the former New York Times Beijing Bureau chief, Patrick E. Tyler, observed, specialists in the past attempting such prognostications as: James R. Gorrie in China Crisis, Peter Novarro in The Coming China Wars, and Gordon G. Chang in The Coming Collapse of China have either been dismissed as doom-and-gloom peddlers or China bashers – often unfairly.
But following China's July 3rd stock market crash and Beijing's heavy-handed intervention, "doom and gloom" concerns about China are now being expressed openly by an increasing number of economists and financial experts around the world worried that the Chinese government's manipulation of the stock market in the first place and its subsequent heavy handed intervention to restore order have created longer-term issues. A Reuters report from Hong Kong filled in additional cause for concern. "Beijing may have averted a crisis in its stock markets with heavy-handed intervention, but the world's biggest corporate debt pile — $16.1 trillion and rising — is a much greater threat to its slowing economy … which is set to fall to a 25-year low this year." Another report mentioned that China's debt was now twice the size of its GDP.
But official Chinese sources confidently claimed that China's growth number had soared to 7%, following the government's "timely intervention" in the Stock Market collapse. This figure was pointed out in comment # 13 on my previous post, by Dorjee (a Chinese troll?) : "China is growing at a 7% clip. This is hardly the sign of a collapsing economy … Also, China has something like 4 trillion in foreign currency reserves, so the country has the financial muscle to prop up the markets and burn short sellers… China will never give up Tibet, for obvious reasons"
But reader # 18 (Purerangzen) responded to Dorjee with a link to a Business Insider report which explained how China's growth numbers were faked. A subsequent report on this web-journal provided further clarification "China recently announced its quarterly GDP number — 7%, right on target. Like it always is. This time, though, no one on Wall Street believed the number was real. The country's economy is slowing, and its nearby trading partners are already feeling the strain. This time, the chorus of investors responding with disbelief was louder than ever."
Then on Monday, July 27th, the Chinese stock-market nose-dived again by a staggering 8.5% – its biggest drop in eight years. Bloomberg News observed "Confusion Reigns in China's Stock Market". A BBC headline declared "Shares slide as panic grips China's stock market", and commented "This is the stuff of nightmares for a government which likes to be in control." Finally after a three day slide and after "massive government intervention" the fall was halted on Wednesday. A stock-trader counting his losses was reported by BBC as saying "The lesson is never trust the government."
I am well aware that a Stock Market crash or two do not a Rangzen Spring make. In order to get a better grasp of the underlying realities of China's economic problems I spent quite a few days reading up everything on the subject I could lay my hands on. I ended up frustrated and no wiser from where I had started.
Finally, a researcher friend of mine suggested I read this interview in Barron's Magazine with Anne Stevenson-Yang, one of the most informed and incisive of China analysts, particularly on financial and economic matters. Though the interview was from December of last year, Stevenson Yang's answers seemed uncannily prescient about events of this July.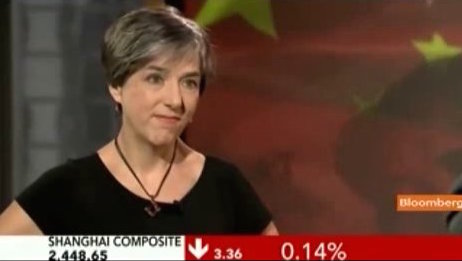 I also came across this very dry, very technical  but strangely compelling Youtube video of Stevenson-Yang speaking at the prestigious Center for Strategic and International Studies in Washington DC, where she went into a detailed point-by-point analysis (with lots of graphs and what not) of what she thought was wrong with China's economy. It was interesting to see how the other China experts in the panel treated her with kid gloves, and how very politely but effectively she shot down their tentative assertions that things might not be so bad in the PRC. Some of the points she makes:
1. "People are crazy if they believe any (PRC) government statistics, which, of course, are largely fabricated."

2. "The country is now submerged by a tsunami of bad debt … the country has reached its limit to issue debt."

3. (On the Real Estate Bubble bursting). "It is already under way, though in seeming slow motion."

4. "A big one (indicator of economic trouble) is increasing capital flight from China on the part of wealthy Chinese and corporations using phony trade invoicing and other ploys."  (According to Global Financial Integrity China leads the world in illicit capital flows. GFI estimates that over $1 trillion of illicit money left China between 2003 and 2012. Capital flight has escalated dramatically following the 18th National Congress (Nov 2012) and the launch of  Xi Jinping's anti-corruption campaign. JN)

5. "This is basically the range of the debate now, whether it (China's economy) goes out with a bang or a whimper."

6. (On Xi Jinping's anticorruption campaign) "What's really going on is an old-style party purge reminiscent of the 1950s and 1960s with quota-driven arrests, summary trials, mysterious disappearances, and suicides, which has already entrapped, by our calculations, 100,000 party operatives and others. The intent is not moral purification by the Xi administration but instead the elimination of political enemies and other claimants to the economy's spoils."
Tibetans and friends should watch this video. It is somewhat data intense and the "bullspeak" will give you a headache, but if you stick it out till the end you will be enlightened.
.
TIBET AND RANGZEN SPRING
I want to use Stevenson-Yang's conclusions on Xi's anti-corruption campaign to segue to the issue of Tibetan freedom.
There is a general consensus in China study circles that an economic downturn or collapse could lead to social unrest and possibly even political disorder in the PRC. Among Chinese dissidents and Tibetan freedom activists this scenario plays out a bit further where the Communist Party is overthrown (or collapses) and China become a democracy, and Tibet and East Turkestan become independent states.
I have never been able to quite convince myself of the immediate likelihood of such an outcome. Large scale social unrest has been ongoing in China for many years now. The Chinese Academy of Social Sciences reported in 2012 that "mass incidents" regularly exceeded 100,000 per year. But the security services have always been able to effectively contain all demonstrations and uprisings when not crushing them outright. Not only is the  reach and power of China's security services overwhelming, but since  2000 China's defense budget has been exceeded by spending on domestic security, highlighting Beijing's concern about internal threats.
But if the Communist Party itself (and its organs of repression) were to weaken or become divided – in addition to economic collapse and social unrest – then, of course, all bets are off!
In the "Newspeak" of Chinese political expression, where "Democratic Reform" means the imposition of totalitarian rule and where "Cultural Revolution" means the wholesale destruction of culture, President Xi's anti-corruption campaign might be interpreted to mean the monopolizing of corruption for the benefit of his family and Party faction, and the destruction of his opponents. Is Xi's campaign tearing apart the fabric of the Communist Party in much the way that the Cultural Revolution did in 1966? Of course, it is not immediately apparent right now, but we should bear in mind that no one in the West realized that the Cultural Revolution was actually a quasi civil war, till it was nearly over.
Stevenson Yang points out that expectations have risen tremendously with this generation of Party cadres, requiring ever increasing resources to satisfy them and maintain their loyalties. Will the expected downturn in China's economy lead to more reckless "resource capturing" by various factions in the party leadership, turning the current turf war into a quasi civil war as happened during the Cultural Revolution?
Such an eventuality, with the army and the security services divided, would allow space and opportunity for social unrest in China to develop into mass uprisings, and for pro-independence uprisings in Tibet and East Turkestan to evolve into revolutions. So, without getting drawn into further conjecture or prognostications, we could at least agree that it is more than timely that Tibetans begin a national discussion on the future of the Tibetan struggle. Everything, even the most awkward, politically incorrect or taboo question regarding this issue should be thrashed out openly. A few suggested topics:
1. Will the CTA stick to its Middle Way policy and oppose any struggle for independence?

2. What can be done in such a contingency. Is there hope for independent leadership or a coalition of nationalist groups to take up the challenge?

3. Will Tibetans inside Tibet take the lead? Is exile leadership irrelevant?

2. If Tibetans in Tibet start local uprising and those remaining Chinese troops and security forces in Tibet crack down on them violently – as happened in 1911, what could exiles do to help them?

3. Should exiles continue with the present declared policy of non-violence, or more correctly, non-action?

4. Is a military solution possible?
Please contribute your thoughts and criticisms to the debate. Suggestions on how to raise this in other forums and services are welcome.  Yes, Tibet's political winter has been a cruel and a long one – a permanent condition according to some – yet the sign are here that Rangzen Spring is coming.