REMEMBERING KHEWANG ELLIOT SPERLING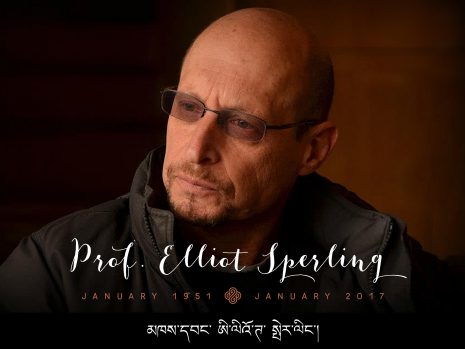 It's a year now since my dear friend passed away. Although I have become, by default, the unofficial obituary writer in the exile Tibetan world, I could not, at the time then, bring myself to perform the necessary honors for my departed friend. In fact I was not able to write a single blog for a whole year.
But a heartwarming plethora of articles and posts by Elliots friends and students immediately filled the internet. First of the block was Carole McGranahan of U Col, Tenzin Dorje of NYC, Tenzin Tsundue from Dharamshala and Thupten Anyetsang of Bloomington. In Tibetan we had memorials from Bhuchung D.Sonam Lukar Jam, Rabsal la, and in Chinese from poet/activist Tsering Woeser la in Beijing, and human rights activist Dan Hong Tang. A website was set up with all these posts and epitaphs, and also a wonderful video of Elliot's life created and narrated by his daughter Coline.
I think I may have experienced that particular writer's block as Elliot was not only my "BFF" (as some of his students teased him) but also as we had a "bucket list" (if I may be forgiven another pop-culture expression) of projects we were going carry out in our golden years. We only managed to accomplish the first thing on our list which was buying retirement apartments at Jackson Heights ("the Momo capital of North America" according to Elliot) a few blocks from each other.
So readers will understand why I'm still in the dumps, even a year after my friend's passing. But as Elliot's lomchö or one-year anniversary has come around, I suppose I should snap out of it and give my friend the proper send-off he deserves. Incidently, the shipchu-shigu or the forty-ninth day ritual (the period for the consciousness to pass through bardo) is regarded as a religious rite, while the lomchö is the occasion for friends and family to get together, raise glasses and remember. So to put myself in the right frame of mind I lit a chomé lamp, poured by myself a large rouge and watched a talk of his on YouTube.
Quite by happy chance I came across a series of lectures that Elliot had given at Trace Foundation, the last one as recently as 2016, some months before he died. The series was entitled: The History of Tibetan Civilization: A Talk Series with Elliot Sperling. Elliot is in fine form here. Its just as if he were sitting across the table at the Hotel Tibet Restaurant or Little Tibet in New York, glass in hand, holding forth on his theory of how from the many different tribes, kingdoms and ethnicities on the plateau, the Tibetans had emerged as a distinct people and a conquering force "after the smoke and dust had settled" – in a way like the Arab Empire.
I think that for friends, students and colleagues a most congenial way of observing the lomchö anniversary would be to watch these videos preferably with a glass in hand. As I mentioned earlier he is excellent form with his jokes, asides and innumerable digressions which brings our dear departed friend back to us in the here and now.
But course, above everything else, the history itself is spot on. I have always regarded Elliot as one of the foremost inji historian on Tibet of his generation, and all of you who watch these videos will, I am convinced, come around to agreeing with me.
The History of Tibetan Civilization
Part 1: Categorizing and Understanding its Different Periods
Part 2: Tibet: From Empire to Fragmentation
Part 3: Tibet and Tibetan Buddhism Beyond the Plateau: Tanguts, Mongols, and Chinese
Part 4: The Rise of Ganden Phodrang and Sprouts of Modernity
I recommend you don't start from the first video as the audio is poor and might put you off. Start from the second and you will be hooked. You can go back to the first afterwards.
No summarization of the contents is necessary. The subtitles speak for themselves. But towards the end of Part 2 the talk gets into territory where Elliot's scholarly prowess is particularly highlighted. Elliot tell us that even after the fragmention of Imperial Tibet, the prestige and memory of the empire survived in many outlying areas. He gives a number of interesting examples, one being the Tsongkha kingdom in present day Gansu province. He tell us that Chinese sources mention a young child, a descendent of the imperial line, being brought from Central Tibet and being enthroned as the ruler of Tsongkha. Sung dynasty accounts refer to him as fú érzi or "son of the Buddha". Elliot uncovers the correct translation in the "Chinese Tibetan version" of Geshe Chodrak's dictionary where it is simply translated as"gyalsay" or in Tibetan, "royal son" or "prince".
Elliot's outstanding mastery of Classical Chinese and Classical Tibetan languages gave his numerous valuable insights into Tibetan history a uniqueness and originality – always grounded on solid primary and secondary sources. His spoken Tibetan though fluent betrayed his New York origins. He tended to speak quickly, especially when he became excited. In the lectures Elliot apologizes on a number of ocassion for this shortcoming.
When Elliot was studying Tibetan in Dharamshala, he would practice his conversational skills in the evening with the old palas who drank at the friendly but admittedly grotty changkhangs on the Bhagsu road. As much as he enjoyed talking and arguing with Tashi Tsering la, myself and other young people in Dharamshsla, all of us invariably reverted to English with Elliot, which did not serve his greater scholarly purpose. He was also on a limited budget.
Unfortunately Elliot contracted hepatitis, probably from the chang, and became very ill. All of his friends pitched in to see him through it, with Namlha Takla, Kunsang Paljor, and myself bringing him hot water and meals. Doctor Yeshi Dhonden though in the end probably saved him with his bitter but potent medicines.
Elliot went back to Indiana and finished his Phd dissertation, Early Ming Policy toward Tibet: An Examination of the Proposition that the Early Ming Emperors Adopted a "Divide and Rule" Policy toward Tibet, in 1983. "The dissertation has been widely acknowledged as the most influential study on the subject." He won the Macarthur "Genius" award, and returned in triumph to Dharamshala where he made a large contribution to the Tibetan Library. He also came up to TIPA to see me and and gave a generous donation to the Insitute.
After that he always insisted on picking up the tab at the Hotel Tibet restaurant, forcefully arguing with us that we were refugee beggars (kyapchoe pango) while he was now an Americian capitalist (ari matsae ringlu). Elliot also helped me out personally, sending me the specialty books I needed but couldn't get in India: on Communism, China, Russia and Stalinism, which were necessary for my research and writing. Aside from his knowledge of Tibetan and Chinese what distinguished Elliot's appreciation of the Tibetan issue was his wide reading of European history, knowledge of Stalinism and Russian dissidents and their works. His French was excellent and he also had some Russian which helped. All this helped him avoid those elementary ideological pitfalls that some self-described historians on Tibet (eg. Goldstein, Grunfield) and many Western academics in those days could not, particularly when it came to its later iteration in Maoist China.
At the same time Elliot was fiercely critical of Dharamshala's favored writers on Tibetan history as Michael Van Walt, who in his book "The Status of Tibet" (paid for entirely by the exile government) claims that Tibet's patron-priest relationship with the Yuan and Qing was a viable system and that Tibetan lamas gave the Mongols and Qing rulers religious instructions and spiritual legitimacy while in return they received military protection and rich gifts from the Khans, but also acknowledgement of Tibet's independent status. Elliot has effectively refuted this self-serving political theory of the Tibetan religious establishment in numerous papers and article. He also does an effective job of it in his lectures.
Elliot gives a succcinct synopsis of this controversy in his New York Times op-ed of 2008, which should be the last word on the subject. "Here are the facts. The claim that Tibet entertained only personal relations with China at the leadership level is easily rebutted. Administrative records and dynastic histories outline the governing structures of Mongol and Manchu rule in Tibet. Tibet was not independent during these two periods." But Elliot also makes it clear that Tibet was never made a part of China but was a protectorate of the Mongol and Qing Empires. He concludes emphatically. "Tibet was not "Chinese" until Mao Zedong's armies marched in and made it so."
Elliot was no armchair revolutionary. He spoke out openly against the folly of the exile leadership for giving up the freedom struggle. Even the presence of His Holiness did not deter him. At an international conference on Tibetan history in New Delhi Elliot was asked to give the concluding address where he told the many Tibetan students from JNU and Delhi University present "… that passionate as non-Tibetan scholars might be about Tibetan Studies, this is not our patrimony… It is for your generation to grasp the wealth of your inheritance or to let it rot. Tibet is assuredly a nation; Tibetans are assuredly a people." Elliot stressed that the legacy of Tibetan history belonged to the Tibetan people, especially the younger generation, and not necessarily to high officials and high Lamas. On the dais alongside him were Sikyong Lobsang Sangay and the Dalai Lama.
Most of us know how Elliot worked tirelessly for the release of his friend, the Uyghur scholar, Ilham Tohti, so much so, that in 2014 at Beijing airport he found himself dragged by PSB officers into a back room for an interrogation. They then marched him back to the same United Airlines jet that he had flown in on, despite the fact he had arrived with a valid visa. There is a photograph (that I cannot locate) of him proudly holding up his passport with the cancellation stamp on his visa. I might be getting paranoid here but when I first heard of his death Chinese State Security sprang to mind. Elliot had no medical problems and swam and exercised regularly. I suggested to his daughter Coline to request the police to perform a thorough autopsy, including blood work.
Whenever anything had to be done of freedom and Rangzen you could count on Elliot to be there. A few photographs of his earlier participation in such organizations as the Rangzen Alliance in 2001.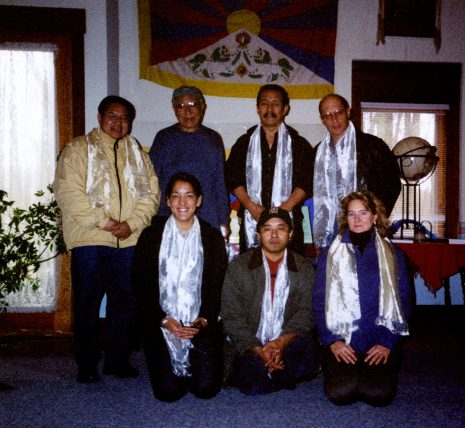 and also Elliot's participation in the Boycott Made in China campaign in 2002 at New York City.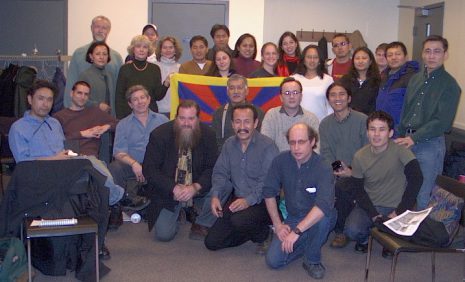 His last involvement was with the Tibetan National Congress. He attended the first conference and subsequently joined the organization. His contributions were many, not only in regular financial donations but in allowing his apartment to be used for TNC meetings. He also helped the members of the local TNC chapter as well as SFT and others in New York, with discussions and talks, and clearing up their many questions on Tibetan history and politics.
Last year, when the police returned his wallet to his daughter, a dog-eared TNC membership card was discovered inside. He was proud of it, in particular the number 14 on the card. He told me that with old time Communists in Russia there was a cachet to having membership cards with single or double digit numbers, that proved how early on one had joined the Party.