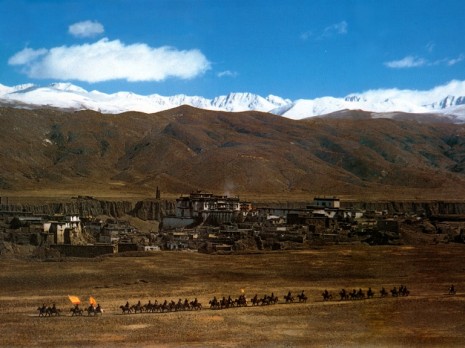 .
A couple of weeks ago someone posted on Facebook a photograph of a Tibetan man holding a camera. I wrote a comment that he was Tsongkha Jhanjup Jinpa, Tibet's first war photographer and gave a brief description. Some old friends:  Michael Buckley, Ajay Singh and Neil Cooper (a photographer who worked for the DIIR) wrote in asking for more details.
Jinpa's family members gave me some facts and figures, but since nearly all his work was clandestine it was hard to get more verifiable information. Lhamo Tsering in his eight-volume history of the Resistance (published by Amnye Machen Institute) mentions Jinpa on a couple of occasions. To fill in the rest a little detective work and some "judicious" speculation has had to suffice. This is far from a full biographical account of this unique Tibetan and remarkable photographer. So all corrections, new information, and lost photographs are really welcome. Please be assured that whatever you send me will be credited to you. As I've mentioned before, most of Jhanjup Jinpa's photographs, though widely used, have never been properly  acknowledged as his work.
Jhanjup Jinpa was born in the Fire-Mouse year (1936) in Tsongkha, Amdo. As a youth he became a monk at Zoegye Labrang in Kumbum monastery. In 1955 he went into exile in India to serve Zoegye Rimpoche, who had already escaped from Amdo. In Kalimpong he was recruited by the "Tibet Welfare Society" (bhod dedon tsokpa), which had been set up a year earlier by Gyalo Thondup, Tsepon Shakabpa and Khenchung Lobsang Gyaltsen ostensibly to provide aid to the victims of the great Gyangtse flood, but actually to undermine Chinese military occupation of Tibet.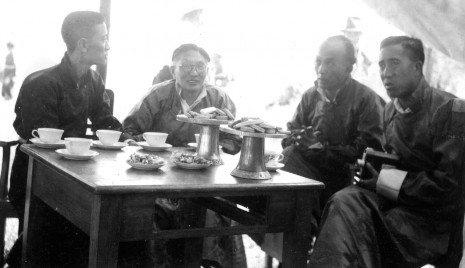 Jhanjup Jinpa's uncle, Lhamo Tsering, was head-of-operations for this organization and he sent his nephew back to Lhasa to make a clandestine study of Chinese military activities and installations in the capital city, and also observe the socio-economic and psychological impact of the occupation on Tibetan society.
This was the period before CIA involvement and the "Welfare Society" had no radios (or any other fancy spy tech). So Jinpa had to travel back and forth from Lhasa to Kalimpong and Darjeeling to deliver his reports. During one of his stay-overs in India he was trained in photography. I was told by someone in the organization that the Das Studio in Darjeeling helped to train him. This is certainly possible as the owners of Das Studio then (and even now) were friendly with Mr. Gyalo Thondup and his family.
In late 1958 Jinpa was sent to the Lhoga area to observe and photograph the activities of the Chuzhigangdruk (Four River Six Ranges) resistance force which was then conducting the siege of the all important Chinese garrison at Tsethang. There are a number of photographs of the events there, that are almost certainly by Jinpa, including a wonderful scenic shot of the great Lhagyari palace at E-Yul in Lhoga with a column of fighters riding before it. Check the beginning of the post. Here are a few more photographs that are almost certainly by him: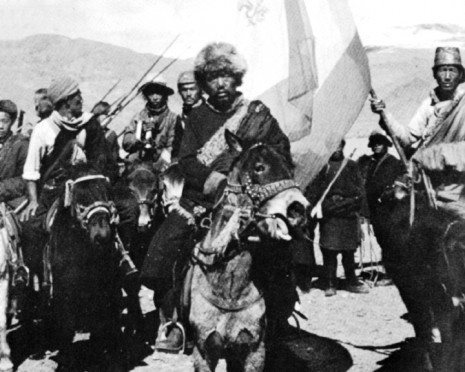 .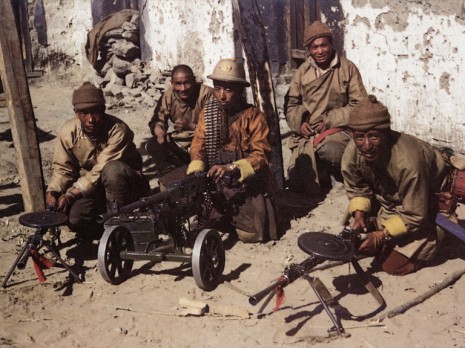 .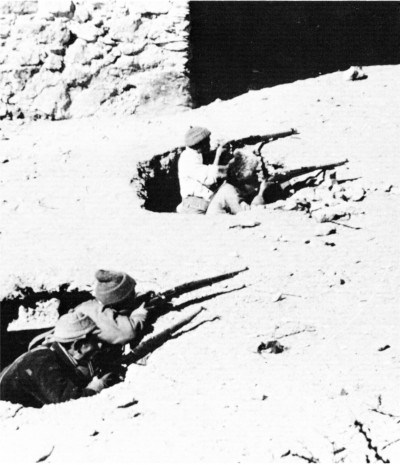 .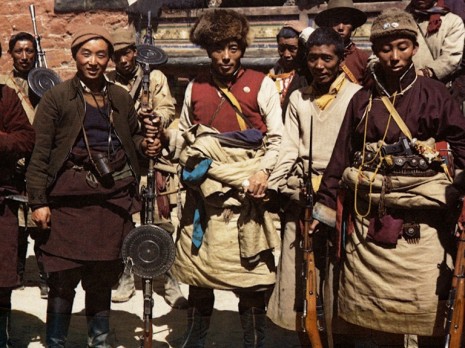 The siege of the Chinese garrisons at the major crossroad town of Tsethang was crucial to the Dalai Lama's escape to India. In Tsethang the Chinese had two formidable garrisons at Gangbuk and Tse Tsokpa. The Chinese had dug tunnels deep into into the mountains and had surrounded their fortifications with bunkers and barbed wire. The Tibetans conducted a number of major assaults on the Chinese positions, but with little success and great loss of life. But the fact that the main Chinese force was bottled up at Tsethang and ineffective, allowed other resistance forces in Lhoga to clear the surrounding areas and roads of all Chinese troops.  This allowed His Holiness and other escapees from Lhasa to pass through Lhoga and travel south to India without encountering any Chinese.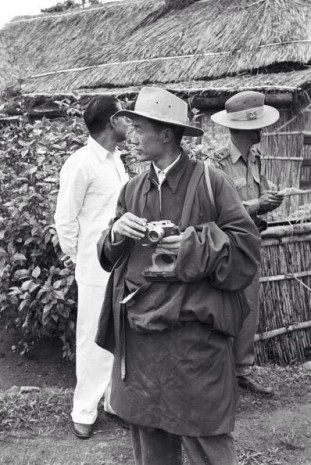 .
The above photograph recently posted on Facebook of Jinpa at Tawang or Bomdila, outside a thatched bamboo hut probably prepared for His Holiness, judging by the Indian military guards and officials outside, confirmed to me that Jinpa had accompanied His Holiness on his escape. Jinpa is also almost certainly wearing the same jacket that he did in the photograph at Tsetang, and not surprisingly appears to have lost some weight since then. He probably received instructions from Kalimpong to accompany His Holiness's party, along with radio-operators Athar Norbu and Lotse Gatsetsang.
Most of the photographs and film footage of the Dalai Lama's escape we have seen in many documentary films, were probably taken by Jinpa. I learned that the Dalai Lama's brother-in-law, Phuntsok Tashi Takla, also had a camera with him. Since nearly all the photographs of the Dalai Lama's escape have appeared in My Land & My People and many other books and documentaries on Tibet, they do not need to be reproduced here.
There is one magical photograph of His Holiness arriving at Tawang (or Bomdila) for which an exception must be made. I am almost certain it was taken by Jinpa, as a partial view of the other photographer (Mr. Takla) is in the frame. I also cannot resist His Holiness's tired yet happy smile and the dramatic chiaroscuro that endows the photograph with an allusive symbolism of someone emerging from darkness into light.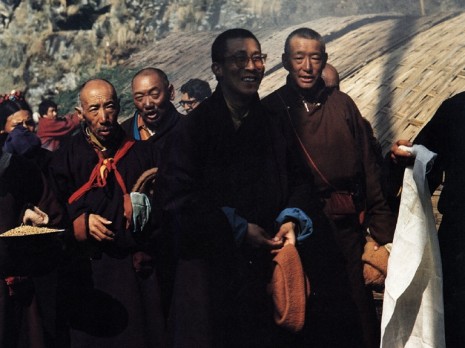 .
When the resistance base was reconstituted at Mustang in 1960. Jhanjup Jinpa was sent in the first preparatory team led by commander Gyen Yeshi Kalsang of Batang, Chamdo Kunchok Dorje and members of radio team "K": Jedrung Jampel Lekmon and Namgyal (both from Gyangtse) and Trinlay of Lithang.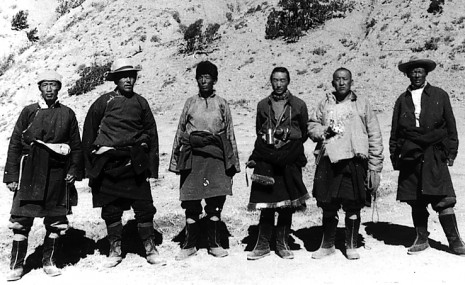 It should be mentioned that all the fighters suffered tremendous hardships that first year. There was an acute food shortage and the men were forced to cut up the leather from saddlebags, harnesses and even boots, and boil them for some minimal sustenance. Some men froze to death that winter.
Although Jinpa was sent as an instructor and administrator he was also tasked with keeping a photographic record. He has left a large collection of photographs of the early period of Mustang which is now with the Amnye Machen Institue archives and Lhamo Tsering's son, Tenzing Sonam. Lhamo Tsering writes that Jinpa took over 1000 clear photographs of the organization, and the drilling and training of fighters using sticks and branches. These were forwarded to a foot-dragging CIA to persuade it to send arms and ammunition to a fledgling force becoming increasingly desperate.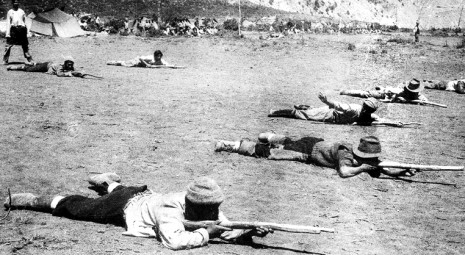 .
Finally the Americans made their first arms drop. For the sake of deniability a drop zone was selected inside Tibet, about a day's march from the Kore-la pass, the border between Tibet and Mustang. On the 15th of March 1961, late at night, three transport planes dropped arms and ammunition, enough to equip four companies of soldiers. Three more arms drops were made in the following months.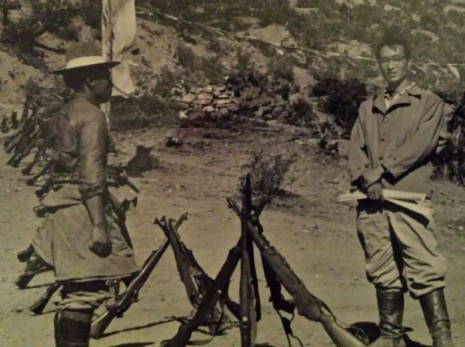 .
According to Lhamo Tsering,  Jinpa also went on two separate missions inside Tibet, almost certainly on raids of Chinese convoys and outposts.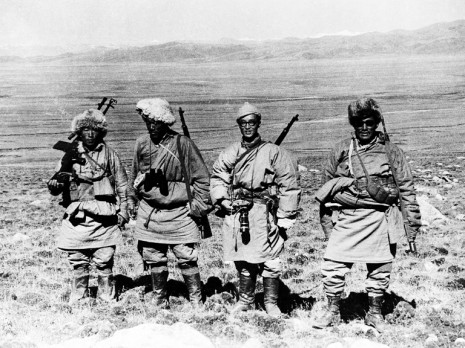 He served in Mustang till 1968. He retired from the force some years later and in 1974 opened the Tso-ngon (Kokonor or Blue Sea) restaurant in Kathmandu, which became very popular with travelers and back-backers. It served not only the usual Tibetan and Chinese cuisine of most Tibetan restaurants but also the Amdo/Sining specialties from his homeland (phayul) by the verdant green pasturelands and the deep blue waters of the iridescent inland sea – that he had left nearly thirty years ago.
He died on March 8th, 1986. He is survived by his wife Dawa Lama, his daughters Dechen Dolkar, Diki Tsomo, and son Tenzing Wangyal Jinpa, all living in New York City.
.
Photographic equipment: We cannot be certain but it appears that he used a 35 mm Leica, probably the IIIf model from 1950, which could take a (screw mount) telephoto lens. We see one on Jinpa's camera in the last photograph. Leicas were not uncommon in Tibet and the Darjeeling area in the 40s and 50s.