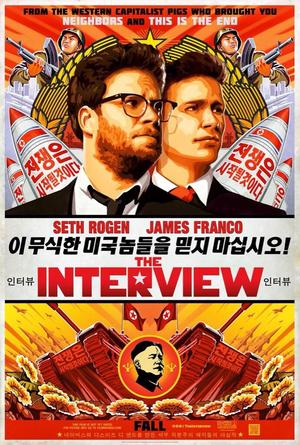 Yes, the DPRK (North Korea) is a dreadful place with an absolutely dreadful dictator, but I can't get the over the feeling that the huge media driven fuss we've had about the Seth Rogen comedy (concerning a CIA plot to kill Kim Jong Un), the actual hacking of Sony Pictures computers and the ostensible "freedom of speech" concerns, is just hypocritical overreaction if not outright bullying of North Korea. Even President Obama's reproach of Sony for initially pulling the film, didn't really ring true: "We cannot have a society in which some dictator someplace can start imposing censorship in the United States".
Oh yeah? What about Chinese pre-censorship of such Hollywood films: Salmon Fishing in the Yemen, Battleship, Iron Man 3, Men in Black 3, the disaster film 2012, Red Dawn and many others, ensuring that "…a generation of Western film-goers will basically get only a positive, sanitized view of the Chinese in their films."
I've discussed this issue before so there no need to go into it in any depth, but perhaps a plot outline of the last film mentioned is necessary since it involves North Korea. Red Dawn is a remake of an 80's film where Russia invade America. In the new 2012 version, MGM initially had the PRC doing the invading till the Chinese pre-censors raised their eyebrows and the DPRK was hastily substituted. So far I have not heard of any American politician chiding anyone for imposing such pre-censorship on the United States.
Setting aside hypotheticals on freedom of speech, what about the actual hacking of Sony pictures computers (allegedly) by North Korea? Wasn't that a real crime, a cyber-terrorist attack? Perhaps, but China has hacked US weather systems, satellite networks, major corporations, research facilities and even the Pentagon. China stole actual U.S. weapons systems designs and U.S. military war plans from the Pentagon, and not just emails of Sony executives as North Korea is alleged to have done.
The American government has responded to the cyber attacks by PLA's Unit 61398 – whose well-guarded 12-story white headquarters on the edges of Shanghai has become the symbol of Chinese cyberpower – with a surreal policy of "naming and shaming" , which according to a N.Y. Times report has proved devastatingly ineffective.
According to South Korean Intelligence Service (NIS) it appears North Korea's cyber attacks were commited under China's tacit consent, if not actual supervision. NIS described seven North Korean hacking organizations and a network of spies operating in China. It is also claimed that  that there are about 1,700 North Korean hackers and 4,200 supporting agents active in China. That number is said to be increasing.
Holding small third-world dictators up to ridicule is a way for a Western filmmakers to strike provocative and topical poses while still playing it safe. Trey Parker and Matt Stone in their yahoo-jingo Team America–World Police (2004) performed a wholesale demolition job on Kim Jong Il and for good measure on Hollywood liberals who opposed the Iraq invasion.  Sacha Baron Cohen poked safe and profitable fun at tiny Kazakhistan with his "Borat" (2006) and later at a non-specific Arab despot in "The Dictator" (2012).
Someone in China who saw "The Interview" commented online "If we made a comedy that said 'Assassinate Mao' the result would be unimaginable. Don't 'like' my post or I'll get detained." It might have crossed his mind why intrepid filmmakers in the "Free World" were constantly making movies about taking down Kim or some other third world dictator, but never Mao or Xi Jinping, and perhaps made him reflect on the wisdom of the old Chinese observation "man shang qi xia" (flatter the strong and bully the weak)."