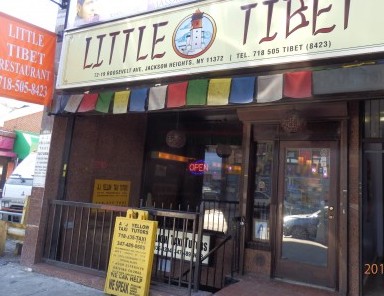 After I posted my piece on Shabalay last November I thought I was done with writing on food culture for a while. But the manager of Little Tibet Restaurant sent me this urgent email:
Tashi Delek Jamyang la,

We have a momo crawl coming up soon in Jackson Heights where local businesses compete for a trophy that acknowledges which restaurant or vendor has the best momos. I was wondering if you had any articles on the history of momos. If people have questions I want to be ready to answer them. I was looking online and all that BS pissed me off. Someone writes that momo originated from Nepal and then later to Tibet. I'm having a food battle right now. Thank you.
My apologies to Choenyi-la for missing the momo-crawl deadline. Let me now share with all of you the results of my inquiries into the origins of our tasty but mysterious national addiction. Let us start by taking up the claim about momos originating from Nepal. No more a bona-fide authority than Kamal Tuladhar of the old Lhasa-Newar merchant family of "Gorashar" (Eastern Courtyard) in his biography [1] states unequivocally that momos were introduced to Kathmandu from Tibet by Newar merchants. But, of course, the Nepalese have now made the momo (with curry-spice in the filling) a part of their own national culture as they have done with the khatag scarf now used extensively by Nepali politician in Darjeeling, Kalimpong and Sikkim instead of the traditional mala (flower-garland).

Moving on from Nepal, we run into into the usual speculations of the momo's possible Chinese origins. I would grant that the classic Chinese baozi dumpling, made with sourdough (chemay) wrap filled with minced pork and cabbage is indisputably Chinese. According to legend, they were invented by the scholar and military strategist Zhuge Liang (3rd century) who features in the great Chinese novel The Romance of the Three Kingdoms (三國演義) but is an authentic historical personage.
But the Tibetan momo is very different from the baozi. First of all the momo wrap is thinner and made of unleavened dough, not sourdough. Then the momo filling is always mutton, yak-sha or beef – never pork. Also the momo is smaller and juicier than the baozi. This is not to disparage the baozi which is delectable in its own right. I remember the large fluffy baozi served up by Mr. Wong at the Shanghai (later Glory) Restaurant at the Kalimpong Motor Stand. Four baozis and a chilled bottle of Golden Eagle made an excellent summer lunch.
The closest thing to the Tibetan momo is the Mongol buuz and both most likely share a common origin. It might be noted that the momo resembles the Chinese jiaozi dumpling more than it does the baozi. In fact some historians on China [2] and the Mongol Empire [3] have suggested that jiaozi-like dumplings may have their origins in Western Asia (Persia and Khorasan) and spread from there during Mongol rule. We should remember that the Mongols had the greatest land empire in the history of the world, and, in spite of its ferocity, was a very multicultural, multi-ethnic and by extension, multi-cuisine empire. Many of its cultural and culinary arts were adopted by different nations and races, including the Chinese. For instance the famous hot-pot (Ch. huo-guo, Jap. sukiyaki and shabu-shabu) is of Mongol origin although Tibetans mistakenly call it gya-khok or Chinese pot.
Since Tibet was part of the Mongol Empire it is more than possible that the Tibetan momo is a dish that came out of this cultural mash-up and which we made our own. The spelling མོག་མོག་ (mog-mog) is consistent in all the dictionaries I have come across, even in Sarat Chandra Das Tibetan English Dictionary of 1902, where it is described as "a small meat patty", presumably of Tibetan origin since he provides no etymology as he does to all other words of Indian and Chinese origin. Whatever its origins the term momo is now a full-fledged Tibetan word with the honorific "shay-mo" underling the fact. There are no honorifics for dumplings imported from China as the jiaozi or guotie. Jiaozi or more specifically the shui-jiaozi (boiled in water or soup) is made and eaten in Tibet, but is never confused with momos. In fact Tibetans call the shui-jiaozi just "rhu-chotse", a close enough rendition of the Chinese name. The same applies to the pan-fried dumpling, guotie, that Tibetans call kothay.
An incidental reason for maintaining that the momo is a broadly Tibetan, Mongol and West Asian culinary development, and not necessarily a clear-cut Chinese invention like gunpowder, is that if it were Chinese, Tibetans would most probably have acknowledged it in the first place. In an essay [4] I wrote many years ago I pointed out how Tibetans of the past lacked the kind of aggressive self-conscious nationalism on cultural matters that many societies and ethnic groups in the modern world tend to assert:
"Tibetans in the past readily accepted Chinese terms for the various vegetables and culinary items that came to us from China, as for instance: luopuo (radish, Tib. labuk), cong (onion, Tib. tsong), hong luopuo (carrot, Tib. gung-labuk) and many of the leafy vegetables: baicai, qincai, jiucai, even retaining the (more or less) correct Chinese pronunciation in these cases. The Chinese term cai (Tib. tsay) has now become a Tibetan word (although we have a native term for "greens" ngo), as have Chinese terms for vinegar (cu), chopper (caidao), chopstick (kuaizi) and so on. On this score no Tibetan scholar has insisted on creating equivalent Tibetan terms."
Tibetans in the past were also careful to differentiate between Chinese cuisine (gya-zay) and native Tibetan cuisine (bhod-zay). The Chinese style cuisine served at official parties in Lhasa was called the gya-zad liu-chopgay or "eighteen-course Chinese banquet." Also the chefs who prepared such banquets were called gya-zad machen, or "Chinese cuisine chefs".
Momo terminology goes beyond the merely honorific. The names of the various shapes in which the momo wrap is folded, have their own specific names. The late state astrologer, Drakton Jampa Gyaltsen, let me have the names of the two standard shapes: shay-mo Kupsoe-Troktrok (fancy-butt-pleats) where the momo is folded into a ball shape with numerous pleats coming together in a small central dimple – from where some of the juice might trickle out – and shay-mo Dawa-Tsechik for the momo shaped like a crescent moon. In the first draft of this post I made a mistake about the spelling and meaning of the name, which a reader "forsixmillion" noticed and kindly posted a correction.
The next name comes from my mother in-law, Tashi Dolma la of Lhasa, who is a wonderful cook with a treasure-house of Sining, Amdo, Lhasa and country recipies). This momo is called the Bhungue Sukti or "donkey trotter". It is first folded like the crescent Dawa-Tsechik but then has the two ends stuck together, looking much like a donkey hoof-print. The last named Tsi-tsi momo or mouse momo is, I suspect, something "cooked up" in exile society. The pleats on the spine of this momo are folded on alternate sides. The shape has been adapted from the Chinese shui-jiaozi.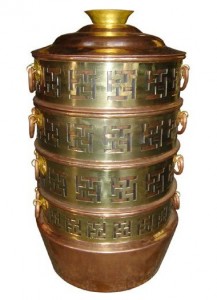 In Tibet momos were steamed in steamer-stacks called called mok-tro or mok-zang, after the materials (tro: cast iron, zang: copper or brass) with which they were manufactured. This particularly fine steamer-stack on the right made of copper and brass has swastika (yungdrung) designs around it. The swastika is the Bon symbol of eternity, and also denote auspiciousness in Hindu symbology. Tibetan kitchens often have the swastika painted in white on the walls. These days Tibetans use aluminum steamers made in China or Taiwan, though not the bamboo-basket steamers used for steaming dimsums. Quite a few Tibetans in Switzerland use the high-end stainless-steel steamers made by the Kuhn Fabrik at Rikon.
I am not going to go into recipes in this post. I have seen number of websites that do a good job in this line. It might be pointed out though that there are a few regional variations in momo making. As pointed out earlier the Nepalese are going in for curry-spices in the fillings and increasingly for full vegetarian momos. In Amdo chopped garlic chives (chutsay) are put in the meat filling, which gives the momo a very strong taste that I initially found overpowering, but is a stimulating experience once you get used to it. When I was with the resistance at Mustang and we made momos at our camp, I noticed that the Khampas did not mince the meat with a chopper but instead used two sharp knives, the blades of which they crossed and slid against each other on the chopping board. This sliced the meat into small pieces without mincing it into a paste. Meat cut in this way filled the momo evenly when steamed, and did not become a small hard ball inside the wrap.
Tibetan experience of living under Chinese occupation (perhaps even the poverty of exile-life) might have lead to the unappetizing practice (by some) of adding cooking oil to the meat filling, probably since real fat was hard to come-by in periods of famine and food shortages. The bottom line in authentic momo-making (I am told on good authority) is to use only fatty meat with just enough minced onions to prevent the meat pieces sticking together. A little water may be added to the meat-filling, just enough to keep the mixture moist. If you do not stray from these basics a succulent juice-filled culinary indulgence is guaranteed.
Tibetans have not only developed the momo into a wonderful national dish, but even in the adversity of our diaspora life have somehow managed to spread this culinary boon all over a (presumably) grateful Nepal and India. These days the momo has even ventured to the West. It appears to have gained a foothold in New York City, if some of the reviews I have seen in the NY Times, the NY Daily News and local food blogs [5] are anything to go by. But to do justice to the multi-cultural and common-man origins of the momo, it should be pointed out that it is not just the established restaurants (both Tibetan and Nepali) in the city, but also the humble momo-trucks, momo-stands and the backroom frozen-momo "assembly-lines", that have spread hot juicy momo cheer to the many thousands of Mexicans, Bangladeshis, Jews, Indians, Chinese, Jamaicans, Koreans, Russians, Injis, Drukpas, Sherpas, Nepali and of course Tibetans living cheek-by-jowl in this great city.
(Corrections and comments to the post or additional information on momo or Tibetan food culture are welcome. If the reader has come across momo references in proverbs, songs or literature I would appreciate an email. I have a couple of folk stories with funny momo references which I will let readers have in due course.)
LOSAR TASHI DELEK TO ALL READERS AND FRIENDS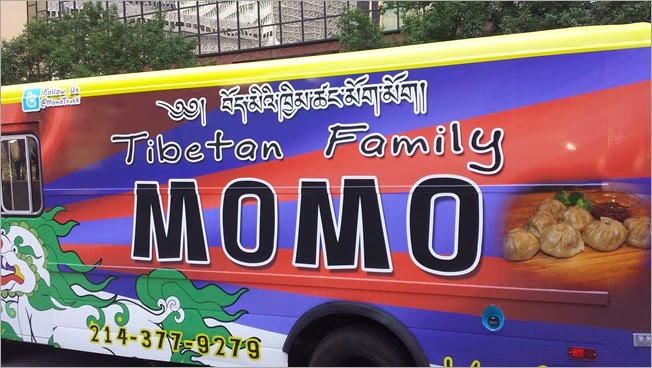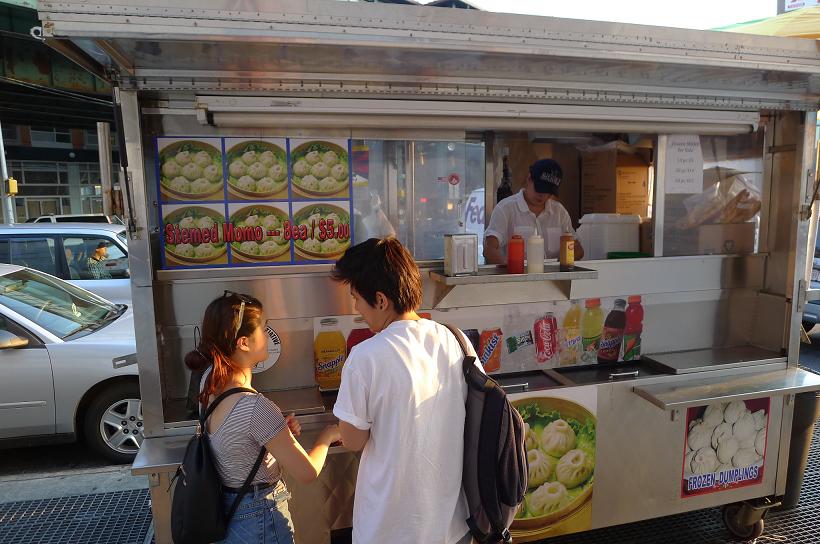 Notes
[1] Kamal Ratna Tulhadhar, Caravan to Lhasa: Newar Merchants of Kathmandu in Traditional Tibet, Lijala & Tisa, Kathmandu, 2012. p.12.
[2] Harold Miles Tanner, China: A History, USA, 2009. p 261.
[3] George Lane, Genghis Khan and Mongol Rule, Hackett Publishing Company, USA 2009. p. 89
[4] Jamyang Norbu "Newspeak and New Tibet: The Myth of China's Modernization of Tibet and the Tibetan Language, Part V", Phayul.com, July 09, 2005 : hhttp://www.phayul.com/news/article.aspx?id=10165
[5] http://www.nytimes.com/2012/02/22/dining/momos-tibetans-forbidden-special-treat.html?_r=0