That Tibetans are devoted to the Dalai Lama is pretty much a given. Most of them express this devotion enthusiastically (but quite innocently) by celebrating his birthday, his Nobel Peace Prize day and also by holding elaborate "Long Life" (tenshug) ritual ceremonies in his honor. On the "yin" side of things those seeking official advancement and political patronage demonstrate loyalty through conspicuous and scurrilous attacks against those who might disagree with His Holiness on the question of Tibetan independence.
What is puzzling though, is that beyond rituals, ceremonies and vilification of fellow Tibetans, none of these people seem capable of any initiative when it comes to the actual well-being and security of the Dalai Lama. Right now, at this moment, the very institution of the Dalai Lama has come under active existential threat, and Tibetans don't even seem to have noticed it.
On Monday 18th January, China announced the launch of its Living-Buddha Authentication Site and Database.  The Wall Street Journal came out with this headline "China Launches Living-Buddha Authentication Site, Dalai Lama Not Included". The South China Morning Post was no less flippant: "China Compiles Database of 'Living Buddhas' … and Guess Who's Not on the List?"
But as snarky as they were, those headlines did highlight the underlying threat that China's latest action posed to the Dalai Lama.  As Amnesty International's Nicholas Bequelin put it clearly "This living Buddha database and the whole policy toward reincarnation is clearly a pre-emptive move by the government to control what happens after this Dalai Lama."
The official photo of the Database launch showed Buddhist and Communist officials circled around a large transparent plastic sphere (containing many white spherules?) that looked suspiciously like the Powerball Lottery Machine. Is this how incarnate lamas in the future will be selected? Is this a futuristic version of the Qing dynasty "Golden Urn", with ideas and "technology" filched from the USA – as usual?
Fun and games aside, the present "Living Buddha Authentication Site" is essentially a follow-up to a special commission the Chinese government set up a few years ago to select the next Dalai Lama. However shortsighted China's leaders may appear to be in matters relating to birth-control, environment, real-estate bubbles and so on, they have always kept their eyes on the long game in their dealings with exile-Tibetans.
The Dalai Lama has raised occasional and mild objections to the PRC's attempts to control the selection of lamas, but on his own reincarnation he has been decidedly diffident, one might perhaps even say coy. He has spoken of his reincarnation being selected in papal fashion (by a college of geshes?) and recently raised the possibility of a female successor, adding jokingly that she should be "attractive" – which had some feminists up in arms.
But to those Tibetans with real fears about China's increasing control and manipulation of Tibetan historical and cultural institutions, the Dalai Lama's repeated off-the-cuff public statements about his being the last Dalai Lama, have not been at all welcome. A year ago in an interview with the BBC he categorically stated "The Dalai Lama institution will cease one day. These man-made institutions will cease."
The Dalai Lama's statement appears to have been made with no consultations with other Tibetans leaders or religious institutions. His Holiness justified his decision to the BBC with this argument "Better that a centuries-old tradition should cease at the time of a quite popular Dalai Lama." He also pointed out that the next incarnation could be "a stupid one" in which case it was "better to have no Dalai Lama".
There is an easy logic of sorts to the Dalai Lama's rationalization, but in the real world things are, of course, never quite so cut and dry. For most of the Dalai Lama's followers any Dalai Lama would be better than no Dalai Lama. Let us remind ourselves that one of the most beloved of his incarnations was a young poet and ladies man, who whiled away his time with his buddies at the island park behind the Potala, drinking beer and practicing archery.
Beijing will certainly have no problem coming up with a cute little Tibetan boy. If exile Tibetans haven't found their own candidate before that, the Chinese will have won by default. And this should worry Tibetans. All Tibetans. Even if you are not a believer, or you happen to follow a lama who takes issue with His Holiness on the worship of Shugden, this is definitely your problem. Make no mistake. This is just one feature in the Communist Party's program to eventually control ALL incarnations, including that of your personal root-guru (tsawae-lama). Beijing is creating a kind of religious "Confucius Institute" to control not only monasteries, temples and lamas within Tibet but also those in exile, including Dharma centers worldwide. I know a few that have already been taken over.
Most Tibetans will immediately take up their usual fatalistic refrain: "China is too powerful. There is nothing we can we do." Actually in this instance there is definitely something that can be done. His Holiness should make a public declaration that he will be reborn. Furthermore he should make it absolutely clear that it will not be in occupied Tibet, but in a more benign location in the Tibetan cultural world – somewhere in northern India: Ladakh, Himachal Pradesh, Sikkim, or Arunachal Pradesh. This will not only be acceptable to all Tibetans but also be hugely gratifying to the Buddhists inhabitants of these areas. For me the beauty of this solution is that it immediately drags in India (on our side, of course) into the political storm that will inevitably follow. The government of India will have no choice but to stand behind this incarnation, or risk losing the loyalty of its citizens in its northern frontier.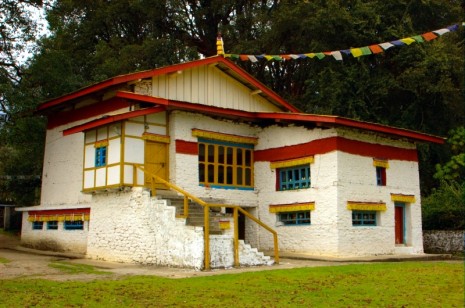 Arunachal Pradesh might be the ideal place. The 6th Dalai Lama, Tsanyang Gyatso (Melodious Purity) was born there. The political sensitivity of the state and China's constant provocations on the issue, ensures that it will never lack national attention. Any Indian Government that did not support a Dalai Lama born in Arunachal, will be savaged by the opposition and the media. But Ladakh or Sikkim might do do as well.
His Holiness mentions in My Land and My People that when the 13th Dalai Lama was in Amdo, on his way back from China, he is said to have "looked for some time at the house  where I was born and remarked that it was a beautiful place." Perhaps he could now make such a suitably prophetic observation about a place in Mon Tawang, or write a cryptic poem as the Sixth did about the location of his next incarnation. In the case of the Thirteenth one of the clues that led to his discovery was mention of a village house before a mountain shaped like an elephant (Langdun) in Dhakpo.
The first step would be to announce the formation of a committee of spiritually qualified Gelukpa lamas and scholars, with perhaps also a personality or two from other schools. The present Karmapa comes to mind. A lay scholar might also be included with expertise in this particular field. Samten Karmay, an eminent research scholar from the French Centre national de la recherché scientifique, has just published his translation of the autobiography of the 5th Dalai Lama.
But what if His Holiness decides – no? The Chinese candidate would then have a clear field. To make matters worse the issue wouldn't come to a close in the exile world, even on His Holinesses prior say so. CTA officials would be forced to do something. Even if we could ignore the Chinese incarnation, the power and resources the Dalai Lama would leave behind would be impossible for any Tibetan politician to ignore. One could safely predict a knock-down-drag-out fight within the Dharamshala establishment. Samdong Rinpoche (with his Ganden Phodrang Foundation) fielding one candidate, forcing the Sikyong, and the Parliamentary Speaker, to hurriedly look around for suitable children.
Some Tibetans will recoil in horror at this suggestion and declare that a such a sacrilegious thing could never happen in our community. But we only have to recall the vicious power struggle at Rumtek after the passing away of the previous 16th Karmapa Rinpoche. The combatants were lamas themselves and disciples of Karmapa. Can we seriously expect mere Dharamshala politicians to be more restrained and virtuous?
In concluding I should make it clear that in spite of my stated concern for the future of the Dalai Lama institution, I have long come to realize that this particular institution, and indeed the whole business of lamas reincarnating has served its spiritual and historical purpose and should "cease one day" as His Holiness quite rightly told the BBC. It's just that at this pivotal moment in our history, for reasons of pure political strategy, we absolutely must safeguard this institution for one last future incarnation. Otherwise it is near certain that the Communist Party of China will use its very own "Divine Child or Soul Child" (lingtong) to tranquilize Tibetans into accepting its oppressive and malignant rule, and perhaps even bring about the end of our long history, culture and civilization.