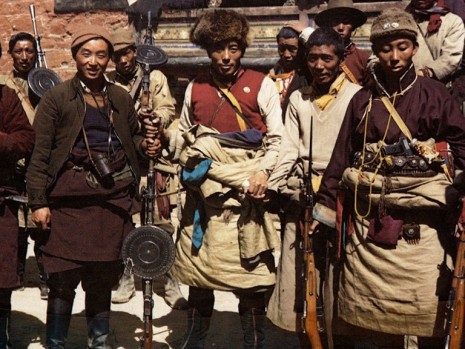 I first met him when I was researching my play YUNRU, about the Khampa chieftain Yunru Pon Sonam Wangyal, who died defending the great monastery of Lithang (Lithang Gonchen). Someone told me that I would probably get some help from this Lithangwa who was running the Chushi-Gangdruk office at the Kailash Hotel in McLeod Ganj.
Ratu Ngawang la invited me into his office and listened to what I had to say. He told me he was not the best person to answer my questions as he was in Lhasa at the time of the Lithang Uprising, but that his brother Tamdin Tashi had been in the monastery and I should talk to him. Conveniently for me Tamdin Tashi was the manager of the Kailash Hotel and he gave me all the information I needed. Ngawang la lent me a rare black and white photograph of Lithang monastery on which I based the dark cutout silhouette of the Gonchen and the surrounding mountains that I positioned before a dramatic cyclorama sky; all of which helped to make the play "a roaring success" as a review by Thupten Samphel la in the Tibetan Bulletin declared.
"Some years later I interviewed Ngawang la about his own life and involvement in the Chushi-Gangdruk (Four Rivers Six Ranges) resistance force. He was born in 1926 in southern Lithang in Rawa-dangla to a sama-drok (mixed agro-pastoralist) family of five brothers and one sister. He joined Lithang monastery as a boy and was later appointed a chiso or business manager of his college, the Shiba Khamtsen.  His business ventures finally brought him to Lhasa where he met Andrug Gonpo Tashi. The rest as they say is history: becoming one of Gonpo Tashi's trusted commanders, setting up the Driguthang base, going on the epic ride north across the Jhanthang, endlessly battling superior Chinese forces, escaping and rejoining the Lhoka base, and finally, laying seige to the principal Chinese garrison in southern Tibet at Tsetang. The last undertaking was critical in enabling the safe escape of the Dalai Lama and so many other Tibetans.
But I need not go into details of Ngawang la's incredible story here. It is all in his autobiography ­– whose genesis has a little story of its own. During my interviews, which were often long and tiring for him, he one day complained that I should help him write and publish his own life story.  I said I could do that for him, and told him I would consult my fellow director of Anmye Machen Insititute (AMI),  the great scholar Tashi Tsering, and we could work something out. Ngawang la felt I was trying to pass the buck and protested. Finally his wife Dechen la stepped in and told him he should stop being contrary and trust me and AMI to do right by him.  Tashi la took charge of the project and arranged to have a full-time editor sit down with Ratuk Ngawang in their own office room at AMI. It took a long time and lots of hard work but finally four volumes were published in 2006.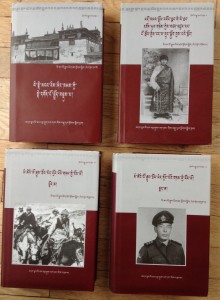 The first volume is an account of the land and history of Lithang with descriptions of the famous monasteries and religious personalities. The second volume chronicles the 1956 Uprising in Lithang and its causes and consequences. The third volume (592 pages) is the full account of the creation of the Chushi-Gangdruk and its many struggles, battles and victories. The fourth volume recounts Ngawang la's career as the dapon or commanding officer of the Special Frontier Force in India and the substantial contribution that he and his men made to the liberation of Bangdesh in 1971. There is a wonderful photograph of the Dalai Lama reviewing SFF troops at their Victory Parade at Chakrata. Dapon Ratuk Ngawang, six foot plus of Tibetan manhood, eyes right and holding a smart salute, is leading the march past.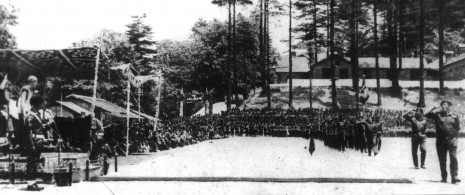 The books are hardcover with nicely designed dust jackets and contain many rare photographs and maps. To get a full idea of the life of this Tibetan warrior and  I would urge Tibetans to buy this four-volume set from Amnye Machen Instititute (McLeod Ganj, 176219, HP India). Copies can be had directly from Ratuk Ngawang la's family in Majnu ka Tila in Delhi and also his daughter in New York.
I cannot stress how important it is for all Tibetans to own these four volumes. It is an encylopaediac account of Lithang, the land, the people and the great monastery, and also the orgin story of the Tibetan Uprising and resistance. It is also the Homeric account of the life, adventure struggles and battles, of an authentic  warrior – and someone who looked the part.
He was well over six feet tall as I mentioned earlier, and good-looking in a rugged way. A young princess of Sikkim (which one exactly need not concern us here) was head over heels in love with him. Tibetan ladies in Darjeeling in the sixties referred to him as "Khampa Handsome" and probably sighed as he walked passed them on the Mall Road in Chowrastha.
He passed away peacefully in his sleep on the night of February 7th. Indian journalist and indomitable Tibet supporter, Vijay Kranti attended the funeral in Delhi. In his obituary post he mentioned that though many Tibetans attended the funeral, including representatives of the Tibetan Youth Congress, Tibetan Women's Association and the Tibetan National Congress "… it is strange that the only representative from the Government (exile) of Tibet was an officer from its Security Department. The Kashag (Cabinet), the Parliament (Chitue) and the Private Office of HH the Dalai Lama were conspicuous by their absence."
Considering the craven policy of surrender to China that these absent Tibetan VIPS represented, perhaps it was better they stayed away altogether from the funeral of a man who had taken up arms for the freedom and independence of Tibet. The irony, otherwise, would have been intolerable.
Ratuk Ngawang la is survived by his beautiful wife, Dechen Wangmo la, one of the first women combat paratroopers in Tibetan military history, and their four great children.
I would have liked to conclude with a line or a verse from the Gesar drung, but I am, regretfully, not that familiar with the great epic. Perhaps the dying words of a warrior from another saga might serve:  "My eyes darken … I go to my fathers, in whose mighty company I shall now not feel ashamed."