On the 50th Death Anniversary of the Great Lukhangwa
I came across this anecdote in an article by the Dalai Lama. After the signing of the Seventeen-Point "Agreement", when the Tibetan delegation led by Ngabo called on Mao Tse-tung, he greeted them effusively: "Now that Tibet has returned to the motherland, Peking is your city, Shanghai is your city… etc." On his return to Lhasa, Ngabo (with the Communist leaders Wang Qimei and Phuntsog Wangyal accompanying him) repeated this message from Mao to the Tibetan cabinet.
Silon Lukhangwa the prime minister turned to Wang Qimei and said "Please inform Mao Tse-tung that no, we do not want Peking or Shanghai; give us back Chamdo." By Chamdo, Lukhangwa meant that part of Eastern Tibet under Tibetan administration HQ in Chamdo, for which a separate governing body "The Chamdo Liberation Committee" was created by the Chinese in 1951.
The Dalai Lama's story receives partial confirmation in Baba Phuntsok Wangyal's autobiography. Wangyal says that Lukhangwa went into an "angry tirade" and that he and Wang were shocked. Lukhangwa declared that Tibet and China were two separate countries and there were two governments, one Tibetan and one Chinese. "You Chinese seized our territory in the Dartsedo area in the past and now you have brazenly attacked us by force and, under the name of 'liberation,' seized our territory in Chamdo." Lukhangwa almost certainly said something like this but I am skeptical about the "angry tirade" comment. The Prime Minister had the repution of being forthright and fearless, but also softspoken and polite.
The Tibetan public has always loved stories of Lukhangwa's courage and defiance of China, and have invariably dramatized them in the telling. For instance in 1952 the Chinese occupation authority in Lhasa called for Tibetan regiments to carry the Chinese flag and not the Tibetan national flag, as stipulated in the Seventeen Point Agreement, but Lukhangwa and his colleague Lobsang Tashi argued against this. A rumor  quickly spread throughout the capital that the Chinese had demanded the Red flag be hoisted over the Potala but Lukhangwa had declared that he would rather die than allow that to happen. According to Tsering Shakya "Both prime ministers became folk-heroes to the masses over this incident."
Even after Lukhangwa was forced to resign and resettle in Kalimpong, he worked tirelessly to unite the many different and (often) quarreling Tibetan exile groups in that border town, and to get them to work together. On August 5th 1958 a joint appeal was sent to the government of India, the United Nations and the world, declaring Tibetan independence and condemning China's military occupation. A declaration of loyalty was also issued and signed by all Tibetans in the Kalimpong, Darjeeling and Sikkim areas.
My father, Thundup Lhawang, helped Lukhangwa and other Tibetan leaders to draft their petitions and memorandums in English, and provided other help where needed. My father was a graduate of St. Josephs (my alma mater) and had studied engineering at Leeds. He was the president of the organization of Tibetans of Indian nationality and pulled considerable political weight locally.
He accompanied Lukhangwa and other Tibetan leaders to New Delhi where they petitioned Nehru to grant the Dalai Lama asylum in India. The AP photograph below is of the press conference where the safe arrival of the Dalai Lama at the Indian border was announced.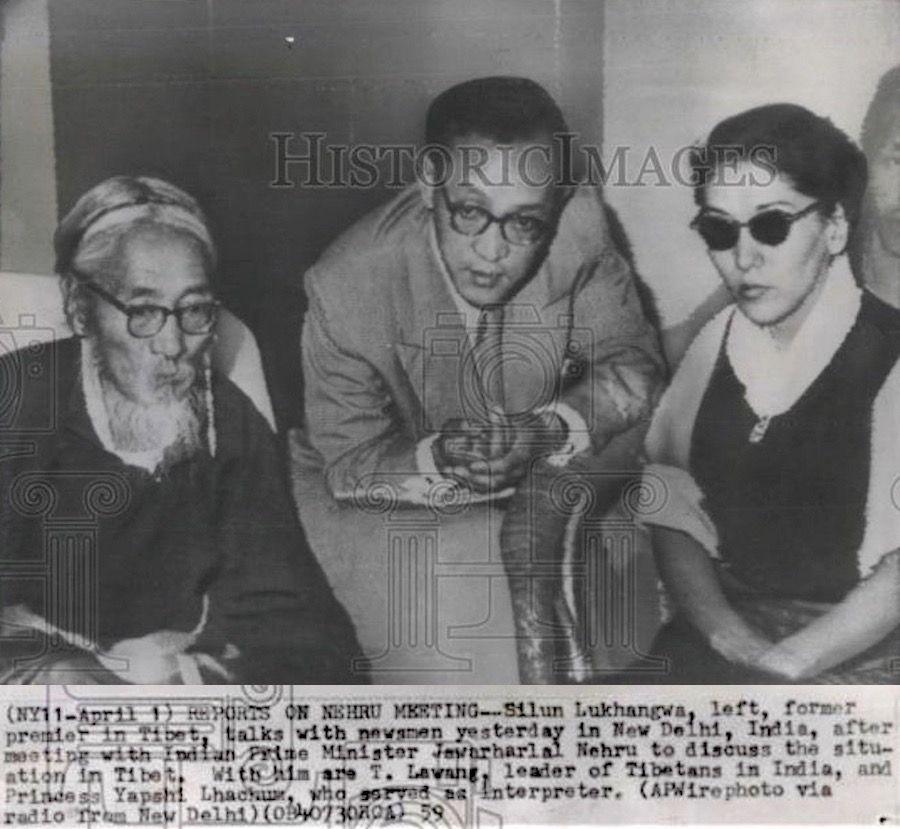 Silon Lunkhangwa died on February 24th 1966, in New Delhi. Dharamshala seems not to have observed his passing. There is no mention of him  in the March 10th statements released that year. I touched on this official indifference in an article I wrote in 1979 and noted the "…indecently hurried and shabby funeral (he received) where a few hired coolies served as pallbearers to this one genuine hero of our times."
I request the reader to  light a sacred lamp (choe-me) in his memory.