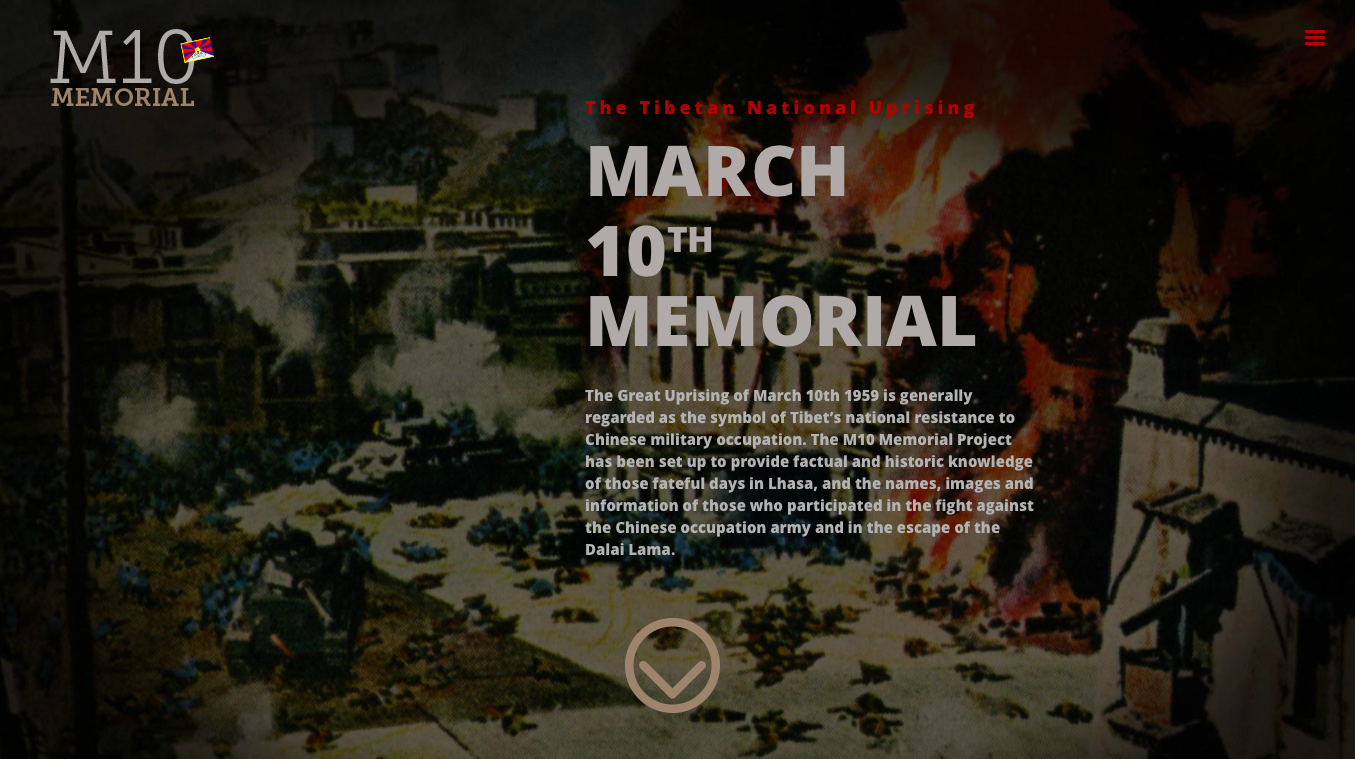 Among the great war monuments in America, the Vietnam Veteran's Memorial in DC, designed by Maya Lin, is perhaps the most elegant and simple. The stark black wall with the etched names of over 58,307 American servicemen killed and missing, always moves me when I see it. It also makes me reflect that no one really had to die or go missing. The USA was not being threatened, even remotely, by North Vietnam.
Tibet was invaded militarily by Communist China. Over a million people died. Many tens of thousands of Tibetans were killed fighting for their nation, their civilization and their leader, the Dalai Lama. Exile-Tibetans have been diligent in building many grand monasteries and temples but not a single memorial has been erected to honor those who fought and died for their country. In a small gesture, a consolation prize perhaps, we bring ourselves to honor their memory every 10th of March, in a solemn ceremony.
But to truly honor we must first of all remember. The problem is that most of us only have a cursory grasp of  what actually happened in Lhasa in '59, except for the fact that there was a big uprising during which the Dalai Lama escaped to India.  To meaningfully honor the brave men and women who took part in the Uprising, we must first remember them. The trick to remembering is nailing down specifics: names, faces, bio's, photographs, films. Forget the high sounding abstractions, grand speeches and trumpet calls.
The M10 Memorial Project has been set up to provide factual and historical knowledge of those fateful days in Lhasa, and the names, images and information of those who participated in the fight against the Chinese occupation army and in the escape of the Dalai Lama. This project is only a small beginning. We call on  scholars, researchers, surviving relatives and friends of the fighters and activists, in fact anyone might have a single name, one blurry photo or just a line of  information, to contact us and help make this a memorial worthy of our fallen heroes.
The principal feature of this website is the REMEMBRANCE WALL (pawo pamo drendhen chakri). On it are photographs and names of fighters and activists from all walks of life as the blind beggar Tsesum who acted as a courier and a spy during the fighting, to the famous Tsarong Dasang Dadul who directed the Tibetan forces. We also have names and images of soldiers, officials, housewives, merchants, shokeepers, monks, nuns, aristocrats and citizens who volunteered to defend the holy city.
To make sense of the tumultuous events a TIMELINE OF EVENTS has been provided as well as a dynamic zoomable and draggable  MAP OF LHASA CITY. An IMAGE HISTORY OF THE UPRISING provides rare photographs not only of the fighting, but also the Dalai Lama's escape, among other features.
The official Chinese propaganda documentary film PUTTING DOWN THE TIBETAN UPRISING in 1959, can be viewed on the website in the next few days. We will also have INTERNATIONAL PRESS REPORTS of March 10th, CHINESE OFFICIAL AND PRESS REPORTS, as well as cartoons and article from the Tibetan language TIBET MIRROR PRESS, also available for downloads very soon.  Many more features will be addded on the website in the coming months. The most important of these will be the Tibetan language version.
I must also thank Kungo Barshee, Dasur Namgyal Wangdu, Manang Sonam Topgyal, Yaptsang family, Mrs. Dhakden la, Jhangdre family, Youdon Aukatsang, Sonam Nyatsatsang, Jampa Yangchen Surkhang, Thonsur family, Paljor Tsarong, Karma Zurkhang, Thupten Tsering la, Mrs.Ngodup Wangmo Sampho, Mrs. Diki Thondup,Yeshi Dolma la, Lisa Cathy, Isrun Engelhardt, AMI director Tashi Tsering, Peter Brown, Champa Namgyal, Martin Braun and my wife and partner Tenzing Chounzom, for their invaluable contributions to this project.
A special thank you must go to my old friend Christophe Besuchet for his outstanding graphic and digital artistry which he brought to bear in creating this website, and also for his unflagging work (over three decades) for the Tibetan cause which is manifest in his many other amazing projects.
This website is a work in progress. I request everyone not to hestiate in pointing out the many errors and oversights in this work and help us make it a truly informative and inspiring memorial. Please also support us financially to sustain this website (and related projects) and ensure that the March 10th Uprising and its heroes will never be forgotten and that their cause will never be disparaged or misrepresented. Send your tax deductible donations by check payable to Tibet Freedom Fund. In memo line please add "M10 Memorial project", and mail it to to Ganzey Tsering, PO Box 241, Medford, MA 02155, USA.  Thanking you in advance.  . Click this M10Memorial link to enter the website