REFLECTIONS ON GYALO THONDUP & MODERN TIBETAN HISTORY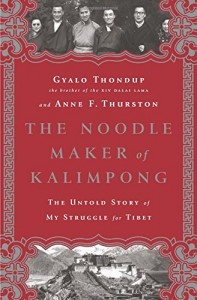 Politicians and celebrities around the world employ ghostwriters for their memoirs and screeds. So the autobiography of a prominent Tibetan political figure being ghosted (or co-written) should come as no surprise to anyone. What was unexpected about Mr. Gyalo Thondup's archly titled The Noodlemaker of Kalimpong (NMK), was the fact of the co-writer (China specialist Anne Thurston) sticking a string of disclaimers at the beginning and end of the book as if she were advertising a dubious new pharmaceutical product rather than introducing a passable summer read.
She scatters references to "Rashomon" and the "unknowability of truth", in the book's introduction to prepare us for Gyalo Thondup's bombshell accusations against many if not most figures of note in modern Tibetan history. It also allows her to issue a convenient neutrality disclaimer on the Tibetan issue with this expedient observation: "The Rashomon phenomenon pervades the history of modern Tibet", which explains to her the "irreconcilable differences" in the official Chinese and Tibetan version of events. Thurston doesn't consider the fact that the "unknowability of truth" about Tibetan history could equally stem from her ignorance of the subject, or the need for China specialists in general not to stray too far from Beijing's version of Tibetan history.
But it is more than evident that Thurston has problems with Thondup's version of modern Tibetan history and she plays it safe with this mild disclaimer: "The evidence Gyalo Thondup presents does not warrant the conclusions he draws". Historian Tsering Shakya in a summary review for Foreign Affairs puts it more bluntly: "Thondup offers very few substantial revelations about Tibet's recent history, and the book is marred by speculation that verges on conspiracy theorizing". Shakya mentions Thurston's questioning of the veracity of Thondup's story, but Shakya also correctly points out that "… Thondup is one of the most important figures in the history of the Tibetan diaspora. For many years, Thondup was the go-to Tibetan interlocutor for foreign governments and China."[1]
In fact, Gyalo Thondup (or GT as many English speaking exiles refer to him) is so important in the whole exile-Tibetan scheme of things, and has played a dominant and central role for such a long time, that merely writing another review or a rejoinder will really not serve to enlighten a new generation of Tibetans (and probably many in the previous generation as well) on a very important period of modern Tibetan history.
I thought it would be useful for the reader if I took certain issues raised in this biography that have most affected Tibetan national and public life, and laid out the various points of views which have not recevied much attention in governmental or even scholarly circles. The exception, perhaps, in academia is Prof. Carole McGranahan, who has taken up GT's disputes with Khampa leaders including the Pangdatsangs, in some of her writings.[2] The substantial advantage that Gyalo Thondup has had in this respect is that he has outlived all, if not most of his political enemies, and so has, in a sense, managed to have the last word on nearly every controversy.
Since I will not be able to adequately cover all the controversies in this single essay, I think it would be more doable if I spaced out the whole project and tackled only one specific issue in every post, and that too on an occasional basis. It will allow me time to do some fill-in research and fact-checking.
WAS THE ROYAL FATHER MURDERED?
The issue I want to take up in this essay is the death of Gyalo Thondup's father, one of those seemingly minor and disregarded tragedies in a nation's history from which far more consequential and unfortunate outcomes have devolved. I would like to explore how the death of the Royal Father (gyalyab chenmo), and Gyalo Thondup's obsessive belief that he was murdered by a conspiracy involving most of the Lhasa aristocracy, probably impacted modern Tibetan history in the most negative and poisonous way, particularly during the critical years after the Dalai Lama's establishment of the exile government in Dharamshala.
But before tackling the matter of the actual death of the Royal Father, it would perhaps help readers to have an understanding of the events leading up to that unfortunate incident. When the Yabshi family first arrived in Lhasa it was received enthusiastically by the populace.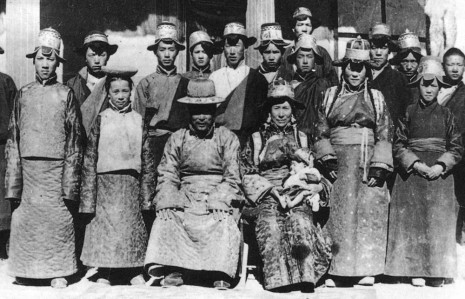 It was a large extended family that included some cousins, an uncle, a bride (nama), a groom (makpa) and the Dalai Lama's own grandmother. Some years ago I obtained this wonderful photograph of the old dowager, who was unable to leave Lhasa with the rest of the family in the chaos of March 1959.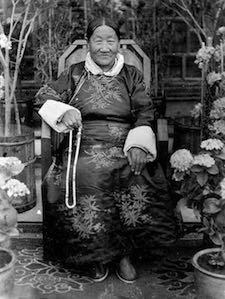 Everyone was thrilled with the child Dalai Lama, who by all accounts behaved with the most impeccable dignity. Richardson writes: "The composure and placid behavior of the child was remarkable". Basil Gould: "… he conducted himself with grave, unsurprised, self-possession." Once in a while, when the official or religious functions (zeygo) became overlong and tiring His Holiness would understandably cry or throw a fit and the Royal Mother had to be rushed to the Jokhang or the Potala, where she would take him to an anteroom and do what she had to do.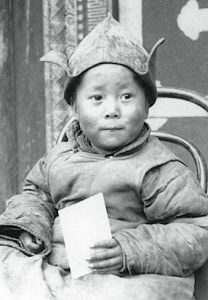 Probably the first bit of "Yabshi" gossip that did the rounds of Lhasa society concerned the gyalyum chenmo or Royal Mother politely refusing to wear the formal costume of a Lhasa lady that she was entitled (and even required) to wear. She stuck to her traditional Amdo costume. Although the Gyalyum's decision may have initially taken people by surprise, everyone grew to respect her simple authenticity and also her humility and gentleness. She was also a wonderful cook and it would be remiss of me if I did not mention the one occasion I was privileged to taste it, when I visited her son (and my classmate) T.C. (Ngari Rinpoche) at their residence, Kashmir Cottage in Dharamshala.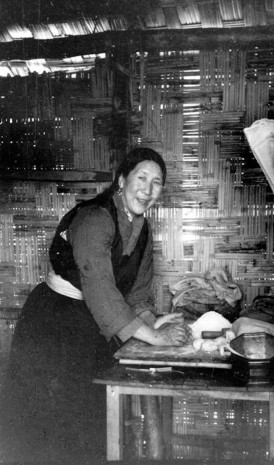 In one of those Lhasa street songs (monlam chumae shay), which usually criticized the great and powerful, the Royal Mother is referred to as Gyalyum Jetsun Dolma or "Tara the Savior":
Gyalyab Choskyong[3] Tsering/

Choskyong pheb-pheb, pheb-kyis/

Gyalyum Jetsun Dolma/

Chos-shom nang la shug shag/

The Royal Father "Oracle" Tsering

Is behaving as if he were possessed

The Royal Mother "The Savior Tara",

Is sitting serenely in the Chapel.
In spite of their love for the Dalai Lama and affection and respect for his mother, the song reveals that the good citizens of Lhasa were well aware of the Royal Father's shortcomings. He had a nasty temper and was given to publicly beating up people who he felt were not showing him enough respect. "He demanded that all mounted persons in the city, regardless of rank dismount and pay their respects to him, or risk being beaten by his servants." This was unheard of in Lhasa where there were so many high officials, high lamas and VIPs from other places moving around the city, that people could not be expected to get off their horses for all of them. The Royal Father once even threatened to shoot the abbot of Drepung monastery who complained to him of his servants mistreating a Drepung subject.
A wise Tibetan scholar explained to me why the Royal Father's outrageous behaviour might have its roots in the political world he had come from. In warlord-controlled Qinghai, having political power allowed you to beat up whoever you wanted, even cut off their heads, as Ma Bufang, the Muslim warlord had a reputation for doing. Traditional Tibet, on the other hand, though not modern or democratic, was ruled by customs and conventions, and crucially, a legal system, which though rough around the edges was definitely less capricious than warlord justice – or the present day Chinese legal system, for that matter. Hugh Richardson mentions that the old Tibetan legal system and the power of the aristocracy "… was not arbitrary and the subjects could appeal to the District Officer or directly to the Kashag or to the judges in Lhasa"[4]. People soon began to do just that about the Royal Father.
But the Royal Father's venality was very much a personal character trait, and in a class of its own. He refused the manor-house the government first bestowed on the Yabshi family and demanded one of the largest Lhasa parks, Chansebshar[5], and funds and labor to construct a huge new mansion. He also demanded extra estates in addition to the ones given to him, and "refused to pay the usual taxes on his estates."[6] Even when the extra estates he demanded were eventually given to him, he demanded more!
From a report by Rai Bahadur Norbu Thondup to the Foreign Secretary, Government of India: "… the Dalai Lama's father is intefering too much with the affairs of the Government and is taking the law into his own hand. According to Norbu "… the Royal Father interferes in cases between creditors and debtors, re-trying the cases himself and threatening the magistrates in charge. For his services he charges exorbitant fees, accept bribes and makes a handsome profit for himself."[7] Simply put he was running a "protection racket".
The Royal father was also a "horse fancier" and reportedly demanded that people sell him horses he took a liking to, often at absurdly low prices. This inspired another irreverent song:
Ta zang dros den zhon nay/

Changsebshar la ma theg/

Gyalyab Tsiu mar poe/

Tsong shog, trod shog lab yong/

When you ride a fine horse with a good "amble"

Don't ride by the Eastern Cool Willow Grove (Changsebshar)

The Royal Father "Red-face Tsiu-Marpo[8] deity"

Might say "Sell it!" or "Give it!"
A sick man riding to the British Mission hospital had his pony confiscated by the Duke for not dismounting and saluting him.
Finally everyones patience ran out. The National Assembly issued a detailed proclamation informing the public of the government's more than generous endowment to the Dalai Lama's family and the Royal Father's greed and rapacity. It also proclaimed that if the Royal Father or any of his servants committed further offenses then the matter would taken up by the courts.
The Royal Father took the government's efforts to restrain him badly and blamed the new Taktra Regency for his public humiliation. Regretably, he appears to have joined a conspiracy of former Reting Regent loyalists, plotting to overthrow the Taktra Regent and return Reting to power. More unfortunately and even treasonously, Reting and his supporters were seeking financial and military support from the Chinese government to realize their goal.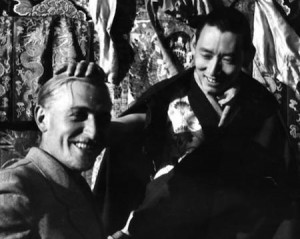 The Royal Father may have contributed to this conspiracy through his personal connections with senior Guomindang (KMT) officials in Sining. The story of the Dalai Lama's family being of humble peasant stock is, of course, the prevailing myth, but in actuality they were prosperous farmers and landowners with political connections to the KMT/Muslim warlord ruler of Amdo. That the oldest son of this family, Thupten Jigme Norbu, was installed as abbot of Kumbum monastery, one of the most important monasteries in the region, might be seen as an indication of this connection. Taktser Rimpoche candidly mentioned to me that as a child he did not recognize any of the objects placed before him when he was tested, but that he was chosen anyway. He mentions this in a book[9]. The Royal Mother told her granddaughter that the Sining warlord Ma Bufang was a family friend "…and would have used his powers to help us."[10]
Gyalo Thondup and his brother Lobsang Samten were enrolled in one of the better schools, Tarkhang Laptra, for their elementary education. As adequate as these dozen odd schools in the city were to teach Lhasa children the basics of reading, writing and recition of prayers, the need for a modern educational system was clearly realized by the more enlightened members of Lhasa society. The government's efforts to start an "English" school at Gyangtse under Frank Ludlow (1923), and in Lhasa under Colonel Parker (1944) being undermined by the monastic conservatives, is well known.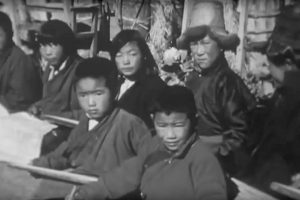 From the mid-thirties onwards, everyone who could afford it: aristocrats, merchants, Khampa residents of Lhasa and others, started sending their children (both boys and girls) to English schools in India for a modern education. The Tibetan government sponsored ten students (five from the lay drungkor cadre and five from the tsedrung cadre) to study at St. Josephs College in Darjeeling.
But the Royal Father made secret arrangements to send Gyalo Thondup to China for a Chinese education. Hoover Institute scholar Hsaio-ting Lin writes that the Chinese representative in Lhasa, Shen Zonglian "…managed a covert trip for Gyalo Thondup and Phuntso Tashi, the Dalai Lama's brother-in-law, to China. When the news eventually reached Lhasa of the arrival of the Dalai Lama's family members in Nanking, both the Taktra administration and the British were extremely shocked and were alerted to Shen's activities in Lhasa."[11]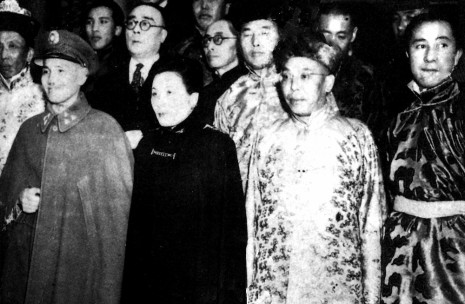 Gyalo Thondup writes that President Chiang Kai-shek personally paid for his education, "… all my expenses, a monthly allowance that allowed me to live in style, a three-bedroom house with a cook, servants and a car with a driver." (NMK p.73) . Gyalo Thondup also mentions that when he left for China in 1946 he was carrying a message from the Reting Regent to Chiang Kai-shek, asking for Chinese government help for Reting to regain power in Tibet. Gyalo Thondup was seventeen, and probably not fully aware of treasonous nature of the message. But the justifications he provides in his book about Chiang Kai-shek being a good and wise man, and even supportive of Tibetan independence, underlines a running argument in the book. If he Gyalo Thondup did what he had to do, it was done for high-minded reasons and for the good for Tibet. If any of his opponents did the same (or were even just accused of it) they were criminals and traitors.
The Tibetan government might have known of this treacherous message to Chiang Kai-shek but they could not, of course, take any direct action against the Royal Father or anyone in the Yabshi family. To ensure that the Royal Father would not be able to involve himself in further misadventures a special manager, Darhan (Drongtse Labhar) Lhakyab, was placed in charge of all the Yabshi estates, accounts and finance. Some have referred to him as the estate manager, but he appears to have been more of a political "minder" and a strict one at that. He kept the Royal Father and other members of the family on a tight leash. This was a very humiliating period for the Yabshi and unfortunately Taktra officials could not refrain from rubbing it in whenever they could. It got so bad that even the Royal Mother's access to the Dalai Lama was unnecesarily restricted. One kashag minister, the controversial and colorful Kabshoba, spoke out strongly against this humiliation of the Royal Mother. His defiance of the Taktra regency got him framed and imprisoned. A recently published biography[12] of the minister is a fascinating read on the politics of that period.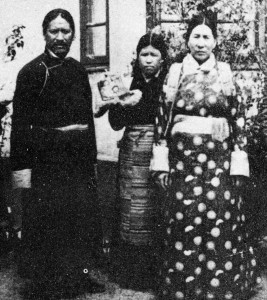 On April 14, 1947, an ultra-secret coded telegram was received by the Kashag in Lhasa from the Tibet Bureau in Nanking, revealing that Reting had sent an urgent message to his representatives in Nanking, requesting Chinese troops, military equipment and airplanes to help Reting overthrow Taktra. "Reting's message apparently offered to accept Chinese overlordship, and some say, to cede to China contested Tibetan territory in Kham. The telegram also said that China had agreed to respond to Reting's urgent request within five days."[13] More than the earlier inept bomb-plot that everyone has heard or read about, this telegram propelled the Kashag to finally take action against the conspirators and the Reting Rinpoche himself.
Earlier that year (around the Losar celebrations of 1947) the Dalai Lama's father passed away after a long illness. Of course, the Dalai Lama's own personal physicians "…came regularly to the house and prescribed remedies, but nothing seemed to make him feel any better."[14] His passing away seems to have been considered by everyone in Lhasa as an unfortunate but natural occurrence. There were no rumors of poison or foul play.
Tibetans love stories of political intrigue and skullduggery, especially where high lamas and officials are disposed of by poison. If there had been even a hint of suspicion about the Royal Father's death, the rumor mills in the holy city would have been working overtime. We all know that the supposed murder of the Reting Regent in prison by poison or by having his testicles squeezed has been gossiped to death in Tibetan society, and even within the pages of Goldstein's history – all with little or no evidence. So why were there no rumors about the Royal Fathers death?
In none of the histories of modern Tibet written by Tibetan or Western historians: Tsipon Shakabpa, Tsering Shakya, K.Thondup, Hugh Richardson, or Warren Smith, is the murder of the Royal Father ever mentioned. Even in the relatively pro-Chinese histories by Tom Grunfeld and Melvyn Goldstein[15]– this juicy bit of unflattering gossip is entirely absent. Heinrich Harrer, who was fairly close to the Yabshi family, makes no mention of it in his famous travelogue. Even KMT historians Tsung-lien Shen[16], and Shen-chi Liu & Tieh-Tseng Li[17], all strongly pro Reting and anti Taktra, make no mention of the alleged murder of the Royal Father in their books on Tibetan history. The already mentioned Hsaio-ting Lin also does not.
The Dalai Lama himself has never written or spoken about his father being murdered. Anne Thursten appears to have discussed this with the Dalai Lama and she notes that the Dalai Lama was not convinced of Gyalo Thondup's accusations. (NMK p.303)
The Dalai Lama's older brother Thupten Jigme Norbu (Taktser Rinpoche) makes no mention of the alleged murder of his father in any of his writings. The Dalai Lama's younger sister, Jetsun Pema, in her autobiography[18] gives a detailed account of the illness and passing away of her father, but makes no mention of poison or murder. She was actually by her father's bedside when he died. The Dalai Lama's mother expressed her doubts about her husbands manner of passing in an interview decades later [19]. At the time of her husband's passing she did not share any suspicions about his death with anyone. And she had reasons not to. The Royal Father had suffered an almost identical illness back in Amdo around 1935, unable to eat anything, "wasting away, turning into a skeleton" almost to the point of death. GT writes that he only just recovered, quite miraculously, when the Dalai Lama was born (NMK pp 14-20).
Gyalo Thondup was informed of his father's passing at Nanking. He was asked by the Tibetan government to return to Lhasa to take up his father's position and responsibility. But GT claims that he was warned of a plot by Taktra officials against him, so he chose to stay in China. The Chinese had convinced themselves that the Taktra regency was strongly pro-British, and regarded the mysterious death of their "patriotic" Reting Regent (and laterve the "death" of the "patriotic" Royal Father) as a conspiracy by pro-British Tibetan officials under Taktra.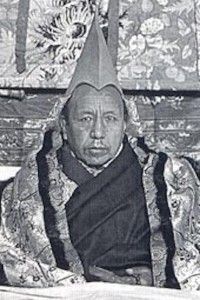 There is absolutely no evidence to support the theory of Taktra being pro-British. In fact he was a rather grim, conservative old monk who did not even like having his photograph taken with English or other foreign visitors, which the Reting Regent enjoyed doing. The Taktra administration, especially his chanzoe-chenmo[20] (chief steward) was notoriously corrupt and tyrannical, but the Reting administration was equally corrupt and vindictive to its opponents and critics. Tibetan officials of that period have less negative memories of the Reting Regent because he was more given to partying and having a good time. Chinese dislike of Taktra probably stemmed from his administration's initiative in 1942 to resurrect the Tibetan Foreign Office, and other sporadic efforts to assert Tibetan independence, which could be argued were too little and too late.
This conspiracy theory of the murder of Reting and the Royal Father was later taken up by the PRC and developed in their propaganda, not only in books and magazines but even, reportedly, in a TV docudrama. Reference to the murder of the Royal Father first appeared in a major PRC publication in 1959, where in a section on the history of Tibet, mention was made of how " … in 1947 the reactionary imperialist ruling clique in Tibet headed by Taktra Regent, Lukhangwa, Surkhang (etc.)…put the patriotic Rabchen (Reting) Regent under arrest and murdered him. They also poisoned Chochotsering (Chokyong Tsering), father of the Fourteenth Dalai Lama, who was closely related to Rabchen and had the interests of the motherland at heart."[21]
So it is important that we get this straight. The first ever accusation of the Dalai Lama's father being murdered by poison was made in the above PRC propaganda tract of 1959. There is nothing in Tibetan, English or Chinese before this. The first time Gyalo Thondup publicly spoke about this was in 1995 in an interview with an English writer.
GT himself provides no shred of evidence to back up his charge. In his book he claims that a junior manager of the Yabshi estate poisoned his father but conveniently leaves out his name (NMK p.66). The English writer, Mary Craig says that "GT claims to have seen the document that proves his father's murder."[22] GT also told Mary Craig that this person confessed to the Chinese during an interrogation. So the document was most probably the transcript of the confession, in official records. A copy was possibly obtained by GT from Chinese officials perhaps during one of his vists to China after 1979. After all the document was irrefutable proof of China's propaganda claim that the "patriotic" Chochotsering was murdered by the reactionary pro-British clique in Lhasa. But GT doesnt reproduce the document or give us a single name. Gyalo Thondup only goes into some detail when he discusses the ostensible poison used, but these details are fantastic even quite literally, mythical.
THE "MAD ELEPHANT" POISON ­– FACT OR FANTASY?
Murder by poison was not uncommon in old Tibet. I have mentioned in a previous post[23] that the Tomden fraternity, which carried out the jha-tor (not "sky burial" please) disposal of dead bodies by vultures, performed autopsies for the Lhasa courts when required. Traditional knowledge and experience of dissecting bodies made the Tomden familiar with symptoms of poisoning or other forms of unnatural death.
Tibetan medical literature[24] provides detailled descriptions of an extensive variety of poisons. Some standard Tibetan poisons mentioned are: aconite (tsen-dhug or bhonga nakpo), arsenic (bhala or bhabla), belladonna (dhuk thangdrom nakpo) and cyanide (kyursa ngonpo). These are generally quick acting and effective.
Gyalo Thondup ignores these and instead goes for the more fabulous "langchen nyonpa" or "mad elephant", a herb he claims "shuts down the digestive system" and starves the victim to death, which also conveniently explains why it took forty-four days for the Royal father to die. But generally speaking such undetectable, slow-acting poisons as thalium or polonium are modern discoveries, the latter being used in the murder of former Russian spy, Alexander Litvinenko, in London.
GT's own co-author Anne Thurston says she is not convinced by his story. "Other possibilities seem equally reasonable. Some, for instance, have noted the high incidence of esophageal cancer among Tibetans and the similarity of the symptoms of such a cancer to those of Gyalo Thondups' dying father. And one cannot help but wonder why poison should take forty-four days to kill"(NMK p.303). From the American Cancer Society website "… loss of appetite before death is common in many cancer cases especially cancer of the bowel."[25] We might recall GT's own account of his father suffering a near terminal illness with identical symptoms in 1935.
Most Tibetans have heard and enjoyed such stories about the poison cult of Kongbo (dhukpa), certain wooden drinking bowls (phor-pa) having the power to detect poison, the turquoise on Mt. Hapori near Samye being an effective antidote for most poisons, and so on. The "Mad Elephant" drug belongs squarely in this category of Tibetan tall tales. I say this with some conviction as I have also come across a conflicting story about a similarly name mushroom (not herb) being a sedative powerful enough to calm a mad elephant. Goldstein in his history writes that when the official Lungshar had his eyes removed the "Langchen Nyonpa or Langchen Nyochou" drug was administered to sedate him.[26]
Yet I do not want to entirely dismiss Gyalo Thondup's claim that his father was murdered by poison. I can well understand how traumatic it must have been for the Yabshi family to have the head of the family pass away, especially around the period when its principal patron, the Reting Regent, was powerless and later in prison. It would have been unnatural if members of the family, especially the Royal Mother, did not harbor suspicions about the death of her husband, and fears for the life of her son and the new Yabshi heir, Gyalo Thondup.
My objection to the conspiracy story offered by Gyalo Thondup is not that it is fantastic and without evidence. Such conspiracy theories generally are. But his blanket accusation of the entire Tibetan government and the aristocracy as being "cruel and barbaric" and the whole Tibetan system as being "without any law or justice" (NMK p.87) essentially parrots Chinese lies and fabrications that have been used extensively by China's propagandists in the West to discredit Tibetan history and civilization, and delegitimize our national struggle. GT also goes on to accuse the Tibetan government of planning to murder not only him but even the Dalai Lama as well – once they had gotten rid of Gyalo Thondup. GT also insists that the historian Shakabpa (a loyal friend and partner who helped Gyalo Thondup set up his first political organization in Kalimpong) "…must have played a role in the demise of both my father and Reting (Regent)." (NMK p.150)
What can explain the near pathological intensity and excessiveness of Gyalo Thondup's accusations, that made it difficult, if not impossible, for his own co-writer, his sister, brother and even the Dalai Lama to concur or support? Was it all in the end just a clumsy (perhaps subconscious) rationalization that GT concocted to justify the savage power struggle he inflicted on early exile society? A power struggle that destroyed the lives of many officials, leaders and common people and which castrated the exile government, making it ineffectual for decades.
To be taken up in my next post.
NOTES:
[1] Tsering Shakya, Review, Foreign Affairs. https://www.foreignaffairs.com/reviews/2015-10-20/noodle-maker-kalimpong-untold-story-my-struggle-tibet
[2] Carole McGranahan, Arrested Histories: Tibet, the CIA, and Memories of a Forgotten War, Duke University Press, 2010. Carole McGranahan, "On Social Death: The Spang mda'tsang Family and 20th Century History", Trail of the Tibetan Tradition, Amnye Machen Institute, Dharamshala, 2014.
[3] Coincidentally the actual name of the Royal Father was "Choskyong" Tsering meaning an oracle or protecter deity.
[4] Changshep Shar is called the "Eastern Willow Park" in map by L.A Waddel. He mentions that it was used for "royal functions". This was the second biggest park in Lhasa, just smaller than the Shugtri Lingka (Throne Park) just south of the Potala.
[5] In a letter to Mary Craig sent by Hugh Richardson, 12 December 1993. From her book cited below.
[6] A detailed account of the Royal Father's transgressions can be seen in the India Office Library collection of reports of the British Mission in Lhasa. The most detailled reports are those from Rai Bahadur Norbu Thondup. These are quoted in Goldstein Vol I and Mary Craig's biography cited below.
[7] cited in Mary Craig, Kundun, A Biography of the Family of the Dalai Lama, Harper Collins Publishers, London 1997.
[8] Tsiu-marpo or Tsiu-mara was the red face guardian deity and principal oracle of Samye monastery. The complexion of the Royal Father was reportedly also constantly flushed. Perhaps due to high blood pressure.
[9] Thubten Jigme Norbu; Colin M. Turnbull, TIBET : Its History, Religion and People, Pelican Books, London,1972
[10] Khedroob Thondup (editor) Dalai Lama My Son; A Mother's Story, Diki Tsering, Viking/Arkana, New York, 2000.
[11] Hsaio-Ting Lin, Tibet and Nationalist China's Frontier: Intrigues and Ethnopolitics, 1928-49, UBC Press, Vancouver, Toronto, 2006 p.186
[12] Jamyang Choegyal Kasho, In the Service of the 13th and the 14th Dalai Lamas, Choegyal Nyima Lhundrup Kashopa, Untold Stories of Tibet, TibetHaus, Germany, 2015.
[13] Melvyn C. Goldstein, A History of Modern Tibet: Volume 1, The Demise of the Lamaist State, 1913-1951, University of California Press, Berkeley, 1991.
[14] Jetsun Pema, Tibet, My Story, Element Books, USA, 2001
[15] Melvyn C. Goldstein, A History of Modern Tibet: Volume 2, The Calm before the Storm, 1951-1955, University of California Press, Berkeley, 2007. Gyalo Thondup interview on the murder of his father is on p.236.
[16] Hsaio-Ting Lin, Tibet and Nationalist China's Frontier: Intrigues and Ethnopolitics, 1928-49, UBC Press, Vancouver, Toronto, 2006.
[17] Shen, Tsung-lien and Shen-chi Liu. Tibet and the Tibetans. California: Stanford University Press, 1953.
[18] Jetsun Pema, ibid.
[19] Khedroop Thondup ibid.
[20] For victims of the Taktra administration the Chief Steward of the Taktra regency took on the reputation of real boogey-man. This fearsome personality ended up a pathetic old monk at the old peoples home at Dalhousie, HP, picking up twigs and firewood by the roadside, according to my informant.
[21] Concerning the Question of Tibet, Foreign Language Press, Peking, 1959.
[22] Mary Craig, Kundun, A Biography of the Family of the Dalai Lama, Harper Collins Publishers, London 1997.
[23] Jamyang Norbu, "The Lhasa Ripper" Shadow Tibet
[24] Gyurme Dorje, Fernand Meyer (editors), Tibetan Medical Thangkas, Serindia Publications, London 1991.
[25]http://www.cancer.org/treatment/nearingtheendoflife/nearingtheendoflife/nearing-the-end-of-life-physical-symptoms
[26] Goldstein, A History of Modern Tibet: Volume 1