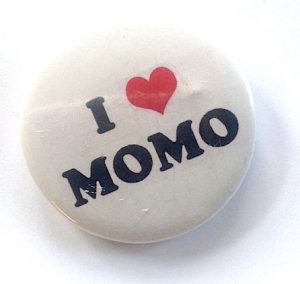 I guess most of us need cheering up this week. The only comfort food I know that might just begin to do that is a plate of steaming momos. Even writing about it makes me feel a little more positive and hopeful than I did a moment ago. I am also writing this post to celebrate the "Epic Momo Crawl" that TimeOut New York has announced is taking place today at Jackson Heights ("Momo capital of North America" according to Prof. Elliot Sperling), where lucky New Yorkers can wander around the Sherpa, Bhutanese, Tibetan and Nepali restaurants and sample momos for a dollar each, and vote for their favorite before they leave.
My first momo post was also written for a "Momo Crawl" (that of 2015). A Queen's restauranter had emailed me about claims being bandied about in some corner of Jackson Heights that momos were actually Nepali in origin and only later adopted by Tibetans. I think I managed to deal with that assertion to everyone's satisfaction. In that post I also demonstrated how Tibetan momos were very different from Chinese baozi dumplings, and closer, culturally speaking, to the Mongol (buuz) and the Central Asian (manti) . You might re-read that piece before carrying on because I would like to address a number of comment and criticisms I received.
One Tibetan writing on Facebook under a pseudonym took issue with my theory of the non-Chinese origin of momos and declared quite unequivocally that "…it was introduced to Lhasa by Manchu troops stationed in Tibet." He provided a variety of arguments that were not all implausable, but for which he offered no sources, primary or otherwise. In my post I had provided a photograph of an antique steamer-stack called called mok-tro or mok-zang (tro: cast iron, zang: copper) which Tibetans in the past used to steam their momos. He dismissed my photograph and explanation out of hand:
In traditional Tibetan cooking there is simply no tradition of steamed food. The older steamers were made out of copper or brass, they were simply too expensive for ordinary households and had to be beaten by hand. Only the wealthiest family could afford such utensils. The aluminium steamers became widely introduced to Lhasa only in the 1950s when they were imported from Calcutta where there was a sizeable Chinese community who were manufacturing them.
First of all I must take issue with the assertion that the common people in Tibet could not afford copper and brass steamers and utensils. It is not only mistaken but ridiculous. Even the humblest of Tibetan kitchens in the past always managed a good display of brass ladles, tea pots, braziers etc., as photographs of kitchens in old Tibet and even Ladakh clearly reveal.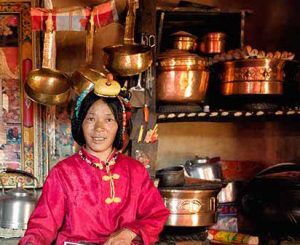 But let's say for the sake of argument that the average Tibetan could not afford brass or copper steamers and utensils. Then what could they use that would be cheap and affordable? Earthernware, of course. Jetsun Mila cooked his nettle soup in an earthernware pot, if I remember the story right, and he was among the poorest of the poor. But were there such things as earternware momo steamers in old Tibet? One of my readers from Lhasa sent me a photograph of a set of glazed earthern-ware steamers belonging to his parents that were made in Nyuk , a village in Tanak, Tsang, which Gyurme Dorje's Tibet Guide says was famous for its terracotta pottery.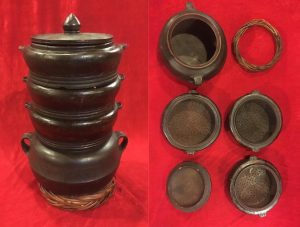 Even a Chinese propaganda book[1] on Tibetan history and culture, provides a photograph of ancient Tibetan earthernware including a momo-steamer on display at the Tibet Museum in Lhasa.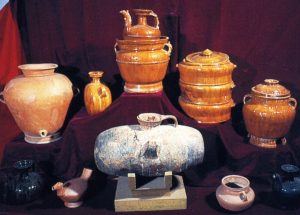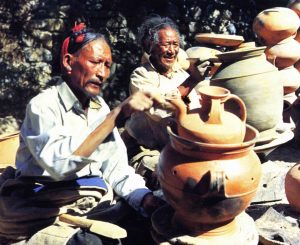 With Sunday already here, I don't quite have the time to finish this post. My wife, Tenzing Chounzom la, is preparing a momo dinner for friends and wants my help. She insists that the actual making and eating of momos must take precedence over writing about them. Anyway my next post will have more information on the different momo traditions of Tibet, and the debate on the etymology of the word "momo". I will also deal with the rest of the case offered by our pseudonymous Tibetan commenter to prove that momos were a Chinese import and that Tibetans "had no tradition of steamed food."