When I was researching my "Free Radio Free Asia!" piece I came across more information  than I could fit into the article. I also came across material which was troubling, and which I could not bring myself to include in the piece, though it would have bolstered the case I was trying to make.
A professor friend who occasional reads my blogs emailed me on the "Free RFA" post and pointed out the flaw in my analysis (resulting from my self-censorship). He thought my piece was engrossing, "like a good detective story". He went on to lecture me that  "like any good crime thriller, one needs to explain the 'motive' and the 'opportunity'.  Your piece was very compelling on the main motive of Beijing wanting the Central Tibetan Administration (CTA) to stop RFA broadcasts of 'splittist' messaging into Tibet.  However I was surprised that you missed one big piece regarding 'opportunity'. The CTA obviously could not simply stage a coup at RFA on its own; it needed the opportunity.  Reasonable people will not be convinced that your prime-minister Lobsang Sangay's "charm" (as you put it) was all it took with RFA president Libby Liu (although I'm sure she was charmed by him in more ways than one)."
My friend was right. What was the key CTA used to unlock Libby Liu's cooperation in getting rid of Jigme Ngabo?
In a detailed and lengthy policy analysis for the Heritage Foundation on China's global propaganda warfare and weakening US response, Dean Cheng (a leading specialist on China's military and foreign policy) noted that "American strategic communications effort is declining"  and "… this decrease in America's strategic communication channels, coupled with the spike in PRC broadcasts, has sparked bipartisan concerns. For example, Representative Zoe Lofgren's (Republican) recent letter to the BBG (U.S. Broadcasting Board of Governors) questions the decision to consolidate Radio Free Asia, Radio Free Europe/Radio Liberty, and the Middle East Broadcasting Networks, echoing concerns expressed by Representatives Dana Rohrabacher (Republican) and Nancy Pelosi (Democrat)."
This short-sighted decision to "consolidate" and shrink the various networks has been made largely for cost-cutting purposes, and has understandably made the directors of the various networks nervous about losing their jobs. But Ms. Libby Liu of RFA  appears to have ambitions of becoming the supreme boss of all the combined networks, and has been cultivating the friendship of important people to ensure her  bid for the top position.
The key that the CTA was able to dangle before Libby Liu and get her to agree to their wishes was  the prospect of access to His Holiness the Dalai Lama. Libby had probably wanted all along to get close to His Holiness and use that closeness to impress the BBG into allowing her to become president of the combined radio networks. The problem for Libby was that since his first visit over a decade ago His Holiness had not visited RFA at Washington DC, possibly in part because of prime-minister Samdong Rimpoche unstated but effective boycott campaign against RFA. It is possible that Sikyong Lobsang Sangye made the first offer of access to the Dalai Lama to Libby and RFA. It was only after Lobsang Sangye became prime-minister that the Dalai Lama visited RFA. He was accompanied by Lobsang Sangye and former PM Samdong Rinpoche, both of whom used the occasion to complain bitterly about RFA allowing the participation of those opposing the CTA.
Of course just a single visit by His Holiness to RFA would not really serve Libby Liu's plan to demonstrate to the BBG her closeness to the Dalai Lama. So more opportunities were created for her meet His Holiness in Dharamshala and various other places he was visiting. In fact Libby Liu and Sikyong Lobsang Sangye seems to have, on a number of occasions, followed his Holiness together wherever he traveled.
One such "payback" opportunity to Libby by CTA is made clear in a leaked email from Libby Liu's right-hand man, Kalden Lodoe, that a number of Tibetan media outlets received a few days ago.  Libby is currently in India and will be given a grand red carpet reception in South India, where she will get to meet publicly with His Holiness in Mungod, and even be given a chance to make an address to the crowd herself.  This all appears designed for her to be able to impress the BBG with how "in" she is with the Dalai Lama.  In the email Kalden writes "I would request if the settlement officer in Mundgod could arrange for Libby Liu to address the gathering of those who will be attending His Holiness's teaching."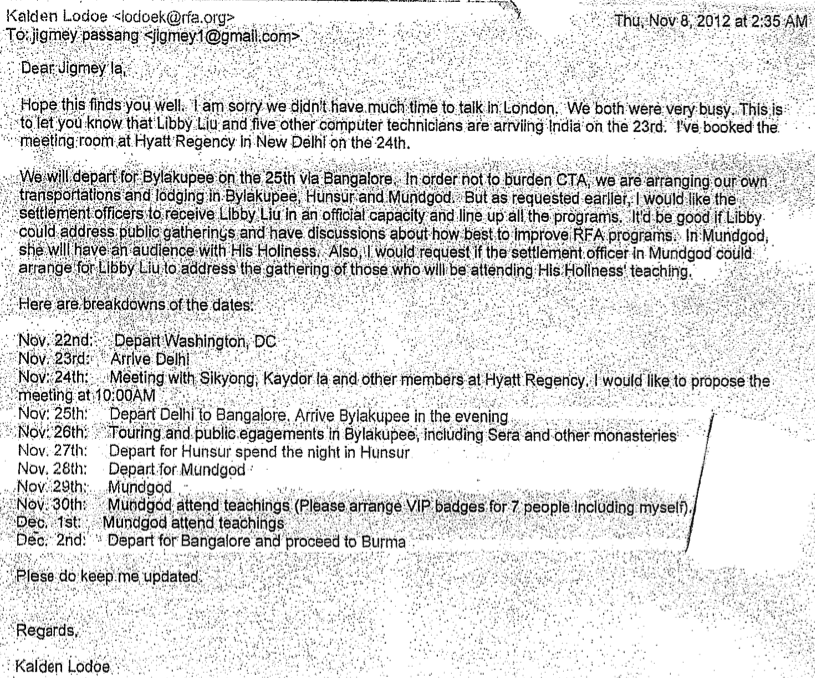 What on earth is Kalden Lodoe requesting? That this woman Libby, at some point in the Dalai Lama's teachings, get up on the podium and give a speech? I have never heard anything so disrespectful, even sacrilegious, than this. And we see in the itinerary that Sikyong is also meeting Libby Liu on the 24th at the Hyatt Regency in Delhi. How many times does he have to meeting this woman? What is so urgent?
Another earlier "payback" to Libby  seems to have happened in London on October 23 at an event organized by Legatum Instititue where His Holiness participated in a discussion on "Ethics for a More Prosperous World." Sikyong Lobsang Sangay arranged for Libby to meet his Holiness at this venue. According to a witness there: "Libby Liu was always seated next to His Holiness in a way that was too close for comfort". Incidentaly in the sidelines Lobsang Sangay and Libby Liu appears to have had a meeting where Jigme Ngabo's dismissal was discussed.
His Holiness has made it absolutely clear that he has retired from politics and official business and is now entirely involved in spiritual practices and humanitarian works. For politicians and functionaries to follow him around, to stalk him as it were, all over the world, in order to have photo opportunities with him or harass him for his support for some self-seeking scheme, should rightly cause outrage to any red-blooded Tibetan who cares about His Holiness.
Even on earlier occasions where Libby Liu met His Holiness, her way of seating herself close to Him seems highly improper. I came across a couple of photographs of her at the BBG website doing just this. The second photo from the right was really upsetting, even sickening. I am not going to put up the photo on this website. I would like to request all Tibetans to contact the BBG and get them to take down that photograph.
I think it is outrageously irresponsible of Lobsang Sangay to allow this woman to meet His Holiness so many times in order to gains some political advantage from her. Shouldn't he have been aware of her background? Before she was RFA president she was a deputy DA in San Francisco where she was involved in a sex scandal with another DA (two days before her marriage to another man) in what was  well known as the "Office Whoopee Case", and which became the butt of jokes in "Late Night With David Letterman."  Just Google "Libby Liu San Francisco Chronicle" for the news reports.
Of course His Holiness's conduct in this matter is beyond reproach. We all know he is affectionate and holds hands with everyone he meets in the most natural and compassionate way. But misunderstandings can happen. We had problems in Dharamshala before in the 90s when the Office of Religious and Cultural Affairs (chodon leykhung), against the advice of the Office of Tibet in Japan, arranged for Shoko Asahara to meet Holiness and even have a picture taken with him – a giant enlargement of which became the central icon in Asahara's temple. When this cult leader was arrested for the Tokyo subway sarin gas attacks and the photograph discovered by the police and the press at his temple, McLeod Ganj was flooded with Japanese journalists, TV people and a few who seemed like police or intelligence personnel. I was there at the time.
Thankfully, after a couple of weeks CTA officials, also myself and others, managed to convince the Japanese press that His Holiness had absolutely no relationship with the cult leader and that the audience in Dharmshala was a just a single routine event. But even now the big lie about His Holiness's relationship to Asahara is used by China's propagandists in the West and by Shugden devotees in their counter-attacks against CTA. Just having the truth on your side is not enough. It is nearly impossible to fully contain a scandal once it has broken out.
A couple of years before that, Vanity Fair published a somewhat snide report on His Holiness at a party for Hollywood celebrities. My colleagues at Amnye Machen Institute, Tashing Tsering la, Lhasang Tsering la and myself, met a senior official of the Private Secretariat and briefed him on how absolutely vital it was for the Secretariat and the CTA to vet everyone the Dalai Lama met and ensure they dressed and behaved in a seemly manner, so that no misunderstanding could ensue. We also told him how the Western press's enthusiasm for His Holiness could not be relied on and we always had to be very careful.  I think I even wrote a brief editorial on this for Mangtso. I remember a contingent of women charging into our office in McLeod Ganj screaming that we were spreading lies about the Dalai Lama.
The most important thing for all Tibetans is to ensure that this whole RFA scandal is resolved quickly but also justly. Right now the discussion is within the Tibetan community and some of our supporters, and we should try and keep it that way. Speaker Pempa Tsering, in his snarky letter to Congressman Rohrabacher, was arrogant and stupid enough to cc a copy to President Obama. Doesn't this politician  realize that strange letters to the president (especially from abroad) are investigated by the Secret Service and the FBI. These days matters being investigated by the FBI have an unfortunate tendency to leak to the press.
I think the best damage containment strategy we can implement right now is for the exile-parliament (sans Pempa Tsering) to conduct a full-dress investigation as I have suggested in a previous post, enough to satisfy all concerned so that we can put a tight lid on this mess. Of course the special investigative committee will have to be completely non-partisan and will have to issue a report that is not only honest but also exhaustively comprehensive. Everyone connected with Libby Liu and the dismissal of Jigme Ngabo should be subpoenaed to appear and testify at the hearing: this would not only include the main players Sikyong Lobsang Sangay, Dhonchoe Lobsang Nyendak and RFA staffer Kalden Lodoe, but even such supporting characters as Special Envoy and ICT chairman Lodi Gyari, speaker Pemba Tsering and Kalsang "Kaydor" Aukatsang, the Sikyong's self-described "David Axelrod".
For the last few weeks when so many of us have been forced to waste time on this issue,  incredibly brave and selfless people inside Tibet have been giving up their lives for Rangzen and for the return of His Holiness the Dalai Lama to a free Tibet. It is now a sacred duty for all of us not only to keep up the freedom struggle but to make sure the Dalai Lama's tremendous international stature and his supreme role as spiritual and sovereign leader of the Tibetan nation, is in no way manipulated or undermined by politicians and opportunists to serve their own narrow ambitions.