The Legacy of the former "Enthroned" Prime Minister, His Eminence, Professor Samdhong Rinpoche.
Tibetan historians have used the figurative expression "nurturing the embers of the dharma" (tempae mero solwa) to describe how such dedicated scholars and teachers as Lotsawa Rinchen Sangpo, Lekpe Sherap, Drom Tonpa, and the great Bengali spiritual master, Atisa, labored tirelessly to keep Buddhist teachings alive in Tibet, following the break-up of the Empire in the ninth century. I reworked this phrase some years ago to describe the courageous sacrifice of the many Tibetan self-immolators as "igniting the embers of rangzen" or (rangzen mero par-ngyen).
The reader must forgive me for reworking the phrase again, this time for an unhappy purpose as in the title of this post to describe the actions of an important Tibetan political leader who has taken it upon himself to deliberately undermine the Tibetan freedom struggle, even succeeding –– to a tragic and alarming degree.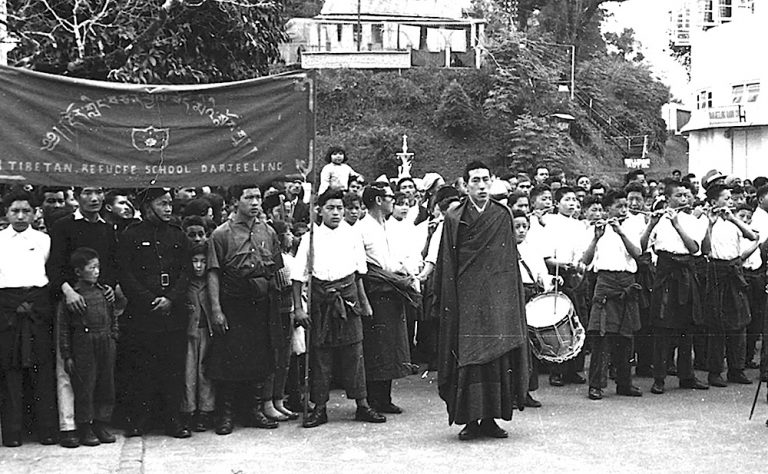 I first saw Samdhong Rinpoche as a young lama marching in front of the Tibetan Refugee School fife-and-drum band in Darjeeling, holding a swagger-stick –– the kind Indian and British army officers carry. Rinpoche was the religious instructor (chö-gye) of the school and had the reputation of being a hard taskmaster and inflicting sadistic whippings on his students. But such Dickension style punishments were common in nearly all Tibetan schools at the time. What was unique about Samdhong Rinpoche's modus operandi was the way he prefaced his punishment with a lengthy verbal reprimand in the distinctive tsok-dam style of the Tsokchen Zhal-ngo, the fearsome disciplinarian of Drepung monastery. Samdhong's emulation of the overblown oratorial style of the Drepung disciplinarian was a source of amusement for many Tibetan officials and older lamas at the time.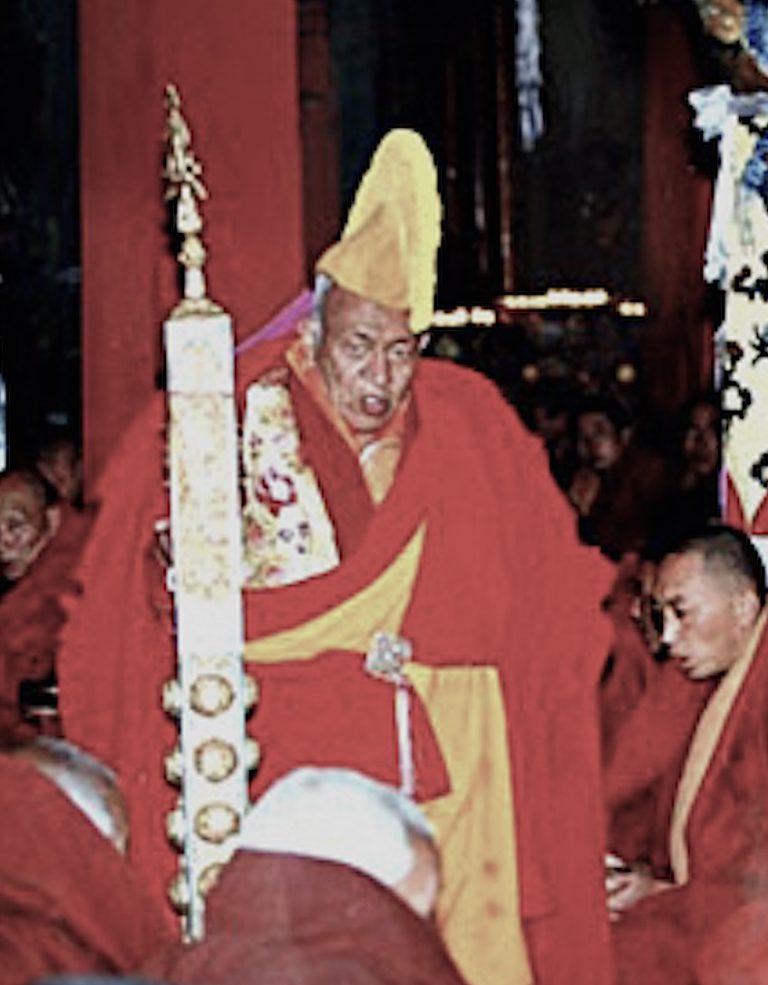 The First Tibetan Youth Conference October 1970
Nearly a decade later I encountered Samdhong at the first Tibetan Youth Conference at Dharamshala, on the 7th of October 1970. This conference, from which the Tibetan Youth Congress (TYC) was born, was one of the most crucial events in exile history. This is not the forum for a detailed discussion on TYC history, nonetheless it should be noted that the organization came to being in the wake of a vicious and damaging power struggle within the exile government and society. I have described this in some detail in a previous post on this website.
As such the formation of a genuinely democratic, open and free-thinking organization of young Tibetans at this dark moment in Tibetan history was an enormously exciting and positive event for exile society. Unstinting credit for this achievement must be extended to the founders: Tenzin Gyeche Tethong, the late Sonam Topgyal Zechutsang, the late Lodi Gyari and Tenzin Namgyal Tethong. A convening committee of some thirty odd people was created at Dharamshala. I was selected to head the committee for organizing the evening entertainment for the three-day conference –– one of which was the premiere of my two-act play on the March Uprising, The Chinese Horse (tib. gya-nakpoe ta).
I will not go into specifics, but the reader should be made aware of what an amazingly well organized conference it was, considering the poverty of exile society and the lack of support from any international organization and individuals –– as we have at present. Even secondary aspects of the conference operation such as an in-house bookstore, a travel agency and a laundry service for the delegates were unprecedented and impressive. Every speech and exchange at this historic conference was recorded on tape –– one of those ancient reel-to-reel tape recorders loaned to us by the Dalai Lama.
His Holiness was, to put it mildly, thrilled with the conference and generously footed the bill for the entire event. He was requested to make the opening speech on the first morning, but he let us know that he wanted to attend the closing session also. In a unprecedented gesture he insisted that following his talk he would take any questions from the delegates. This was probably the first time in Tibetan history that such a thing had happened. As Kashag ministers had also been invited to make individual presentations, this opened the proceedings up to quite an intense grilling of all the kalons: Mr. W.G. Kundeling, Dzasa Jigme Taring, Mr. Wangdu Dorje and also Mr. Gyalo Thondup (who was not in the cabinet but still controlled Tibetan intelligence and security).

Nearly four or five hundred young Tibetan women and men came from various communities and schools throughout India, Nepal and Bhutan and the excitement and optimism was palpable. On the second day everyone unanimously decided that a permanent organization had to be established. A central executive committee of eight members was to lead the organization and the four founders were chosen by popular acclaim to be in the executive committee, as were other such prominent delegates as Mrs. Jetsun Pema Gyalpo (the Dalai Lama's sister and principal of TCV) and Samdhong Rinpoche (now the principal of the Central Institute of Tibetan Studies at Sarnath). I think about two spots for the executive committee had not been filled and I and a few others delegates were nominated, to be chosen by paper ballots on the final day. The election for the president of the TYC would also take place on that day.
I was excited to be nominated and I went around meeting delegates who shared my vision for the TYC. It was then I discovered, the night before the elections, that an organized campaign was afoot to get Samdhong Rinpoche elected as the president of the TYC. A student from Darjeeling told me that a day earlier a tea party had been hosted at the Kailash Hotel at McLeod Ganj. Students from the Dalhousie CST (where Rimpoche had been principal) and Darjeeling and Simla schools (where he had been the religious instructor) had all been requested to attend, ostensibly to meet their former mentor. A group of Rinpoche's students from the Central Institute were also present. It was made clear to all gathered at the Kailash that they were to spread out among the conference delegates and let everyone know that Samdong Rimpoche was the most qualified candidate to be president of the TYC. The "campaign manager" was Gelek Rinpoche (aka Nyara Khentul) who had been a fellow tulku of Samdhong's at Drepung monastery in Tibet.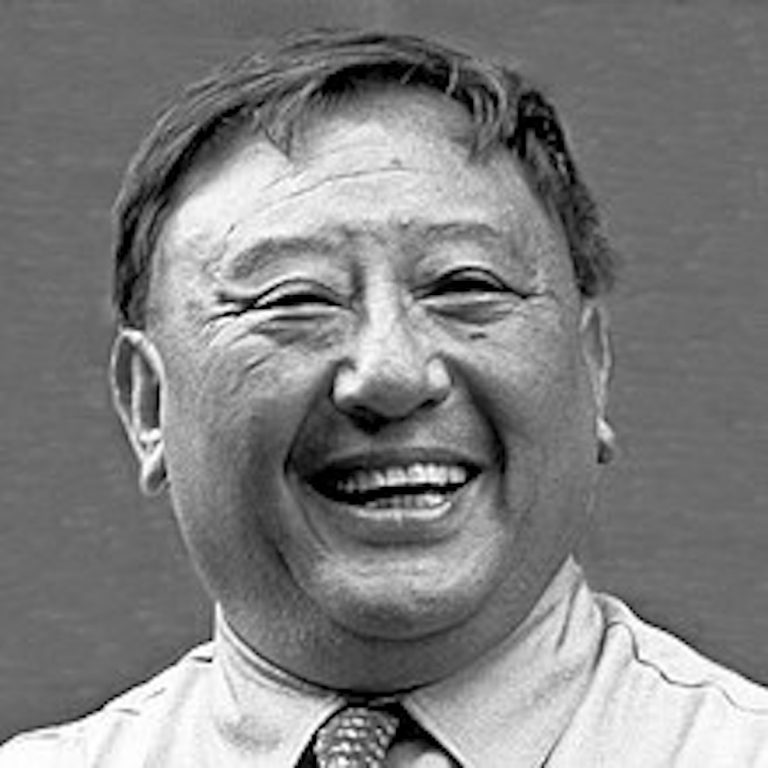 I was surprised and outraged at this attempted "tulku takeover" of the TYC. We all knew Samdhong (and Mrs. Jetsun Pema Gyalpo) had been nominated for the presidency and that was perfectly fine with everyone. But this secret conspiracy went against the open, democratic and essentially liberal/secular atmosphere that the Youth Conference was attempting to foster in exile society. In fact the convening committee had selected a young Lhasa Muslim student (Namgyal-la) and a Tibetan girl from a Christian convent to present his Holiness a bouquet of flowers and a nangzoe khada when he arrived at the conference venue at TIPA on the morning of the 7th. An added aggravation was that neither Samdhong nor Gelek had contributed anything in the way of funding, effort or even guidance or advice to the creation of the conference.
I requested an urgent meeting that night with the four founders (who were close friends of mine) at my small room at TIPA. They were shocked at my report. They had been caught up with the organizational work –– preparing for the Dalai Lama's arrival the next afternoon, drafting the final resolutions, besides a hundred and one other tasks to wrap up the whole event –– and had no idea of what was going on behind the scenes. We all realized that we had, there and then, to decide on a single candidate and not split our votes. We also had to spread the word out among our friends and supporters that they were to rally behind our chosen nominee, Tenzin Gyeche-la. I did a lot of the legwork and got little sleep that night.
The election next day was a squeaker. At one point Mrs. Pema Gyalpo decided to withdraw her candidacy (to improve Tenzin Gyeche's chances) but Gelek Rimpoche loudly bullied her about her lack of public spirit. I had a shouting match with him that got a little aggressive. Lodi Gyari (our in-house politician) stopped me. He told me he had taken a straw poll of sorts and it would be alright. Anyhow, the long and the short of it was that Tenzin Gyeche managed a narrow win.
After the dust settled down Samdong Rimpoche got up on the podium and gave his concession speech. He did not offer a single word of congratulation to Tenzin Gyeche, or pay any tribute to the conference organizers or wish the newborn TYC success. It may have been an attempt at a joke, but Rimpoche declared that perhaps his karma was to be vice-president. He mentioned that at a religious conference (in Maharashtra?) earlier he had been chosen as a vice-president. He then addressed his own former students at the conference and told them that he would be happy if they contacted him at Sarnath, and he would do what he could to help them. That was all. Everyone was stunned at this incredibly boorish and ill-mannered speech by a religious authority and an important educational figure in our society.
After he left Dharamshala,Samdhong Rimpoche, though still holding the position of vice-president, did not attend any TYC meeting or attempt to communicate with the organization in anyway. In fact when TYC branch organizations were set up at schools and communities all over the exile world, Samdhong Rimpoche explicitly ordered that no TYC branch would be allowed at the Central Institute at Sarnath. He told students there that the Tibetan Youth Congress was a Gyalo Thondup front organization.

Tibetan Freedom Movement
But Samdong Rimpoche wasn't quite done with Dharamshala or the TYC yet. A year and a half later in 1972, Samdhong Rimpoche burst upon the exile political scene with his Tibetan Freedom Movement (bhö rawang denpey lekhul) or literally "Righteous Movement for Tibetan Freedom". The Righteous Movement was in no way a democratic organization. It was top down and Samdhong Rimpoche was the unquestioned and self-appointed leader of the organization. Underneath him was a core group of about a dozen young monks, students of the Central Institute, who might be likened to cadres of the CPC. I am not making this comparison flippantly. The movement was, to put it even mildly, unapologetically authoritarian.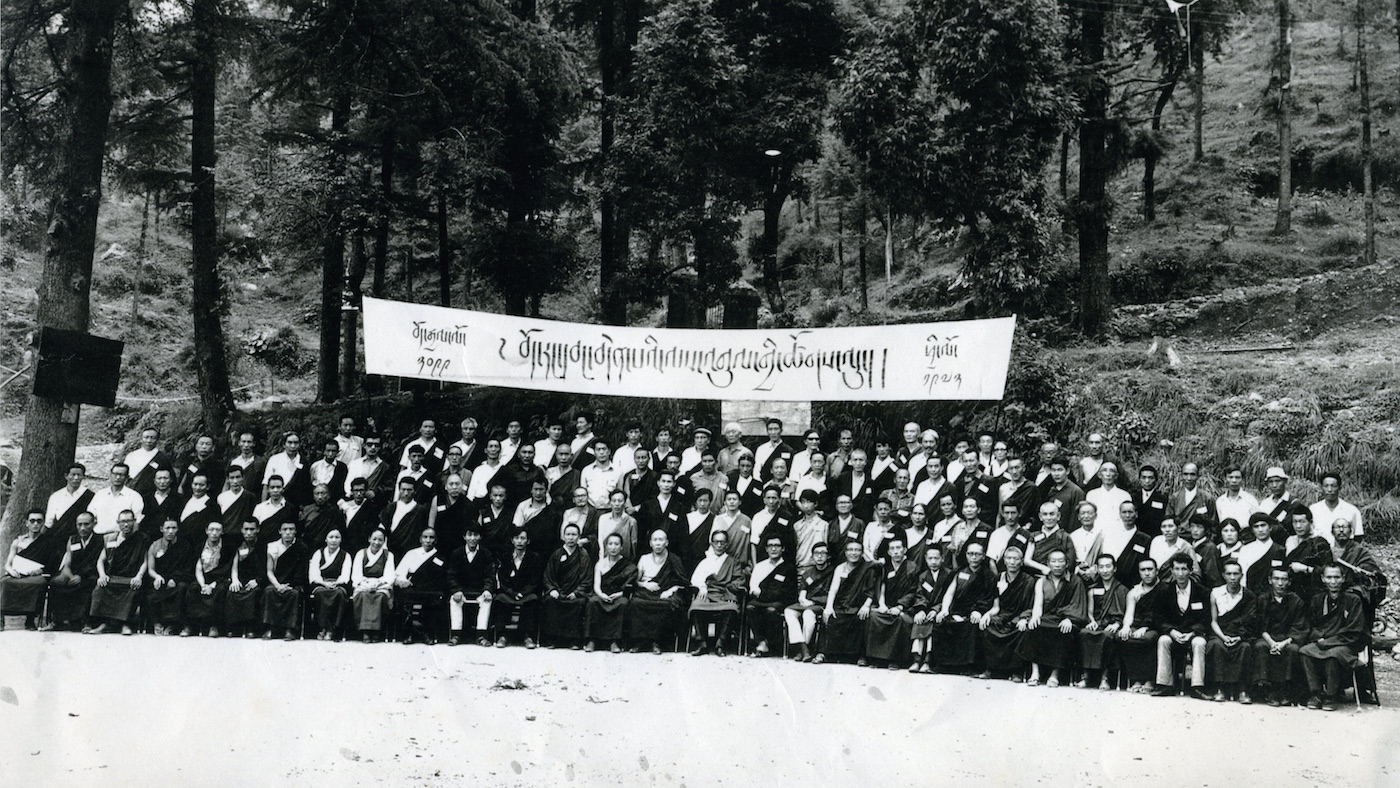 Rimpoche and his monk cadres travelled all around the exile communities and settlements in India, Nepal and Bhutan, holding meetings, recruiting local members, setting up branch organizations and unfailingly passing negative comments about the TYC. But Samdhong Rimpoche's principal political statement was that the exile government had failed to make any progress in India or abroad to promote the issue of Tibetan freedom, and that it now required a new group of educated and capable people to take charge of this vital function of Tibetan governance.
Rimpoche's message had a justifiably powerful impact on most Tibetans. I mentioned earlier how a vicious power-struggle within the government had, for years now, relegated the Tibetan issue to a state of limbo. Though the establishment of the TYC had help boost public morale, it was felt by many Tibetans that change was needed within the government itself. The Freedom Movement picked up many supporters in the exile community especially among those who had opposed Gyalo Thondup earlier. One principal supporter that Samdhong Rimpoche recruited was the Derge leader Juchen Thupten Namgyal from Camp No.4 in Bylakuppe settlement. He was a powerful speaker and influential among Khampas. (He later became a senior minister in Dharamshala)
The Freedom Movement, now much expanded and empowered, held its first national convention at Dharamshala. The Kashag was informed of this. Samdhong made it clear that that cabinet members and senior officials would not be invited to participate. This seemed to have caused some concern with the Kashag, but it managed to insist that members of the exile-Parliament be allowed to attend. The Parliamentry speaker the Venerable Nima Sangpo was selected to chair the convention's proceedings. The Kashag also demanded that the Tibetan Youth Congress leaders attend the convention but the Freedom Movement put its foot down on the matter. After a day's wrangling the TYC was allotted just one seat, which my TYC colleagues instructed me to occupy. My colleagues –– Lodi Gyari, Tenzin Tethong and Sonam Topgyal –– were seated in the government quota for mid-level officials.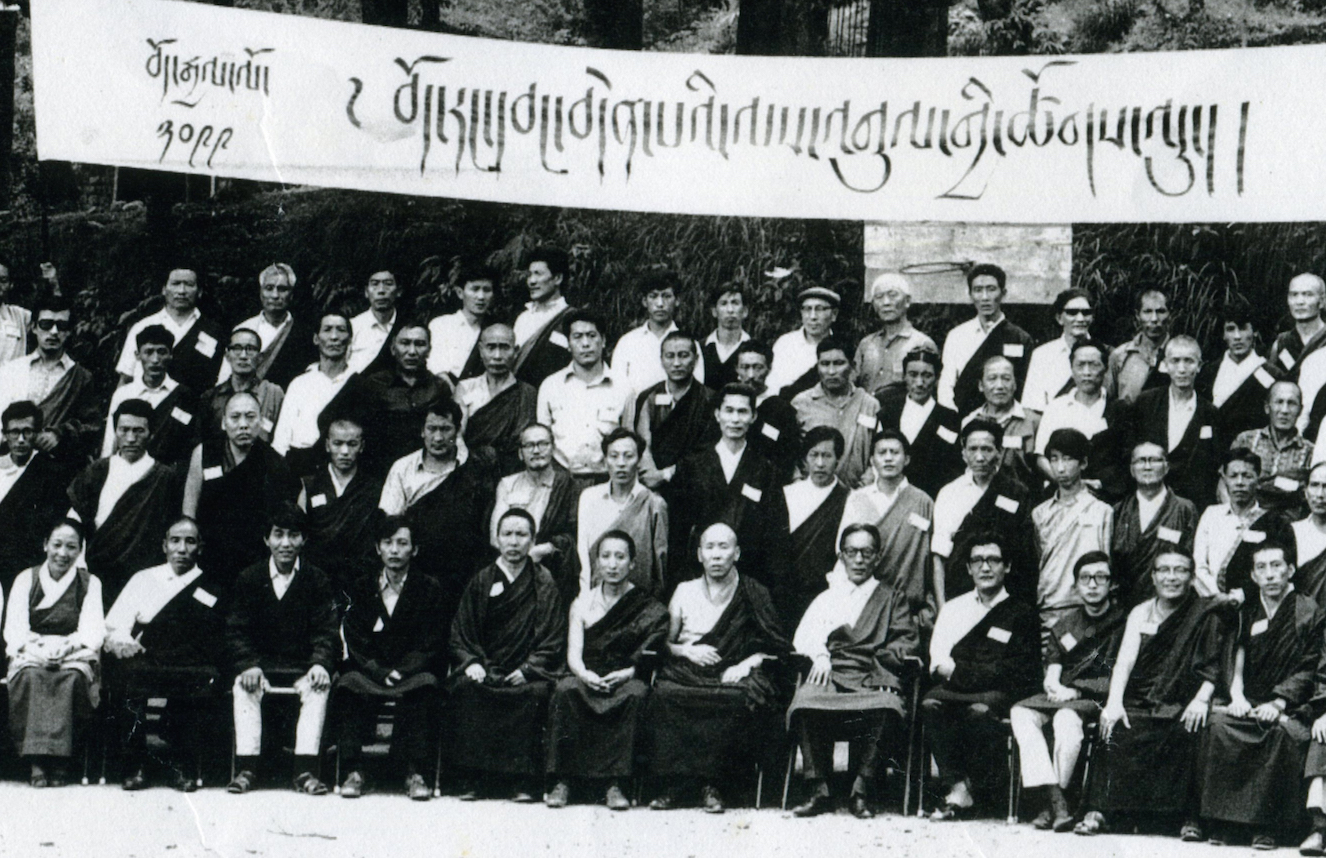 The conference started auspiciously for the Freedom Movement. Rinpoche impressed everyone when he spoke. He had a practiced technique. Walking slowly over to the rostrum, he carefully adjusted the upper part of his robe (zhen) and then tapped the microphone sharply. Next he raise his eyes slowly to the ceiling and held it there in apparant contemplation. The audiance waited quietly with bated breath. Then Rimpoche finally lowered his head and looked down sternly at us in the hall. Finally he intoned, with dramatic deliberation, a high-flown Sanskrit incantation. Probably no one in the audience understood a word, but the more unsophisticated whispered in awe "lha-skad ray" or "it is the language of the gods". Then he got down to business.
Initially all the government officials and heads of settlements at the meeting were unable to respond to Rinpoche's accusations about the failings of the exile government, especially when his speeches were followed by a concerted wave of supportive declarations from his Sarnath monk students and also by Juchen Thupten Namgyal and others.
Samdhong and his monk cadres were very articulate and intimidating, but after a while Rinpoche got carried away with the power of his own rhetoric. At one point he declared, quite unequivocally, that the exile government had, since its founding, missed thirty-three clear opportunities to promote the cause of Tibetan freedom in the world political forum (zamling sidun dingja). I remember this sentence quite clearly –– it was so astoundingly brazen and over the top. This was red meat for Samdong's followers and there was a roar of approval, but I noticed that many of the more informed officials appeared astonished, and exchanged puzzled looks with each other.
Some began to openly question the accuracy of Rinpoche's outrageous accusation. I took a different tack and declared that Rinpoche's statement was so important to the national cause that he should explain each of the thirty-three failures of the government in detail, with exact dates, venues and circumstances. Samdhong Rinpoche ignored me, but more officials began to pick at Rinpoche's arguments and gradually a real debate began to take place. The first member of the Freedom Movement to crack was Reverend Thupten Jungney (aka Gyen Gosey) who was not from Rinpoche's Institute but had his own monastery at Sarnath. He was an honest, unassuming man and a committed Rangzen activist. Gradually others began to peel away from their support of Samdong Rinpoche and on the second afternoon a stalemate developed. Towards the evening it got contentious with government officials even demanding that the donations collected by the Freedom Movement should be handed over to the Finance Office (Paljor Office).
I did not join these subsequent discussions but used the time to flesh out and organize an idea that occured to me. Armed with my notes I pointed out to the assembly that the couple of lakh rupees collected were insignificant in the greater scheme of things. Furthermore, since the Freedom Movement had already set up a number of branches all over India and Nepal these branches could be used to collect an annual tax from all exile Tibetans to be used for the freedom struggle. Hence the Freedom Movement would be fulfilling its objective in an immediate and practical way. (The Tibetan government did not have a permanent source of funding except for an yearly grant from the Dalai Lama). I suggested that a small fixed sum be collected from each Tibetan annually and a booklet, designed like a passport, be issued to each person where a receipt stamp would be pasted. I proposed the name Rangzen Lagtheb or the "Freedom Handbook" and suggested its cover be green to honor His Holiness.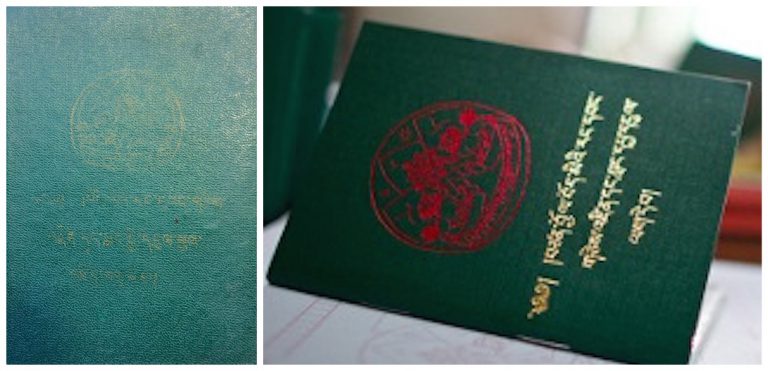 The speaker Nima Sangpo-la commended me and the TYC for the proposal and immediately got a resolution passed to that effect. He further instructed me to submit the project in writing to the Finance Office, which I did a couple of days later to the assistant finance secretary, the late Gelong Loden la (aka Jhola Chime Gonpo la). I am sure the document is still in the files of the Finance Office. It was typed on a distinctive yellow paper with green TYC logo and letterhead, and my signature.
The standoff at the meeting was now resolved as the representatives of the various exile communities had gained official recognition for their exertions and had been given an important task to perform. Before long other branch offices of the Freedom Movement were started around the Tibetan world, and placed under the firm supervison of the exile parliament.

Rinpoche and his students returned to Sarnath and had nothing further to do with the Freedom Movement. Though the Kashag had initially panicked at the formation of the Freedom Movement, no one at the time suggested that Samdhong Rinpoche had done anything untoward. But looking back at it now, 47 years later, it seems to me that the Freedom Movement was actually an undercover, if non-violent, coup d'é·tat that Samdong Rinpoche and his monkish cadres had launched, essentially to try and reduce the exile government to a NGO that would only be allowed it to take care of settlements, monasteries and schools. The real power and authority to conduct political activities and negotiate with other governments and international organizations would, on the successful conclusion of the coup, be placed under the sole control of the great leader, Samdhong Rinpoche.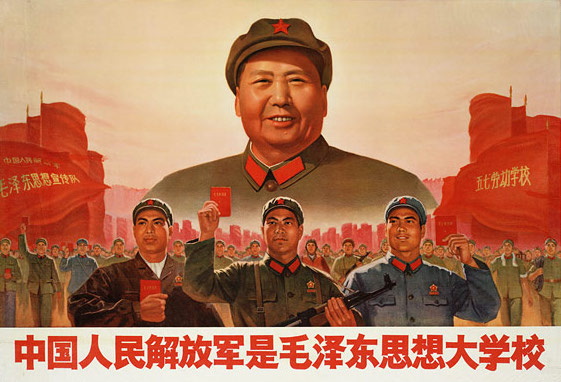 What should perhaps also not be overlooked is the time frame of Samdhong Rinpoche's movement. It was launched exactly around the period of the Cultural Revolution in China when a politically sidelined Mao Zedong attempted a coup d'é·tat against China's president Liu Shaoqi and senior Communist Party members. The browbeating and struggling of Mao's establishment enemies by his Red Guards was of course violent and extreme, and in no way comparable to the verbal accusations and criticisms that Samdhong's monkish "Red Guards" directed at the exile government and its officials. Nonetheless, both were undeniably employed in the service of a power-struggle. The Cultural Revolution was then the major topic of discussion in exile society, and Samdhong Rinpoche who openly professed his antagonism to American imperialism, was also a great admirer of Chairman Mao. I will expand on this in the second part of this post.
Before concluding –– a brief foray into amateur psychology. I think that even now in Samdhong Rinpoche's mind there is a subconscious recognition of the clandestine even treacherous purpose of his Freedom Movement. If you go to his website samdhongrinpoche.com you will see that he has listed all his academic, political and administrative appointments, over forty-five of them. He even mentions all the university convocations he has addressed and all the honorary degrees he has been awarded –– but which he modestly informs us he did not accept. Even his unsuccessful bid for TYC leadership is listed under politicial appointments: "Vice-President Tibetan Youth Congress (CENTREX) 1970 to 1973."
But there is no mention of the major political party (the first in exile history) that he successfully created –– but less successfully guided and led. Nowhere in Samdhong Rinpoche's entire website is there any reference to the Tibetan Freedom Movement. No a single one.
I HAVE POSTED A TIBETAN AUDIO TRANSLATION OF THE ABOVE POST ON FACEBOOK. I was unable to upload an audio file on my blog.